Detailed Laminated Wall Map of the World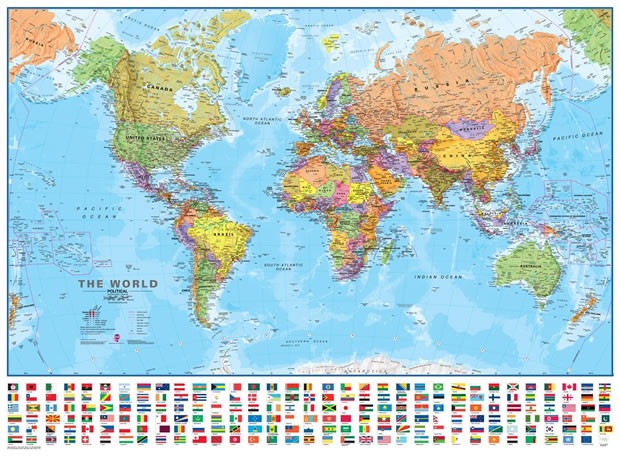 Detailed Laminated World Wall Map
Map Dimensions: 39 inches tall x 54 inches wide. Click here for more detail.
Lots of Detail!
This world map is similar to the inexpensive Blue Ocean World Wall Map, but it is MUCH more detailed. The printing on this map is more finely done, allowing many more place names and much more detail in the shaded relief rendering of the world's physical features.


There are different symbols to represent cities by population as well as designate regional and national capitals. You will find markers to show notable mountains and the highest peaks of countries and continents. There are also numerous markers showing ocean depth, and clocks to indicate time zones of the world.

If you want more detail on culture and physical features, this is the map. There are more cities shown, and more rivers, lakes, and islands are labeled. This map represents the world at a 1:30,000,000 scale with a Van der Grinten projection. The lamination is thick, sturdy plastic.


Countries Shown on this Map
Afghanistan, Albania, Algeria, Andorra, Angola, Antigua and Barbuda, Argentina, Armenia, Australia, Austria, Azerbaijan, Bahamas, Bahrain, Bangladesh, Barbados, Belarus, Belgium, Belize, Benin, Bhutan, Bolivia, Bosnia and Herzegovina, Botswana, Brazil, Brunei, Bulgaria, Burkina Faso, Burundi, Cambodia, Cameroon, Canada, Cape Verde, Central African Republic, Chad, Chile, China, Colombia, Comoros, Congo, Costa Rica, Croatia, Cuba, Cyprus, Czech Republic, Democratic Republic of the Congo, Denmark, Djibouti, Dominica, Dominican Republic, East Timor, Ecuador, Egypt, El Salvador, Equatorial Guinea, Eritrea, Estonia, Ethiopia, Fiji, Finland, France, Gabon, Gambia, Georgia, Germany, Ghana, Greece, Grenada, Guatemala, Guinea, Guinea-Bissau, Guyana, Haiti, Honduras, Hungary, Iceland, India, Indonesia, Iran, Iraq, Ireland, Israel, Italy, Ivory Coast, Jamaica, Japan, Jordan, Kazakhstan, Kenya, Kiribati, Kosovo, Kuwait, Kyrgyzstan, Laos, Latvia, Lebanon, Lesotho, Liberia, Libya, Libya, Liechtenstein, Lithuania, Luxembourg, Macedonia, Madagascar, Malawi, Malaysia, Maldives, Mali, Malta, Marshall Islands, Mauritania, Mauritius, Mexico, Micronesia, Moldova, Monaco, Mongolia, Montenegro, Morocco, Mozambique, Myanmar (Burma), Namibia, Nauru, Nepal, Netherlands, New Zealand, Nicaragua, Niger, Nigeria, North Korea, Norway, Oman, Pakistan, Palau, Panama, Papua New Guinea, Paraguay, Peru, Philippines, Poland, Portugal, Qatar, Romania, Russia, Rwanda, Saint Kitts and Nevis, St. Lucia, St. Vincent and The Grenadines, Samoa, San Marino, Sao Tome and Principe, Saudi Arabia, Senegal, Serbia, Seychelles, Sierra Leone, Singapore, Slovakia, Slovenia, Solomon Islands, Somalia, South Africa, South Korea, South Sudan, Spain, Sri Lanka, Sudan, Suriname, Swaziland, Sweden, Switzerland, Syria, Tajikistan, Tanzania, Thailand, Thailand, Togo, Tonga, Trinidad and Tobago, Tunisia, Turkey, Turkmenistan, Tuvalu, Uganda, Ukraine, United Arab Emirates, United Kingdom, United States, Uruguay, Uzbekistan, Vanuatu, Vatican City, Venezuela, Vietnam, Yemen, Zambia, Zimbabwe.


How We Ship This Map to You
We will ship this map to you, neatly rolled in a sturdy map tube to make sure that it arrives in perfect condition. We ship all laminated maps through the United States Postal Service by Priority Mail. You should receive it in just a few days, even if you are in Hawaii, Alaska or one of the United States Territories (sorry, we are unable to ship any purchases outside of the United States and its official territories, except for APO and FPO addresses). If you order other items at the same time, your maps will be shipped in a separate tube.