Political Map of Europe - Laminated Wall Map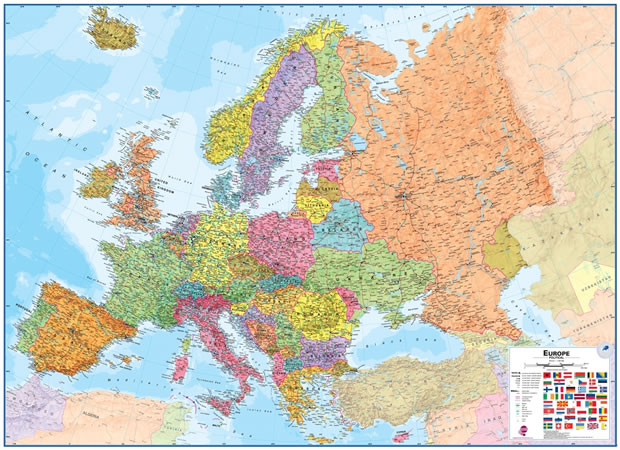 Laminated Political Wall Map of Europe
Map Dimensions: 39 inches tall x 55 inches wide. Click here for more detail.
A Spectacular Map of Europe
Europe is a continent of political, cultural, and physiographic diversity. This map of Europe clearly shows the continent's countries, major cities, capital cities, transportation networks, and major physical features. It is plotted at a scale of 1:4,300,000 using a Lambert Conformal Conic projection.


This colorful wall map of Europe will be a great addition to your home, school, office or conference room. Use it anywhere that a map is needed for education, display, or decor. The lamination makes it easy to hang and protects it when handled. You can also mark on it with dry erase markers and wipe it clean with a damp cloth. Many people use Post-It Notes to annotate the map as they can be cleanly removed when they are finished. You can mount the map on the wall for display and quick reference, or store it rolled in its tube for occasional use.

Plan or share your trip to Europe on this map!
Use pins or removable tape to attach photos, tickets, notes, signs, flags and more.
Geography of Europe's Land and Cultural Features
This map shows all of the major cities and highway systems of Europe. City locations are indicated with symbols that sized according to the city's population. Major highways are marked on the map as red lines, E roads, A roads and Motorways are marked with green route number signs. Country boundaries are solid magenta lines.

Major mountain ranges such as the Alps, Carpathians, Pyrenees and Urals stand up boldly in shaded relief. Many other mountain ranges are visible in shaded relief and are marked by name.

Ocean and Freshwater Detail
The Europe Political Map shows ocean depths with blue color shading. Shallow areas are marked with pale blue colors and deeper areas are darker blue. This allows you to easily see the that the North Sea and Barents Sea are very shallow and understand why they can support oil and natural gas drilling. Europe's many important rivers, inland lakes, and the Fjords of Scandinavia are visible on this map. In some areas like the Aegean Sea or the Croatian coast on the Adriatic Sea, there are large numbers of islands.

About the Geography of Europe
Europe occupies the western portion of the landmass known as "Eurasia". It has a broad land connection to Asia, the other half of the Eurasian landmass. Europe and Asia are unusual as continents because of this broad connection. In addition, many islands in the Atlantic Ocean, Arctic Ocean, Mediterranean Sea, Baltic Sea, and other bodies of water are considered to be part of "Europe". Because of these broad boundaries, the area known as "Europe" is arbitrarily defined and subject to disagreement among scholars, geographers and nations.

A Great Map for Home Learning
One of the most valuable uses of a map like this is in the home. When you learn about an important event in Europe while watching the news or reading a news website, you can find the location on the map. This will enrich your understanding of the event and your knowledge of European geography. This is a great map for those who are home schooling.

European Countries Shown on this Map
A total of forty-seven European countries are shown on the map. They include: Albania, Andorra, Austria, Belarus, Belgium, Bosnia and Herzegovina, Bulgaria, Croatia, Cyprus, Czech Republic, Denmark, Estonia, Finland, France, Germany, Greece, Hungary, Iceland, Ireland, Italy, Kosovo, Latvia, Liechtenstein, Lithuania, Luxembourg, Macedonia, Malta, Moldova, Monaco, Montenegro, Netherlands, Norway, Poland, Portugal, Romania, Russia, San Marino, Serbia, Slovakia, Slovenia, Spain, Sweden, Switzerland, Turkey, Ukraine, United Kingdom, and Vatican City.
How We Ship This Map to You
This is a large map and we want you to receive it in perfect condition. To do that we neatly roll it - face-inwards - and insert it into a sturdy map tube. We ship all of our laminated maps through the United States Postal Service using Priority Mail. We ship no later than the next business day after your order is placed and you should receive it in just a few days. We ship Priority Mail to all customer addresses in Hawaii, Alaska, APO, FPO and all official United States Territories (Sorry, we are unable to ship any purchases to countries outside of the United States). If you order other items at the same time, your maps will be shipped in a separate tube.