Waterproof Paper, Field Books, Notebooks, and Pens
Teslin® Waterproof Paper
Teslin®
is a synthetic waterproof paper. It can be used with
laser printers and plain paper copiers
. It is waterproof and resists punctures, tears, chemicals, and abrasions. Teslin® is a registered trademark of PPG Industries Ohio, Inc.
PuffinPaper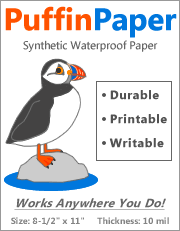 PuffinPaper
is your easy choice for a waterproof paper. It works in any weather, and you can print on it with
laser printers, inkjet printers and plain paper copiers
. It is waterproof, tear resistant, puncture resistant, and abrasion resistant.
Waterproof Pens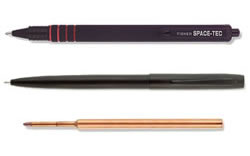 Waterproof Pens:
The perfect pens for your field work. They write at any angle in all weather and temperature conditions with waterproof ink. We also have mechanical pencils that were designed especially for use with waterproof paper.
Waterproof Field Books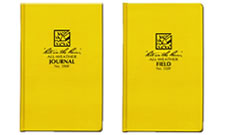 Waterproof Field Books:
We offer a geological field book, environmental field book, and field pattern page design.
Waterproof Notebooks
Waterproof Notebooks:
Waterproof spiral-bound notebooks in different sizes and page patterns.
Leather Field Case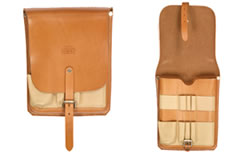 Leather Field Case:
This classic leather field case attaches to your belt and carries a field book, writing tools, maps, acid bottle and more.