Blue Ocean Laminated United States Wall Map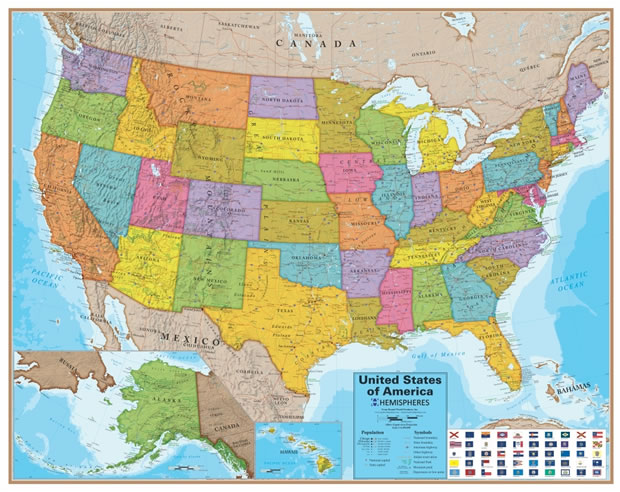 Blue Ocean Laminated Wall Map of the United States
Map Dimensions: 38 inches tall x 48 inches wide. Click here for more detail.
Our Best Value in a United States Map
The Blue Ocean Laminated Wall Map of the United States is a great value. It is brilliantly colored, highly informative, laminated for durability, large format, and very affordable. We can offer this laminated map at a reasonable price because it is printed in large numbers.



Geographic Details
Each of the fifty United States is shown in a beautiful color. Capital cities are marked and major cities are shown with a symbol that reflects their population. Interstates and major highways are shown as red lines. Major physiographic features such as mountain ranges and valleys are shown in shaded relief. Major National Parks and Indian Reservations are outlined.


Why "Blue Ocean?"
This map is called "Blue Ocean" because ocean areas are shown in a range of blue colors that reflect the depths of the water. Light blues indicate shallow waters near the coasts and the intensity of blue increases with increasing water depth. This is a great map for schools, students, homes and offices. You can use it where ever a map is needed for display, decor, or education.


Mark It Up, Wipe It Off
The map has a smooth laminated surface that you can mark on with dry-erase markers. These marks wipe right off with a soft cloth or dry-erase eraser. This is a good map to use for planning trips, selecting locations for sales meetings and other company business. You can display the places you have visited with push-pins, attached photos or sticky notes. The lamination makes this map easy to hang without a frame and easy to clean if needed. It also protects the map while it is in use or being handled.


Map Projection and Scale
The map presents the United States using an Albers Equal-Area projection at a scale of 1:4,100,000. Inset maps for Alaska and Hawaii are included at a different scale.


How We Ship This Map to You
We want to be sure that you receive this map promptly and in perfect condition. It is first rolled and packaged in an attractive display box. Then we will place it in a sturdy map tube for mailing. It will then be shipped by Priority Mail through the United States Postal Service. You should receive it in just a few days - even if you are in Hawaii, Alaska or one of the United States Territories. We regret that we are unable to ship any purchases outside of the United States and its official territories. The only exception is for APO and FPO addresses that can be delivered via U.S. Mail. If you order other items at the same time, they will be shipped in a separate package.