GIANT Detailed Laminated World Wall Map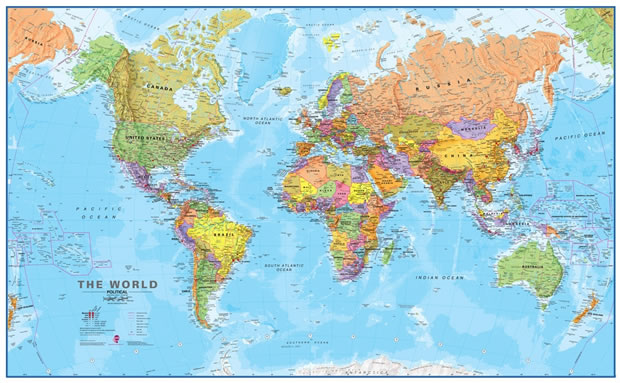 GIANT Detailed Laminated World Wall Map
Map Dimensions: 47 inches tall x 77 inches wide. Click here for more detail.
An ENORMOUS Map with Lots of Detail!
This world map is basically identical to the detailed world map shown here, but the difference is in its size. It is almost 4 feet tall and over 6 feet wide! Wow! It is breathtaking when you see it on a wall. This map represents the world at a 1:20,000,000 scale.


This map is huge, so please make note of the dimensions (47" by 77") and measure the wall where you plan to hang it. Make sure that you have enough space.

If you are a geographer, geologist, historian, anthropologist or other professional who needs a top-quality world map, then this is the map for you. We were surprised to find a laminated world wall map of this size, quality, and detail for such a great price!


Countries Shown on this Map
Afghanistan, Albania, Algeria, Andorra, Angola, Antigua and Barbuda, Argentina, Armenia, Australia, Austria, Azerbaijan, Bahamas, Bahrain, Bangladesh, Barbados, Belarus, Belgium, Belize, Benin, Bhutan, Bolivia, Bosnia and Herzegovina, Botswana, Brazil, Brunei, Bulgaria, Burkina Faso, Burundi, Cambodia, Cameroon, Canada, Cape Verde, Central African Republic, Chad, Chile, China, Colombia, Comoros, Congo, Costa Rica, Croatia, Cuba, Cyprus, Czech Republic, Democratic Republic of the Congo, Denmark, Djibouti, Dominica, Dominican Republic, East Timor, Ecuador, Egypt, El Salvador, Equatorial Guinea, Eritrea, Estonia, Ethiopia, Fiji, Finland, France, Gabon, Gambia, Georgia, Germany, Ghana, Greece, Grenada, Guatemala, Guinea, Guinea-Bissau, Guyana, Haiti, Honduras, Hungary, Iceland, India, Indonesia, Iran, Iraq, Ireland, Israel, Italy, Ivory Coast, Jamaica, Japan, Jordan, Kazakhstan, Kenya, Kiribati, Kosovo, Kuwait, Kyrgyzstan, Laos, Latvia, Lebanon, Lesotho, Liberia, Libya, Libya, Liechtenstein, Lithuania, Luxembourg, Macedonia, Madagascar, Malawi, Malaysia, Maldives, Mali, Malta, Marshall Islands, Mauritania, Mauritius, Mexico, Micronesia, Moldova, Monaco, Mongolia, Montenegro, Morocco, Mozambique, Myanmar (Burma), Namibia, Nauru, Nepal, Netherlands, New Zealand, Nicaragua, Niger, Nigeria, North Korea, Norway, Oman, Pakistan, Palau, Panama, Papua New Guinea, Paraguay, Peru, Philippines, Poland, Portugal, Qatar, Romania, Russia, Rwanda, Saint Kitts and Nevis, St. Lucia, St. Vincent and The Grenadines, Samoa, San Marino, Sao Tome and Principe, Saudi Arabia, Senegal, Serbia, Seychelles, Sierra Leone, Singapore, Slovakia, Slovenia, Solomon Islands, Somalia, South Africa, South Korea, South Sudan, Spain, Sri Lanka, Sudan, Suriname, Swaziland, Sweden, Switzerland, Syria, Tajikistan, Tanzania, Thailand, Thailand, Togo, Tonga, Trinidad and Tobago, Tunisia, Turkey, Turkmenistan, Tuvalu, Uganda, Ukraine, United Arab Emirates, United Kingdom, United States, Uruguay, Uzbekistan, Vanuatu, Vatican City, Venezuela, Vietnam, Yemen, Zambia, Zimbabwe.


How We Ship This Map to You
We will ship this map to you, neatly rolled in a sturdy map tube to make sure that it arrives in perfect condition. We ship all laminated maps through the United States Postal Service by Priority Mail. You should receive it in just a few days, even if you are in Hawaii, Alaska or one of the United States Territories (sorry, we are unable to ship any purchases outside of the United States and its official territories, except for APO and FPO addresses). If you order other items at the same time, your maps will be shipped in a separate tube.