Wall Maps for Sale!
Maps of the world, USA, states, & continents
Looking for a nice wall map of the world? We have wall maps that will be perfect for students, schools, offices, home decor and more. These include political maps, physical maps, laminated maps, colorful maps, artistic maps, and other varieties of wall maps that you can think of. Click the link above or the image at left to see our selection of world wall maps!

All of our wall maps are rolled and shipped promptly in a map tube by U.S. Postal Service Priority Mail. We also have globes if you want your view of Earth to be more realistic than a flat map.
United States wall maps are a popular item for elementary and middle school students who are gaining their first sense of geography. They are also popular with companies who want to annotate the maps with push-pins and notes that summarize their regional or national activity. We have political wall maps of the USA and a beautiful physical map with color shaded relief. All of these wall maps are rolled in a tube and shipped promptly by Priority Mail.
Nice wall maps of individual states and groups of smaller states are hard to find. These color shaded-relief wall maps make a beautiful presentation of your favorite state. Many people use them for decor in their homes. Companies use them in offices to highlight the geography of their activities with push-pins, flags, photos and notes. These maps are popular in schools because they show the physical geography so well. People who buy these maps are surprised by their beauty and physiographic detail. They are best used for study and display rather than for navigation. We have most U.S. states ready to ship, rolled in a tube, by Priority mail.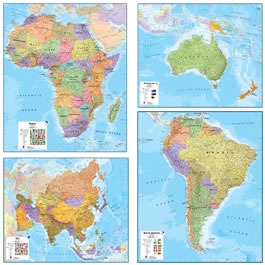 Continent Wall Maps
Nice maps of continents are difficult to find. These maps were designed by expert cartographers to have a beautiful appearance, and at the same time an accurate presentation. Each map shows the political and physical details of a continent. They each feature thousands of labeled place names. They also show the physical geography of both land and water bodies in shaded relief. Ships promptly.
A nice globe is better than a wall map in many ways. No matter how the Earth's surface is drawn on a map, the features will be distorted. A globe allows you to see the continents in their true shape and size. A globe also helps you understand why a pilot flying from New York will head north instead of west or east. It is shorter to fly over the pole!
We have many globes in our store, and highly recommend the Waypoint Navigator 12" world globe. It is an excellent globe for home, classroom, or office. It has over 4000 named places and points of interest and is the most detailed globe that we sell. It serves as an excellent reference or teaching and learning tool. It is a political-physical map of the earth on a sphere. Countries, cities, major lakes and rivers are presented in beautiful color. Mountain ranges and major physical features are shown in shaded relief, ocean depths in shades of blue with many islands shown and labeled. Major ocean trenches and ridges are shown in shaded relief. The base has a traditional cherry-stained finish. The gold-color die-cast meridian serves as a raised-print latitude reference. These features make this globe a nice item of decor for home or office. Twelve inches in diameter, about eighteen inches high, non-illuminated, made of a high quality fiberboard.