Home » World Maps » Canada » Newfoundland and Labrador
Newfoundland and Labrador Map - Newfoundland and Labrador Satellite Image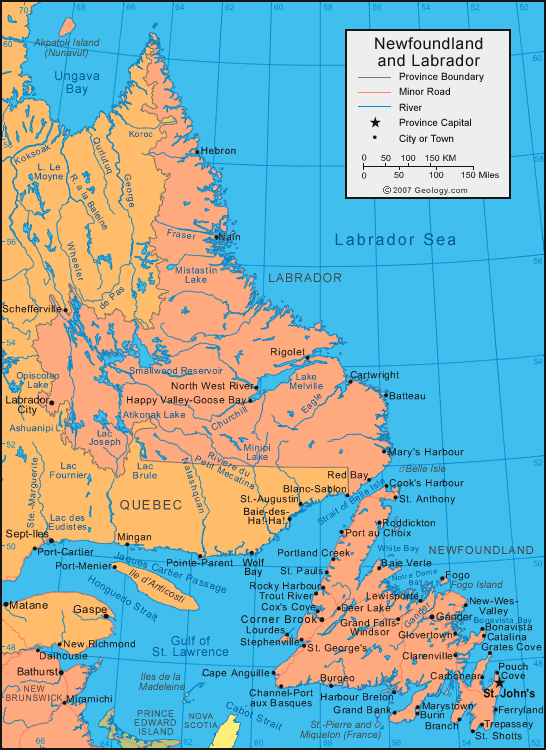 Newfoundland and Labrador is the easternmost province in Canada. It is bordered by the Atlantic Ocean, Labrador Sea, Gulf of St. Lawrence, and Quebec to the west and south.

Newfoundland and Labrador consists of two parts: 1) the island of Newfoundland, and, 2) Labrador, the mainland portion of the province. The two parts of the province are separated by the Strait of Belle Isle.

In 1949, "Newfoundland" entered the Canadian Confederation as its tenth province. Then in 2001, the name was changed to "Newfoundland and Labrador" by an amendment to the Constitution of Canada.

Today over 90% of the province's population lives on the island of Newfoundland. The economy is based upon fishing, seafood processing, paper manufacturing, oil and natural gas production, and mining.
Newfoundland and Labrador Bordering Provinces/Territories:
Quebec
Regional Maps:
Map of Canada
,
World Map

Where is Newfoundland and Labrador?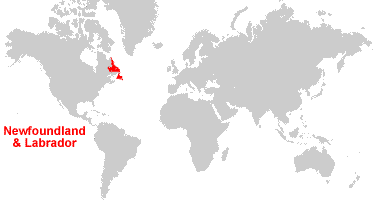 Newfoundland and Labrador Satellite Image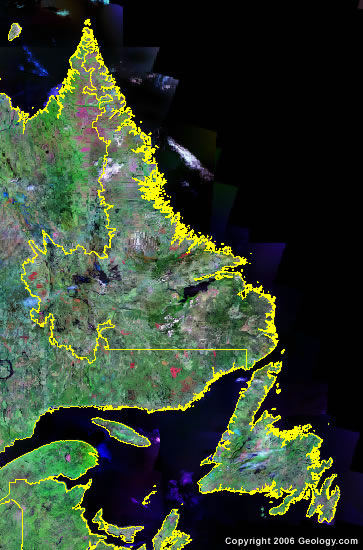 Click for high-resolution image.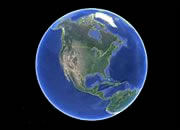 Google Earth is a free program from Google that allows you to explore satellite images showing the cities and landscapes of Newfoundland and Labrador and all of North America in fantastic detail. It works on your desktop computer, tablet, or mobile phone. The images in many areas are detailed enough that you can see houses, vehicles and even people on a city street. Google Earth is free and easy-to-use.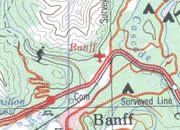 Get a custom printed large-format Canadian Topographic Map on waterproof, laminated or glossy paper. You can center the map anywhere in Canada that you want and adjust the scale with easy-to-use tools on the MyTopo website. They will then print and ship your map rolled in a tube or folded neatly in an envelope - your choice.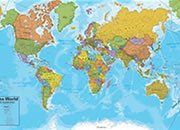 Canada is one of nearly 200 countries illustrated on our Blue Ocean Laminated Map of the World. The Canadian province and territory boundaries are shown on the map along with other political and physical features. It displays symbols for major cities. Major mountains are shown in shaded relief. Ocean depths are indicated with a blue color gradient. This is a great map for students, schools, offices and anywhere that a nice map of the world is needed for education, display or decor.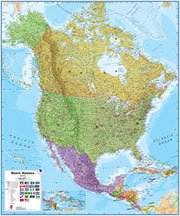 If you are interested in Newfoundland and Labrador and the geography of Canada, our large laminated map of North America might be just what you need. It is a large political map of North America that also shows many of the continent's physical features in color and shaded relief. Major lakes, rivers, cities, roads, country/province/territory boundaries, coastlines and surrounding islands are all shown on the map.

Newfoundland and Labrador Cities:
Astray, Baje Verte, Batteau, Bay Roberts, Bonavista, Branch, Burgeo, Burin, Cape Anguille, Carbonear, Cartwright, Catalina, Channel-Port aux Basques, Clarenville, Conception Bay S., Cook's Harbour, Corner Brook, Cox's Cove, Deer Lake, Drylake, Embar, Faden, Ferryland, Fogo, Gander, Garbour Brenton, Glovertown, Grand Bank, Grand Falls-Windsor, Grates Cove, Hampden, Happy Valley-Goose Bay, Hebron, Holton, Labrador City, Lewisporte, Lourdes, Main, Mary's Harbour, Marystown, Mt. Pearl, New-Wes-Valley, North West River, Oreway, Port au Choix, Port Union, Portland Creek, Pouch Cove, Red Bay, Rigolet, Rocky Harbour, Roddickton, Seahorse, Seal Bight, St George's, St. Anthony, St. John's, St. Pauls, St. Shotts, Stephenville, Trepassey, West Bay, and Winterton.

Newfoundland and Labrador Lakes, Rivers and Locations:
Atlantic Ocean, Conception Bay, Dominion Lake, Gulf of St. Lawrence, Harp Lake, Jeddore Lake, Koskaecodde Lake, Labrador Sea, Lac Brule, Lac Joseph, Lake Melville, Long Range Mountains, Minipi Lake, Mistastin Lake, Placentia Bay, Sandwich Bay, Sandy Lake, Smallwood Reservoir, St. George's Bay, Strait of Belle Isle, Torngat Mountains, Trinity Bay, Victoria Lake, and Winokapau Lake.