Home » World Maps » Africa
Africa Map and Satellite Image - Click a Country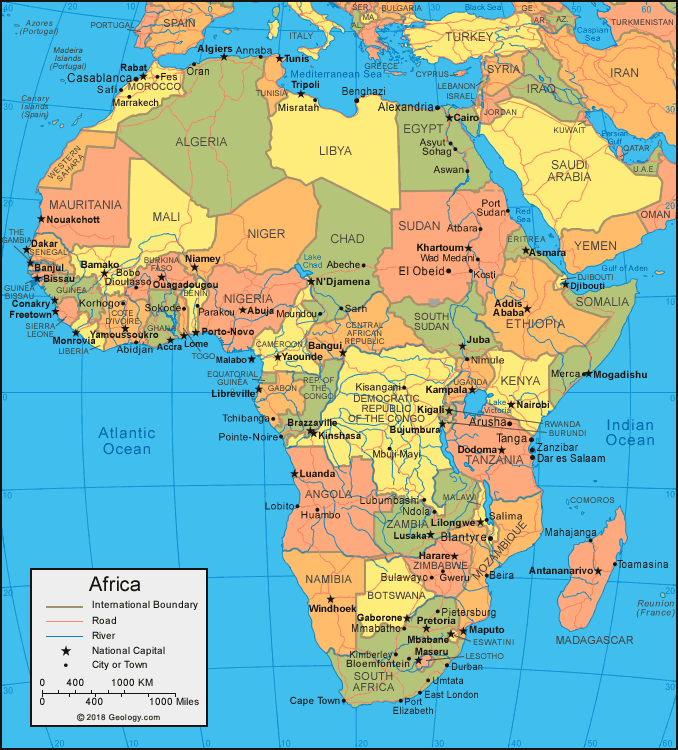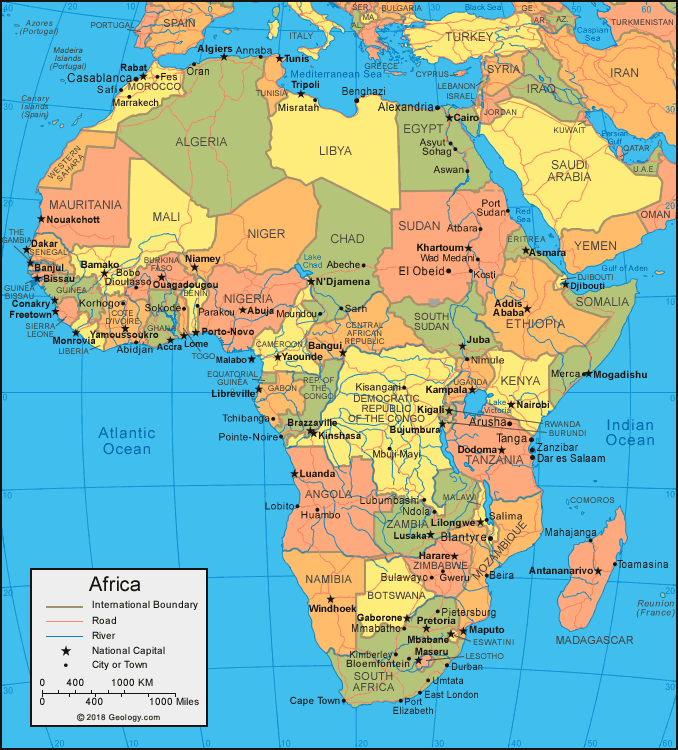 Africa is a continent south of Europe, between the Atlantic Ocean and the Indian Ocean.
Countries in Africa:
Algeria
,
Angola
,
Benin
,
Botswana
,
Burkina Faso
,
Burundi
,
Cameroon
,
Central African Republic
,
Chad
,
Comoros Islands
,
Democratic Republic of the Congo
,
Djibouti
,
Egypt
,
Equatorial Guinea
,
Eritrea
,
eSwatini (formerly Swaziland)
,
Ethiopia
,
Gabon
,
Gambia
,
Ghana
,
Guinea
,
Guinea-Bissau
,
Ivory Coast
,
Kenya
,
Lesotho
,
Liberia
,
Libya
,
Madagascar
,
Malawi
,
Mali
,
Mauritania
,
Morocco
,
Mozambique
,
Namibia
,
Niger
,
Nigeria
,
Republic of the Congo
,
Rwanda
,
Sao Tome and Principe
,
Senegal
,
Sierra Leone
,
Somalia
,
South Africa
,
South Sudan
,
Sudan
,
Tanzania
,
Togo
,
Tunisia
,
Uganda
,
Western Sahara
,
Zambia
,
Zimbabwe
.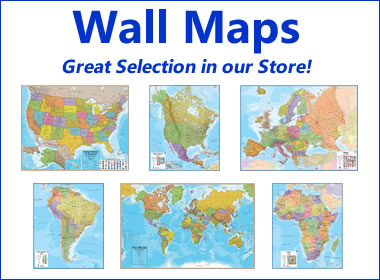 Where is Africa?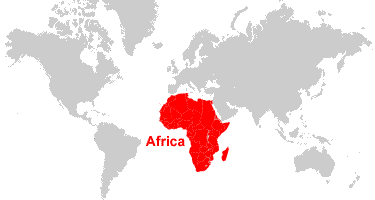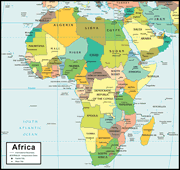 This is a political map of Africa which shows the countries of Africa along with capital cities, major cities, islands, oceans, seas, and gulfs. The map is a portion of a larger world map created by the Central Intelligence Agency using Robinson Projection. We have also published the full
CIA World Map
.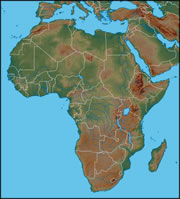 This is a physical map of Africa which shows the continent in shaded relief. Mountainous regions are shown in shades of tan and brown, such as the Atlas Mountains, the Ethiopian Highlands, and the Kenya Highlands. You can see that there are many rivers in the Congo Basin of central Africa, while the Sahara Desert region of northern Africa has almost none. Physical features within Africa's Great Rift Valley can be seen on the map, including Lake Tanganyika, Lake Malawi, and Lake Victoria, which are located in the southern portion of the valley.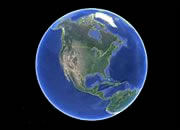 Google Earth is a free program from Google that allows you to explore satellite images showing the cities and landscapes of Africa and the rest of the world in fantastic detail. It works on your desktop computer, tablet, or mobile phone. The images in many areas are detailed enough that you can see houses, vehicles and even people on a city street. Google Earth is free and easy-to-use.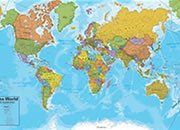 Africa is one of 7 continents illustrated on our Blue Ocean Laminated Map of the World. This map shows a combination of political and physical features. It includes country boundaries, major cities, major mountains in shaded relief, ocean depth in blue color gradient, along with many other features. This is a great map for students, schools, offices and anywhere that a nice map of the world is needed for education, display or decor.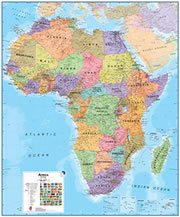 If you are interested in the geography of Africa, our large laminated map of Africa might be just what you need. It is a large political map of Africa that also shows many of the continent's physical features in color or shaded relief. Major lakes, rivers, cities, roads, country boundaries, coastlines and surrounding islands are all shown on the map.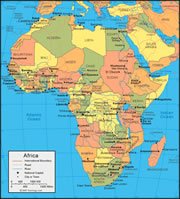 Map of the African Continent:
The map of Africa at the top of this page includes most of the Mediterranean Sea and portions of southern Europe. It also includes most countries of the Middle East. It presents the continent in the form of a Lambert Azimuthal Equal Area Projection. It views the Earth from a point located directly above 10 degrees north latitude and 20 degrees east longitude. It is what you would see from a satellite located immediately above that point and high enough above the Earth to see the entire map area. It is made by projecting all points on Earth's surface up to the satellite and recording them on a horizontal plane that is tangent to Earth's surface directly below the satellite. This type of projection best preserves the relative size and area of features on Earth's surface.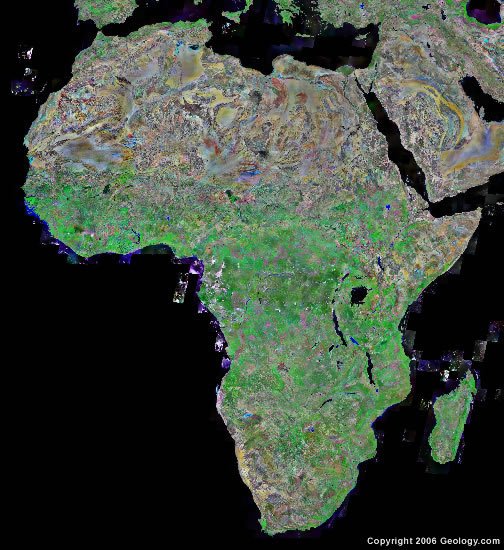 Africa Cities:
Abidjan, Alexandria, Annaba, Anusha, Aswan, Asyut, Atbara, Beira, Benghazi, Blantyre, Bobo Dioulasso, Bulawayo, Casablanca, Der es Salaam, Dodoma, Durban, East London, El Obeid, Fes, Gweru, Juba, Kimberley, Korhogo, Kosti, Lagos, Lobito, Lubumbashi, Mahajanga, Marrakech, Merca, Misratah, Mmabatho, Moundou, Ndola, Nimule, Oran, Parakou, Pietersburg, Pointe-Noire, Port Elizabeth, Port Sudan, Safi, Salima, Sarh, Sohag, Sokode, Tanga, Tchibanga, Toamasina, Umtata, Wad Medani and Zanzibar.

Africa Locations:
Atlantic Ocean, Atlas Mountains, Gulf of Aden, Gulf of Aqaba, Gulf of Guinea, Gulf of Suez, Indian Ocean, Lake Chad, Lake Kariba, Lake Malawi, Lake Tanganyika, Lake Victoria, Libyan Desert, Mediterranean Sea, Mozambique Channel, Nile River, Red Sea and Strait of Gibraltar.

Africa Natural Resources:
Africa has enormous amounts of virtually untapped fossil fuel, metal and industrial mineral resources.

Africa Natural Hazards:
Africa has a wide range of natural hazards. Please consult the hazards list for specific countries.

Africa Environmental Issues:
Africa has a wide range of environmental issues. Please consult the environmental issues list for specific countries.