Home » World Maps » Africa » Tanzania
Tanzania Map and Satellite Image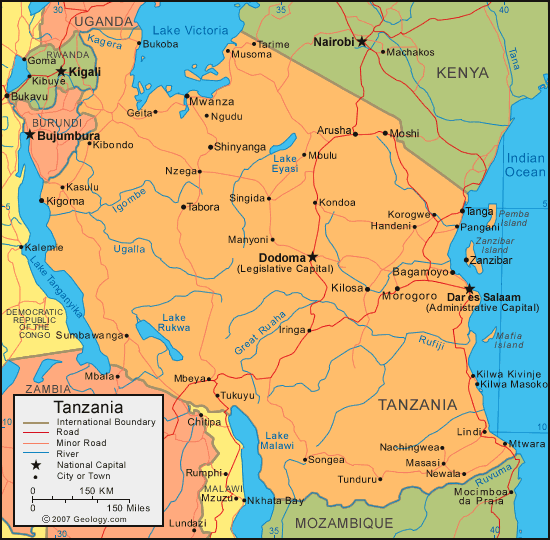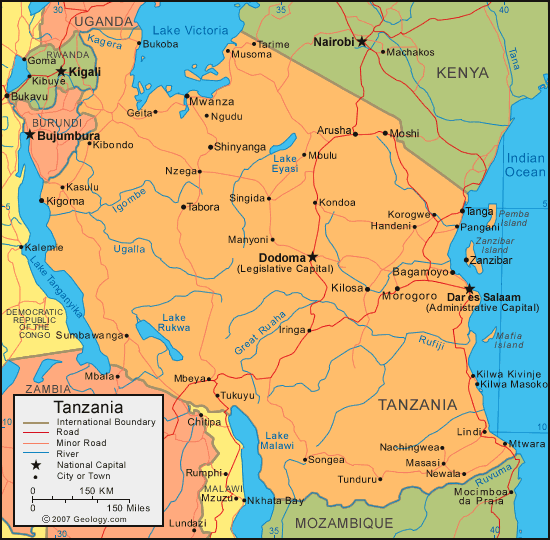 Tanzania is located in Eastern Africa. Tanzania is bordered by the Indian Ocean to the east, Kenya and Uganda to the north, Rwanda, Burundi, and the Democratic Republic of the Congo to the west, and Zambia, Malawi, and Mozambique to the south.
Tanzania Bordering Countries:
Burundi
,
Democratic Republic of the Congo
,
Kenya
,
Malawi
,
Mozambique
,
Rwanda
,
Uganda
,
Zambia
Regional Maps:
Map of Africa
,
World Map
Where is Tanzania?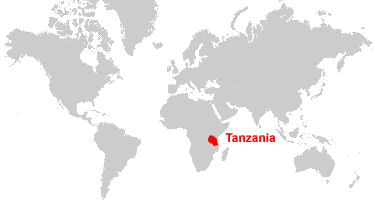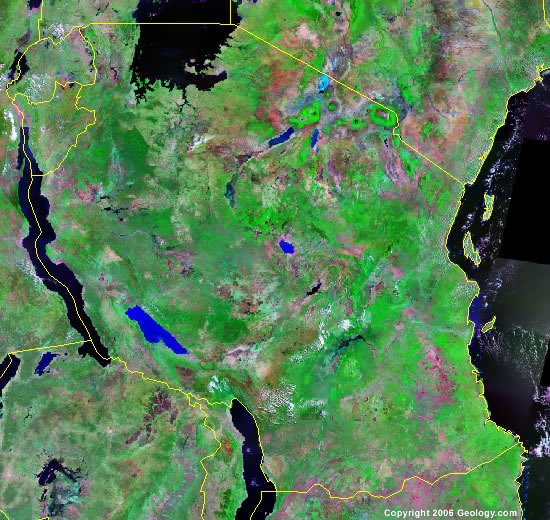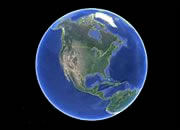 Google Earth is a free program from Google that allows you to explore satellite images showing the cities and landscapes of Tanzania and all of Africa in fantastic detail. It works on your desktop computer, tablet, or mobile phone. The images in many areas are detailed enough that you can see houses, vehicles and even people on a city street. Google Earth is free and easy-to-use.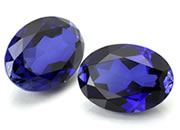 Tanzanite is a popular blue gemstone that was discovered in Tanzania in the 1960s. It was first marketed by Tiffany and Company, who named it after the country in which it was found. To date, all of the world's commercial Tanzanite production is from a small area of about eight square miles in the Merelani Hills, near the base of Mount Kilimanjaro.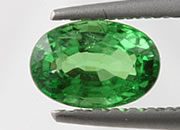 Tsavorite is a bright green variety of grossularite garnet that was discovered in the mountains of northeast Tanzania in 1967. It is one of the most valuable and rare varieties of garnet. It was first marketed by Tiffany and Company and named after the Tsavo East National Park of Kenya, where the first commercial mining occurred.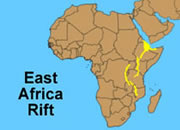 Tanzania is located along the East African Rift System, a divergent plate boundary where the eastern horn of Africa is separating from the rest of the continent. Lake Tanganyika and Lake Malawi, which form part of Tanzania's western boundary, mark the trend of the rift in this area.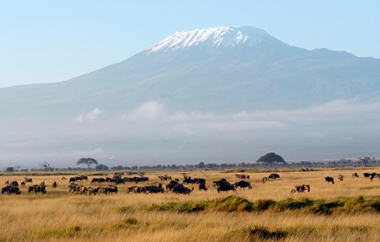 Mount Kilimanjaro, the highest mountain in Africa, is located in Tanzania. The mountain is near the equator, yet it is high enough to maintain a snow cap. Its summit is 19,340 feet (5,895 meters) above sea level.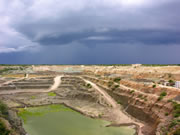 Tanzania is one of the world's top producers of diamonds, and in recent years it has been one of the top ten producers. Much of this production is from the Williamson Diamond Mine, located near the community of Mwazui. Creative commons image by Hansueli Krapf.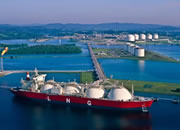 Several major natural gas discoveries have been made in the Indian Ocean off the coast of Tanzania since 2010. Plans are being made to develop these fields, use some of the gas domestically, but export most of it in the form of liquefied natural gas.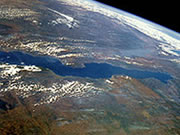 One of the "African Great Lakes", Lake Tanganyika is the deepest lake in Africa, the world's longest freshwater lake, and the second-deepest lake in the world - only Lake Baikal in Russia is deeper. Lake Tanganyika forms part of the western border of Tanzania and is part of Africa's Rift Valley. Lake Nyasa, also forming part of Tanzania's western border, is the sixth-deepest lake in the world and the second-deepest in Africa.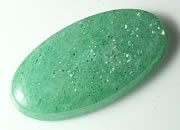 Tanzania is one of the few commercial producers of aventurine, a variety of quartz that has numerous aligned inclusions of platy reflective minerals. When the stone is moved under a light, these inclusions simultaneously reflect the light to produce a phenomenon known as aventurescence.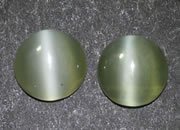 Actinolite is a gem rarely seen in jewelry stores. It sometimes exhibits the property of chatoyance, also known as "cat's-eye". It is an interesting gem. The pair of round cat's-eye cabochons above were cut from actinolite mined in Tanzania.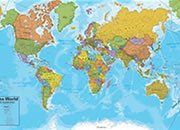 Tanzania is one of nearly 200 countries illustrated on our Blue Ocean Laminated Map of the World. This map shows a combination of political and physical features. It includes country boundaries, major cities, major mountains in shaded relief, ocean depth in blue color gradient, along with many other features. This is a great map for students, schools, offices and anywhere that a nice map of the world is needed for education, display or decor.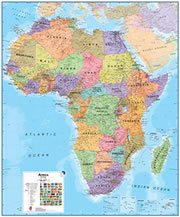 If you are interested in Tanzania and the geography of Africa our large laminated map of Africa might be just what you need. It is a large political map of Africa that also shows many of the continent's physical features in color or shaded relief. Major lakes, rivers,cities, roads, country boundaries, coastlines and surrounding islands are all shown on the map.

Tanzania Cities:
Arusha, Bagamoyo, Bukoba, Dar Es Salaam, Dodoma, Geita, Handeni, Ifakara, Iringa, Kasulu, Kibondo, Kigoma, Kilosa, Kilwa Masoko, Kondoa, Korogwe, Lindi, Manda, Manyoni, Masasi, Mbeya, Mbulu, Morogoro, Moshi, Mtwara, Musoma, Mwanza, Nachingwea, Newala, Ngudu, Njombe, Nzega, Pangani, Shinyanga, Singida, Songea, Sumbawanga, Tabora, Tanga, Tarime, Tukuyu, Tunduru, Ujiji and Zanzibar.

Tanzania Locations:
Great Ruaha River, Igombe River, Indian Ocean, Iwembere Steppe, Kilombero River, Kipengere Range, Lake Burigi, Lake Eyasi, Lake Ikimba, Lake Malawi, Lake Manyara, Lake Natron, Lake Rukwa, Lake Tanganyika, Lake Victoria, Malagarasi River, Masai Steppe, Moyowosi River, Nikonga River, Pare Mountains, Rufiji River, Ruvuma River, Speke Gulf and Ugalla River.

Tanzania Natural Resources:
Tanzania has several sources of fuel, some of which are hydropower, coal and natural gas. Other commercial natural resources for this country include phosphates, tin, iron ore, nickel, gold, gemstones and diamonds.

Tanzania Natural Hazards:
There is flooding on the central plateau of Tanzania during the rainy season. Other natural hazards for this country include droughts.

Tanzania Environmental Issues:
There are a number of environmental issues in Tanzania. Issues regarding the land include deforestation, soil degradation, and desertification. The wildlife is threatened by illegal hunting and trade, especially for ivory. Marine habitats are threatened by water pollution and the destruction of coral reefs.