Home » World Maps » Central America
Central America Map and Satellite Image
- Click a Country
Central America is an isthmus that connects North and South America, extending from Mexico to Colombia. The Caribbean Sea is on the east coast, and the Pacific Ocean is on the west coast.
Countries in Central America:
Belize
,
Costa Rica
,
El Salvador
,
Guatemala
,
Honduras
,
Nicaragua
,
Panama
.
Where is Central America?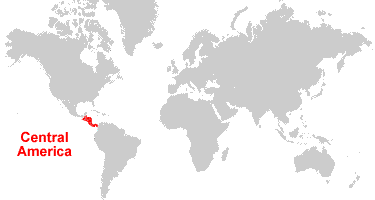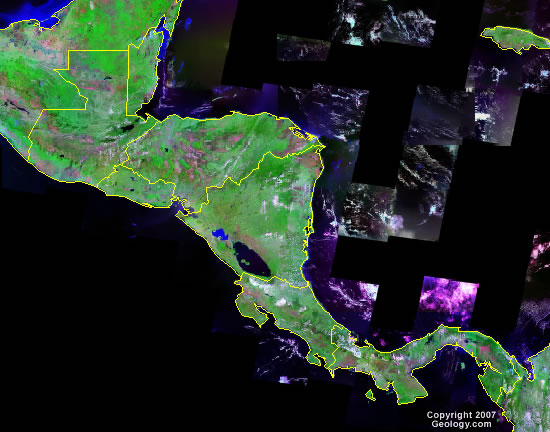 Central America Cities:
Belmopan, Belize City, Orange Walk, Puerto Barrios, Coban, Quetzaltenango, Guatemala City, Escuintlia, Santa Ana, San Salvador, Santa Rosa de Copan, San Pedro Sula, La Ceiba, Juticalpa, Tegucigalpa, San Miguel, Chinandega, Leon, Managua, Masaya, Puerto Cabezas, Bluefields, Liberia, Puntarenas, San Jose, Puerto Limon, David, Santiago, Chitre, Colon, Panama City, Nargana.

Central America Locations:
Gulf of Honduras, Lago de Nicaragua, San Juan River, Gulf of Panama, Panama Canal, Pacific Ocean, Caribbean Sea

Central America Natural Resources:
Central America has large amounts of metal and industrial mineral resources. See individual country reports for more detail.

Central America Natural Hazards:
Central America has a wide range of natural hazards. Please consult the individual countries for more detail.

Central America Environmental Issues:
Central America has a wide range of environmental issues. Please consult the environmental issues list for specific countries.

Central America Bordering Countries:
Mexico, Colombia

ADVERTISEMENT