Home » World Maps » Central America » Panama
Panama Map and Satellite Image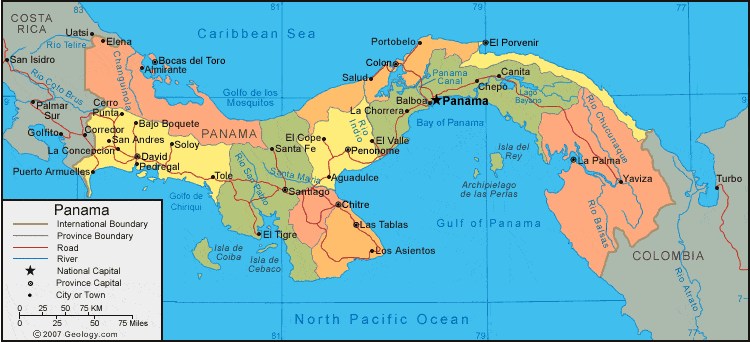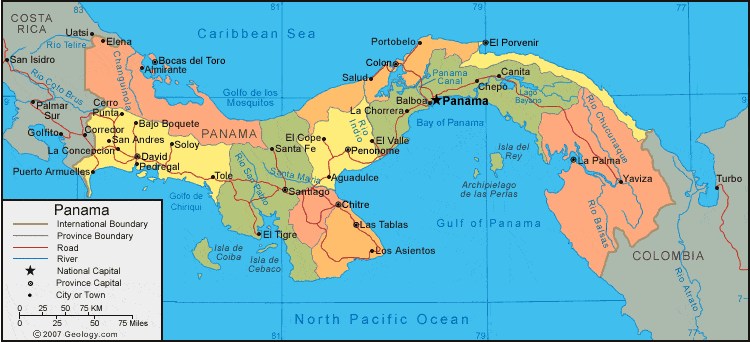 Panama is located in Central America. Panama is bordered by the Pacific Ocean and the Caribbean Sea, with Costa Rica to the west and Colombia to the east.

The Panama Canal provides a shortcut for ships traveling from the Atlantic Ocean to the Pacific Ocean. When it was completed in 1914, a ship traveling from New York City to Tokyo no longer had to travel around the southern tip of South America to enter the Pacific Ocean - it simply went through the Panama Canal. This saved enormous amounts of fuel, increased the speed of international trade, and reduced the delivered cost of virtually all goods that passed through the canal.
Panama Bordering Countries:
Colombia
,
Costa Rica
Regional Maps:
Map of Central America
,
World Map
Where is Panama?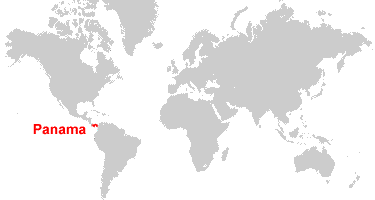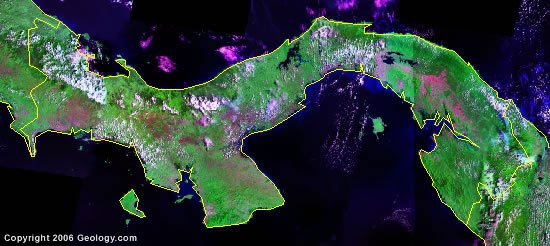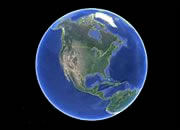 Google Earth is a free program from Google that allows you to explore satellite images showing the cities and landscapes of Panama and all of Central America in fantastic detail. It works on your desktop computer, tablet, or mobile phone. The images in many areas are detailed enough that you can see houses, vehicles and even people on a city street. Google Earth is free and easy-to-use.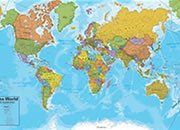 Panama is one of nearly 200 countries illustrated on our Blue Ocean Laminated Map of the World. This map shows a combination of political and physical features. It includes country boundaries, major cities, major mountains in shaded relief, ocean depth in blue color gradient, along with many other features. This is a great map for students, schools, offices and anywhere that a nice map of the world is needed for education, display or decor.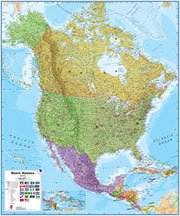 If you are interested in Panama and the geography of Central America, our large laminated map of North America might be just what you need. It is a large political map of North America that also shows many of the continent's physical features in color or shaded relief. Major lakes, rivers, cities, roads, country boundaries, coastlines and surrounding islands are all shown on the map.

Panama Cities:
Aguadulce, Almirante, Bajo Boquete, Balboa, Bocas del Toro, Canita, Carreto, Cerro Punta, Chame, Changuinola, Chepo, Chitre, Coco Solo, Colon, Cusapin, David Nargana, David, El Cope, El Porvenir, El Tigre, El Valle, Elena, La Chorrera, La Concepcion, La Palma, Las Tablas, Los Asientos, Nuevo Charges, Ola, Palenque, Panama, Pedregal, Penonome, Portobelo, Puerto Armuelles, Punta Laurel, Rio Hato, Salud, San Andres, San Carlos, Santa Fe, Santiago, Soloy, Tambo, Tole and Yavlza.

Panama Locations:
Bahia Damas, Bahia de Charco Azul, Bahia de Parita, Caribbean Sea, Cordillera Central, Cordillera de San Blas, Cordillera de Talamanca, Golfo de Chiriqui, Golfo de los Mosquitos, Golfo de Montijo, Golfo de Panama, Golfo de San Blas, Golfo de San Miguel, Lago Alajuela Chagre, Lago de Bayano, Lago Gatun, Laguna de Chiriqui, Pacific Ocean and San Juan River.

Panama Natural Resources:
Panama has varied natural resources which includes mahogany forests, copper, shrimp and hydropower.

Panama Natural Hazards:
Panama is subject to the occasional severe storm. There are other natural hazards in this country, including forest fires in the Darien area.

Panama Environmental Issues:
Environmental issues for Panama include the deforestation of the country's tropical rain forest. In addition there has been land degradation and soil erosion, which has caused siltation in the Panama Canal. Mining practices in Panama threaten the natural resources. There is water pollution from agricultural runoff which endangers the fishery resources. The country also has air pollution in its urban areas.