Home » World Maps » Central America » Costa Rica
Costa Rica Map and Satellite Image
Costa Rica Map with Cities, Roads, and Rivers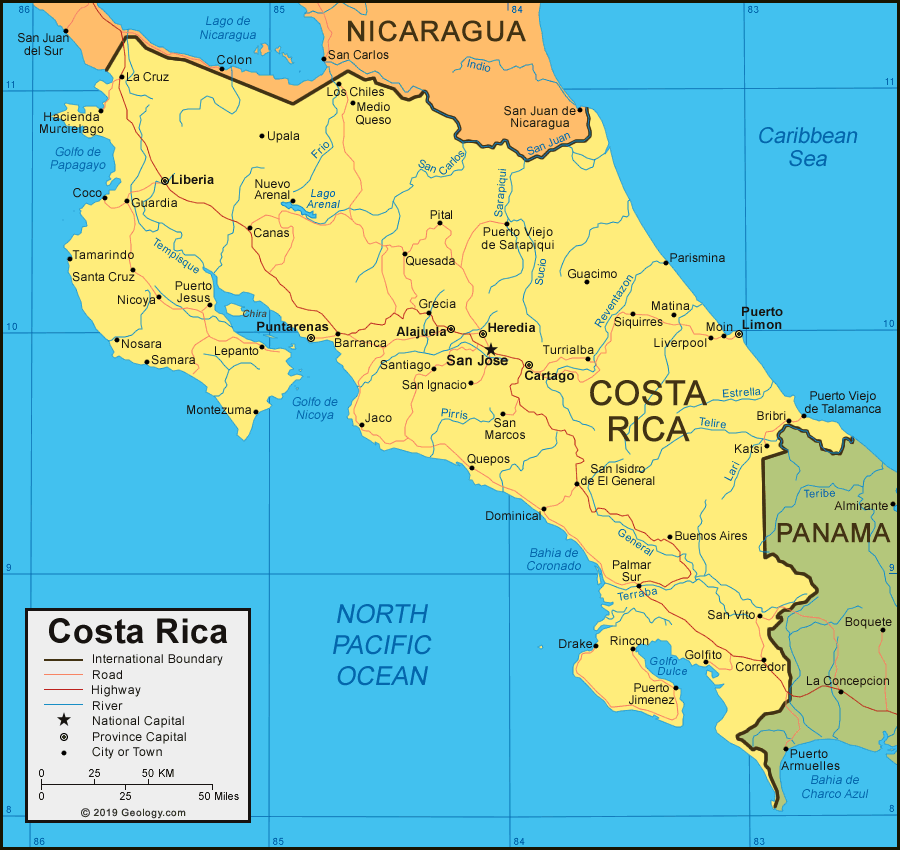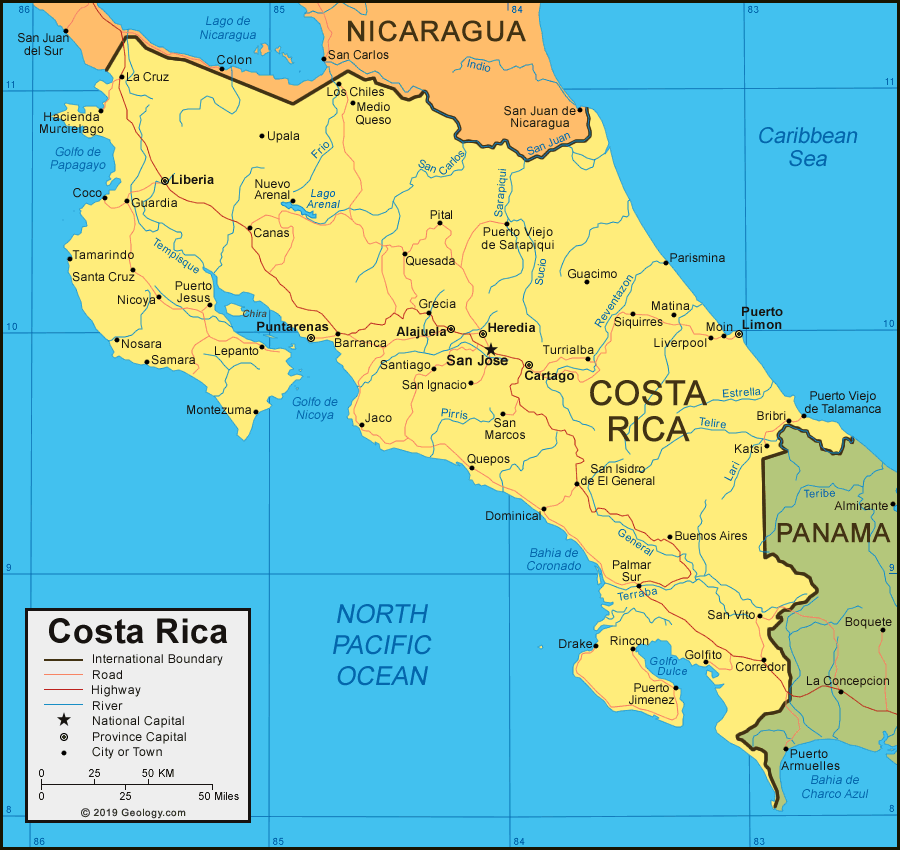 Costa Rica is located in Central America. Costa Rica is bordered by the Pacific Ocean, the Caribbean Sea, Nicaragua to the north, and Panama to the southeast.
Costa Rica Bordering Countries:
Nicaragua
,
Panama
Regional Maps:
Map of Central America
,
World Map
Where is Costa Rica?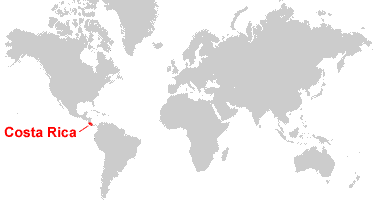 Map of Costa Rica Provinces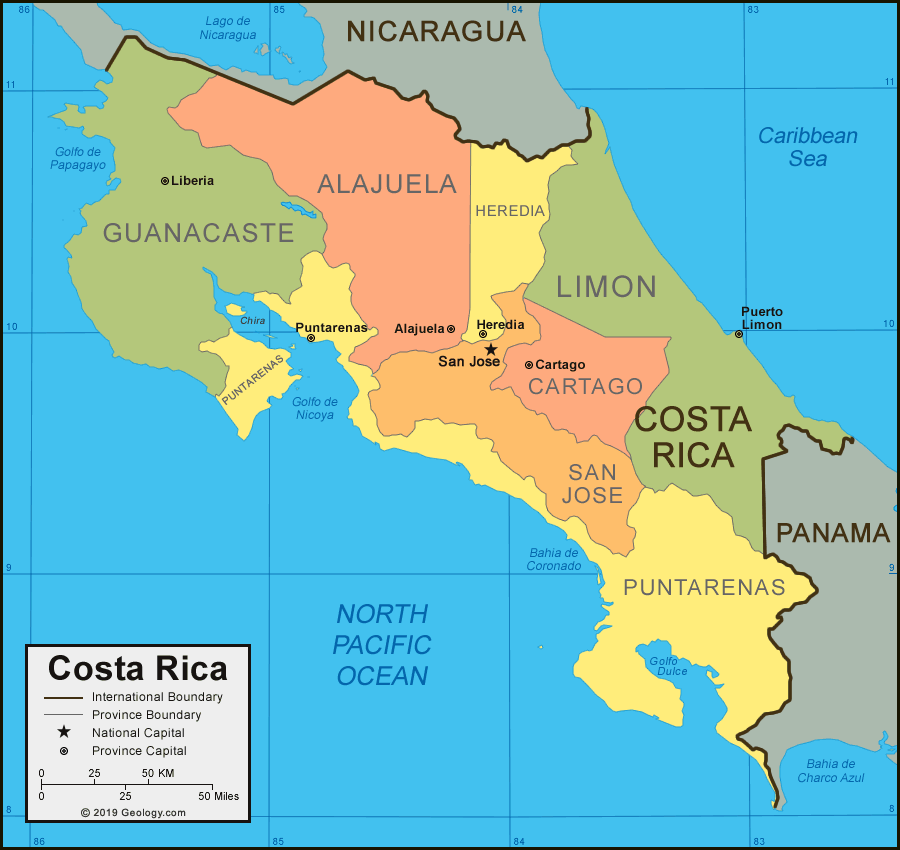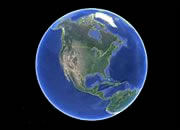 Google Earth is a free program from Google that allows you to explore satellite images showing the cities and landscapes of Costa Rica and all of Central America in fantastic detail. It works on your desktop computer, tablet, or mobile phone. The images in many areas are detailed enough that you can see houses, vehicles and even people on a city street. Google Earth is free and easy-to-use.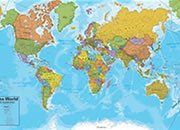 Costa Rica is one of nearly 200 countries illustrated on our Blue Ocean Laminated Map of the World. This map shows a combination of political and physical features. It includes country boundaries, major cities, major mountains in shaded relief, ocean depth in blue color gradient, along with many other features. This is a great map for students, schools, offices and anywhere that a nice map of the world is needed for education, display or decor.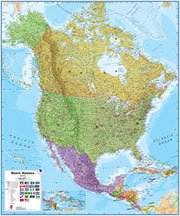 If you are interested in Costa Rica and the geography of Central America, our large laminated map of North America might be just what you need. It is a large political map of North America that also shows many of the continent's physical features in color or shaded relief. Major lakes, rivers, cities, roads, country boundaries, coastlines and surrounding islands are all shown on the map.

Costa Rica Cities:
Alajuela, Barranca, Bribri, Buenos Aires, Canas, Cartago, Coco, Corredor, Dominical, Drake, Golfito, Grecia, Guacimo, Guardia, Hacienda Murcielago, Heredia, Jaco, Katsi, La Cruz, Lepanto, Liberia, Liverpool, Los Chiles, Matina, Medio Queso, Moin, Montezuma, Nicoya, Nosara, Nuevo Arenal, Palmar Sur, Parismina, Pital, Puerto Jesus, Puerto Jimenez, Puerto Limon, Puerto Viejo de Sarapiqui, Puerto Viejo de Talamanca, Puntarenas, Quepos, Quesada, Rincon, Samara, Santiago, San Ignacio, San Isidro de El General, San Jose, San Marcos, San Vito, Santa Cruz, Siquirres, Tamarindo, Turrialba, and Upala.

Costa Rica Provinces:
Alajuela, Cartago, Guanacaste, Heredia, Limon, Puntarenas, and San Jose.

Costa Rica Locations:
Bahia de Coronado, Caribbean Sea, Golfo de Nicoya, Golfo de Papagayo, Golfo Dulce, Isla de Chira, Lago Arenal, Pacific Ocean, Rio Estrella, Rio Frio, Rio General, Rio Lari, Rio Pirris, Rio Reventazon, Rio San Carlos, Rio San Juan, Rio Sarapiqui, Rio Sucio, Rio Telire, Rio Tempisque, and Rio Terraba.

Costa Rica Natural Resources:
Hydropower is a natural resource for the country of Costa Rica.

Costa Rica Natural Hazards:
Costa Rica has active volcanoes and occasional earthquakes. Other natural hazards for this country include hurricanes along the Atlantic coast, frequent flooding of the lowlands at the onset of the rainy season, and landslides.

Costa Rica Environmental Issues:
The country of Costa Rica has numerous environmental issues. Some of these issues include deforestation that is largely due to the clearing of land for cattle ranching and agriculture. As a result, there is soil erosion. Costa Rica also has problems with air pollution and coastal marine pollution. There are concerns with the protection of fisheries and solid waste management as well.