Home » World Maps » France » Kerguelen Islands
Kerguelen Islands Map and Satellite Image
The Kerguelen Islands are an overseas territory of France.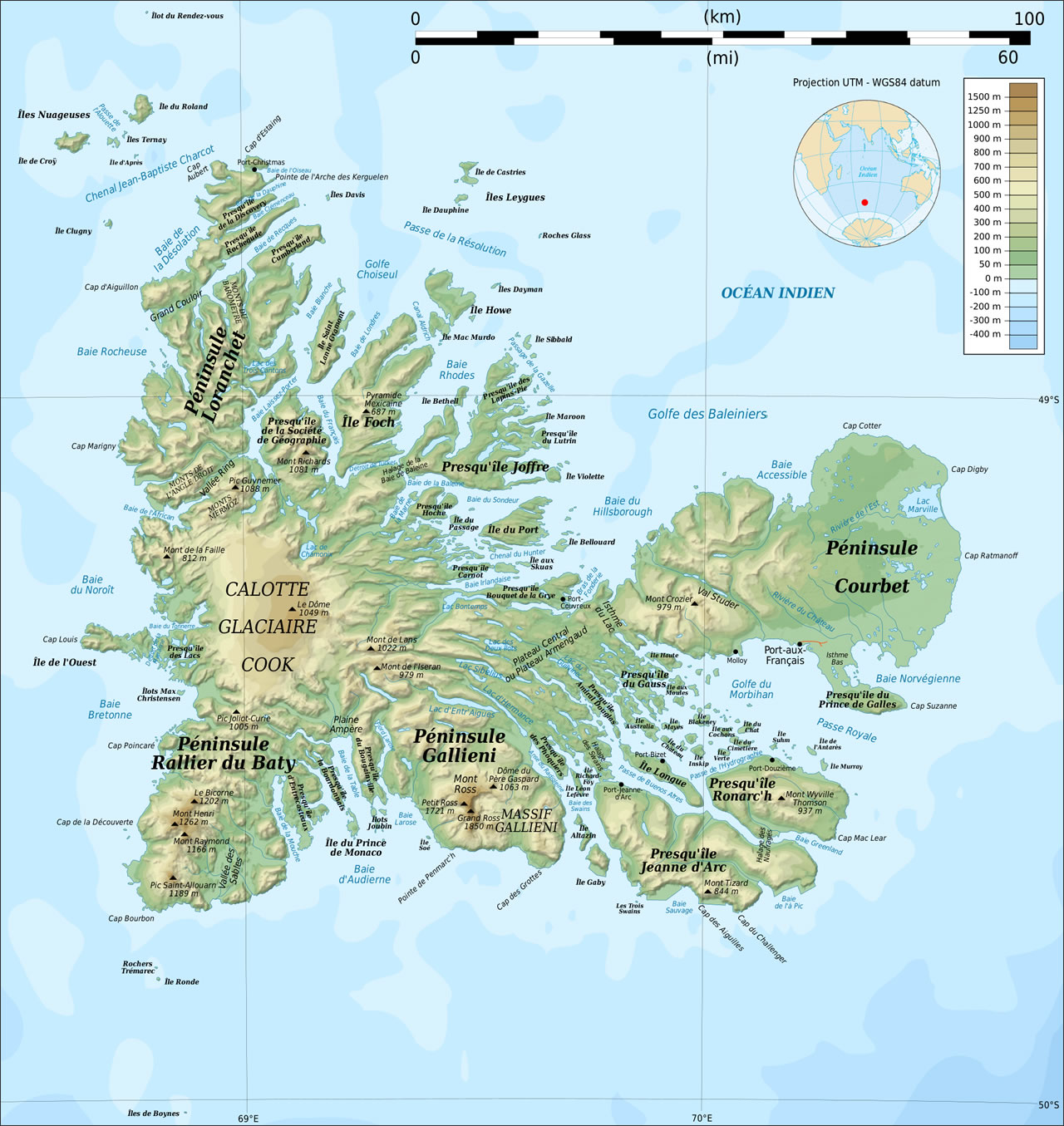 The Kerguelen Islands are a group of islands located in the southern Indian Ocean, about 1800 nautical miles southeast of Madagascar. The Kerguelen Islands are part of the French Southern and Antarctic Lands, which are overseas territories of France. They are some of the most remote islands on the planet, and they are also known as the "Desolation Islands" due to the landscape's stark appearance. Approximately 300 small islands and islets surround the main island of Grande Terre. Image by Rémi Kaupp, used here under a GNU Free Documentation License.
Kerguelen Islands Neighboring Countries:
None.
Regional Maps:
Antarctica
,
Madagascar
,
Australia
,
World Map
Where are the Kerguelen Islands?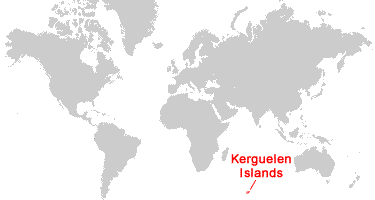 Kerguelen Islands Satellite Image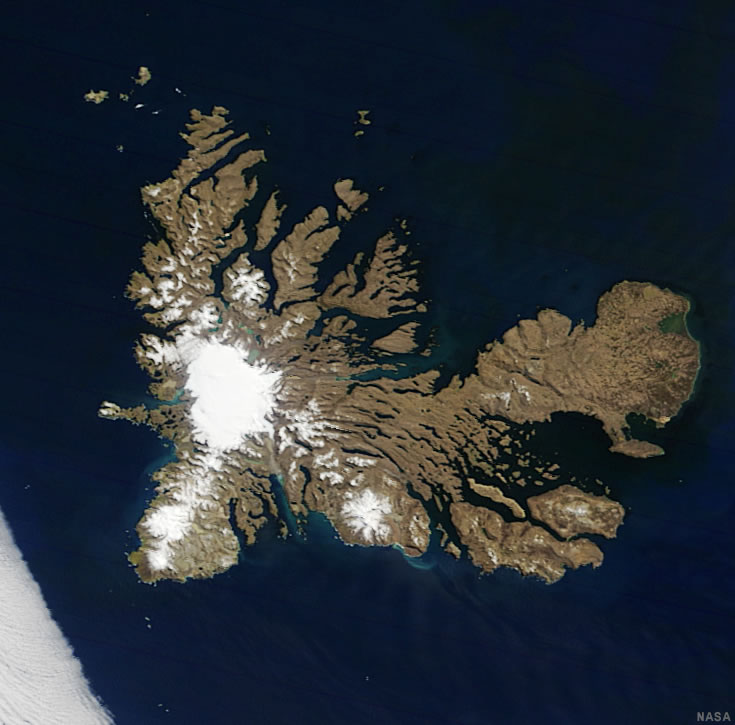 Data for the satellite image above was acquired by the Moderate Resolution Imaging Spectroradiometer (MODIS) instrument on NASA's Terra satellite. Image by Jesse Allen, using data from the Land Atmosphere Near real-time Capability for EOS (LANCE).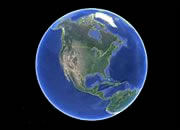 Google Earth is a free program from Google that allows you to explore satellite images showing the settlements and landscapes of the Kerguelen Islands and the rest of the world in fantastic detail. It works on your desktop computer, tablet, or mobile phone. The images in many areas are detailed enough that you can see houses, vehicles and even people on a city street. Google Earth is free and easy-to-use.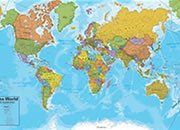 The Kerguelen Islands are included on our Blue Ocean Laminated Map of the World. This map shows a combination of political and physical features. It includes country boundaries, major cities, major mountains in shaded relief, ocean depth in blue color gradient, along with many other features. This is a great map for students, schools, offices, and anywhere that a nice map of the world is needed for education, display or decor.

Kerguelen Islands Cities / Settlements:
Base Armor, Betsy Cove, Cabane Port-Raymond, Cap Ratmanoff, La Montjoie, Molloy, Observatory Bay, Port-aux-Francais, Port Bizet, Port Christmas, Port Couvreux, Port Curieuse, Port Douzieme, Port Jeanne d'Arc.

Kerguelen Islands Named Islands:
Grande Terre ("Big Earth") is the main island. It is surrounded by hundreds of smaller islands, a few of which include: Altazin, Foch, Gaby, Haute, Ile Australia (Reindeer Island), Ile de Castries, Ile de Croy, Ile de l'Ouest, Iles de Boynes, Ile du Port, Ile du Roland, Iles du Prince-de-Monaco, Leygues, Longue, Mayes, Nuageuses, Saint-Lanne Gramont, and Violette.

Kerguelen Islands Locations:
Bougainville Peninsula, Bouquet de la Grye Peninsula, Cook Ice Cap, Courbet Peninsula, Dome du Pere Gaspard, Gallieni Peninsula, Gauss Peninsula, Grand Ross, Hoche Peninsula, Jeanne d'Arc Peninsula, Joffre Peninsula, Le Bicorne, Le Dome, Loranchet Peninsula, Mont Crozier, Mont de la Faille, Mont de l'Iseran, Mont de Lans, Mont Henri, Mont Raymond, Mont Richards, Mont Ross, Mont Tizard, Mont Wyville Thomson, Peninsula d'Entrecasteaux, Peninsula of the Geography Society, Petit Ross, Pic Guynemer, Pic Joliot-Curie, Pic Saint-Allouarn, Prince de Galles Peninsula, Pyramide Mexicaine, Rallier du Baty Peninsula, Ronarc'h Peninsula.

Kerguelen Islands Natural Resources:
Fish and crustaceans. The islands have several scientific research stations, including a seismographic station at Port Bizet, and a satellite and rocket tracking station near Port-aux-Francais.

Kerguelen Islands Natural Hazards:
The Kerguelen Islands have a somewhat harsh tundra climate. Because the archipelago is situated between the "Roaring Forties" and the "Furious Fifties" (strong westerly winds in southern latitudes), the winds can be very strong, particularly on the west coast, where wind speeds can reach 150 to 200 kilometers per hour. Waves often measure 12 to 15 meters high.

Kerguelen Islands Environmental Issues:
In the past few decades, permanent glaciers have been shrinking, and some of the smaller glaciers on the islands have completely disappeared. In 2019, the Kerguelen Islands were designated a UNESCO World Heritage Site to protect their pristine wilderness, biodiversity, and wildlife populations.