Home » World Maps » Europe » Norway » Svalbard
Svalbard Map and Satellite Image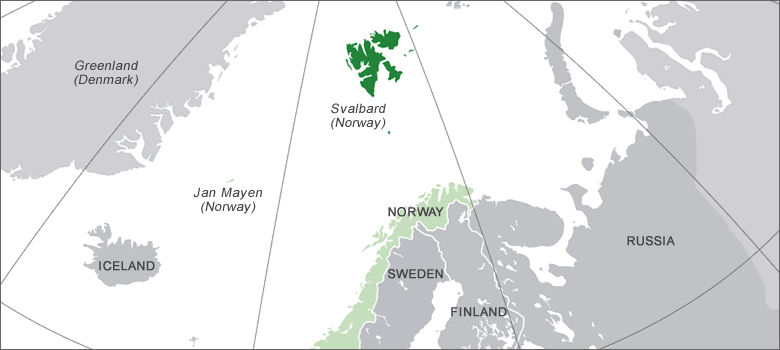 Svalbard is a cluster of islands in the Arctic Ocean. Several communities on these islands are the northernmost permanently inhabited settlements in the world. Svalbard is located north of the Arctic Circle and so far north that trees will not grow. Base map by Rob984, displayed here under a Creative Commons CC BY-SA 4.0 license. Annotations by Geology.com.
Svalbard Information:
Svalbard (also known as Spitsbergen or Spitzbergen) is an archipelago in the Arctic Ocean. It is north of Norway and east of Greenland at 78°13'N and 15°39'E. The islands are an unincorporated area of the Kingdom of Norway. A governor appointed by the Kingdom serves as their administrator. The official language is Norwegian, and the 2020 population estimate was 2,939.
Regional Maps:
Norway
,
Europe
,
World Map

Svalbard Satellite Image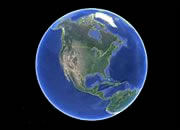 Google Earth is a free program from Google that allows you to explore satellite images showing the cities and landscapes of Svalbard, Norway, and all of Europe in fantastic detail. It works on your desktop computer, tablet, or mobile phone. The images in many areas are detailed enough that you can see houses, vehicles and even people on a city street. Google Earth is free and easy-to-use.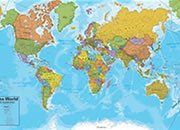 Svalbard is included on our Blue Ocean Laminated Map of the World. This map shows a combination of political and physical features. It includes country boundaries, major cities, major mountains in shaded relief, ocean depth in blue color gradient, along with many other features. This is a great map for students, schools, offices and anywhere that a nice map of the world is needed for education, display or decor.

Svalbard Communities:
Barentsburg, Grumant, Longyearbyen, Ny-Alesund, Pyramiden, and Sveagruva.

Svalbard Islands:
The main islands of Svalbard are, from largest to smallest, Spitsbergen, Nordaustlandet, Edgeoya, Barentsoya, Kvitoya, Prince Charles Foreland, Kongsoya, Bjornoya, Svenskoya, Wilhelm Island, and Lagoya. The island of Jan Mayan, located in the Greenland Sea, is part of the Kingdom of Norway, but it is not part of the Svalbard archipelago.

Svalbard Locations:
Alkefjellet Park, Forlandet National Park, Indre Wijdefjorden National Park, Nordenskjold Land National Park, Northwest Spitsbergen National Park, Sassen-Bunsow Land National Park, Sor-Spitsbergen National Park.

Svalbard Natural Resources:
Coal deposits and fish.

Svalbard Natural Hazards:
Natural hazards for Svalbard include avalanches, debris flows, and rockslides. Roaming polar bears also pose a threat to the people living in Svalbard.

Svalbard Environmental Issues:
A warming climate is causing Arctic ice loss, degradation of permafrost, and coastal erosion.