Home » World Maps » Map of Albania
Albania Map - Albania Satellite Image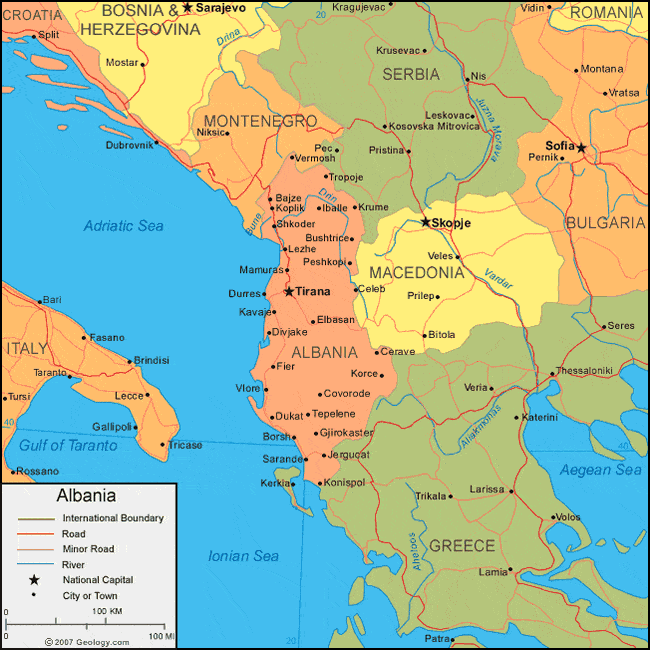 Where is Albania?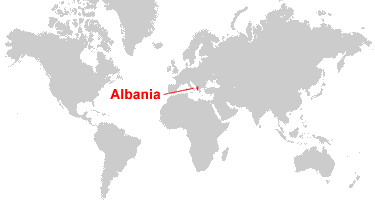 Albania Satellite Image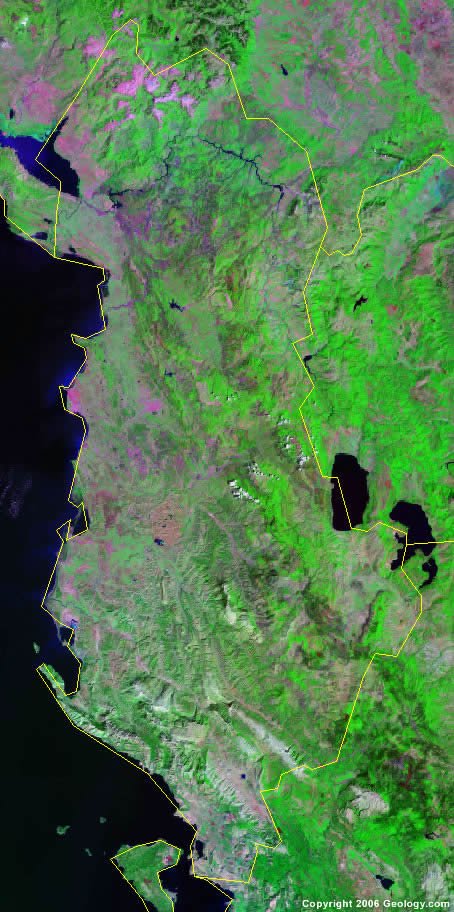 Albania Country Information:
Albania is located in southeastern Europe. Albania is bordered by the Adriatic Sea, Serbia and Montenegro to the north, Macedonia to the east, and Greece to the south.

Albania Bordering Countries:
Greece
,
Macedonia
,
Serbia
and
Montenegro

Albania Cities:
Bajze, Berat, Borsh, Bushtrice, Celeb, Cerave, Covorode, Divjake, Dukat, Durres, Elbasan, Fier, Fier-Shegan, Gjirokaster (Argyrus), Iballe, Jergocat, Karavasta, Kavaje, Konispol, Koplik, Korce, Krume, Lezhe, Lushnje, Mamuras, Obot, Peshkopi, Pulaj, Sarande, Shegan, Shkoder (Scutari), Tepelene, Tirane (Tirana), Tropoje, Vermosh and Vlore (Valona).

Albania Locations:
Adriatic Sea, Aegean Sea, Bune River, Drin River, Drini Zi River, Gjiri i Drinit, Gjiri i Durresit, Gjiri i Lalezit, Gjiri i Vlores, Gulf of Taranto, Ionian Sea, Keneta a Terbufit, Kiri River, Laguna e Karavastase, Laguna e Nartes, Limni Mikri Prespa, Liqeni i Butrintit, North Albanian Alps, Ohridsko Jezero (Lake Ohritl), Pindus Mountains, Prespansko Jezero (Lake Prespa), Seman River, Skadarsko Jezero (Lake Scutari) and Strait of Ortranto.

Albania Natural Resources:
Albania has fossil fuel resources of oil, natural gas and coal in commercial quantities. Metal resources include chromite, copper, iron ore and nickel. Other resources include salt, timber and hydropower.

Albania Natural Hazards:
Albania has natural hazards, such as floods, drought and destructive earthquakes. There are also tsunamis which occur along the southwestern coast of the country.

Albania Environmental Issues:
An environmental issue for Albania is water pollution, stemming from both industrial and domestic activities. The country also has problems with soil erosion and deforestation.


Copyright information: The images on this page were composed by Angela King and Brad Cole and are copyright by Geology.com © 2008. These images are not available for use beyond our websites. If you would like to share them with others please link to this page. The satellite image was produced using Landsat data from NASA and the map was produced using data licensed from and copyright by Map Resources © 2008.