Home » World Maps » Map of Ethiopia
Ethiopia Map - Ethiopia Satellite Image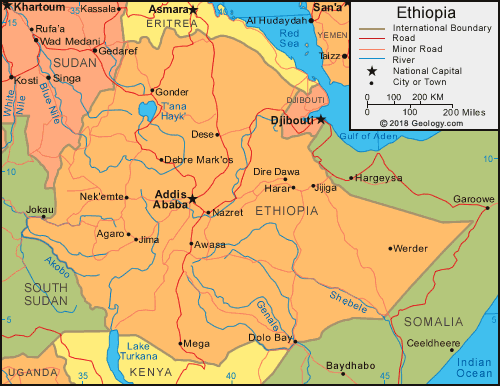 Where is Ethiopia?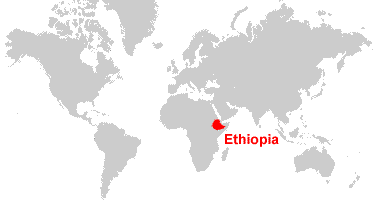 Ethiopia Satellite Image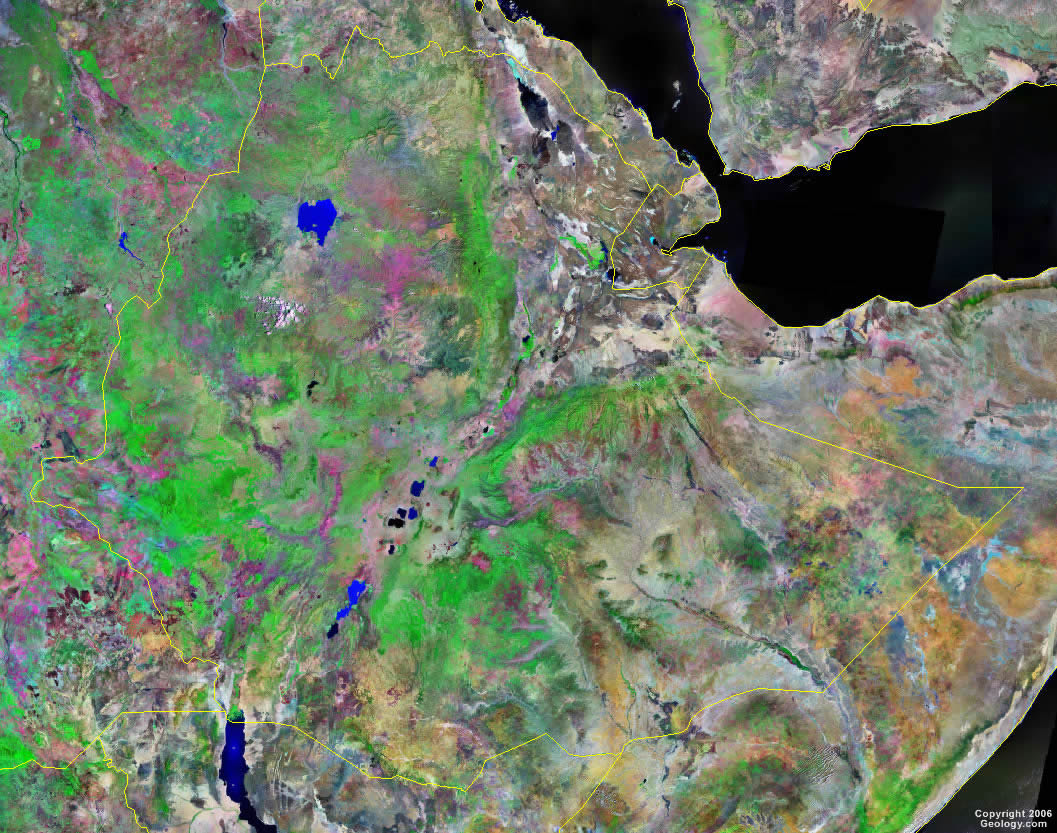 Ethiopia Country Information:
Ethiopia is located in eastern Africa. Ethiopia is bordered by Eritrea to the north, Sudan to the west, Kenya to the south, Somalia to the south and east, and Djibouti to the east.

Ethiopia Bordering Countries:
Djibouti
,
Eritrea
,
Kenya
,
Somalia
,
Sudan

Ethiopia Cities:
Adis Abeba (Addis Ababa), Agaro, Arba Minch, Awasa, Bahir Dar, Bati, Debre Tabor, Dese, Dila, Dire Dawa, Dolo Bay, Gimbi, Gonder, Harer, Jijiga, Jima, Kibre Mengist, Mega, Mek'ele, Nagele, Nazret, Nek'emte, Sodo, Wendo and Werder.

Ethiopia Locations:
Abaya Hayk', Abhe Bid Hayk', Abiyata Hayk', Akobo River, Awash River, Blue Nile River, Ch'amo Hayk', Ch'ew Bahir, Dawa River, Fafen River, Gemeri Hayk', Genale River, Gulf of Aden, Jerer River, Lake Turkana (Lake Rudolf), Langano Hayk', Red Sea, Shala Hayk', Shebele River, T'ana Hayk', Wabe Gestro River, Wabe Shebele River and Ziway Hayk'.

Ethiopia Natural Resources:
Ethiopia's mineral resources include small reserves of gold, copper and platinum. The country has other important natural resources, which include potash, natural gas and hydropower.

Ethiopia Natural Hazards:
In Ethiopia, the geologically active Great Rift Valley is susceptible to earthquakes and volcanic eruptions. Frequent droughts are another natural hazard in this country.

Ethiopia Environmental Issues:
Environmental issues for Ethiopia include: deforestation; overgrazing; soil erosion; desertification. There are water shortages in some areas from water-intensive farming and poor management.


Copyright information: The images on this page were composed by Angela King and Brad Cole and are copyright by Geology.com © 2008. These images are not available for use beyond our websites. If you would like to share them with others please link to this page. The satellite image was produced using Landsat data from NASA and the map was produced using data licensed from and copyright by Map Resources © 2008.