Home » World Maps » Map of Somalia
Somalia Map - Somalia Satellite Image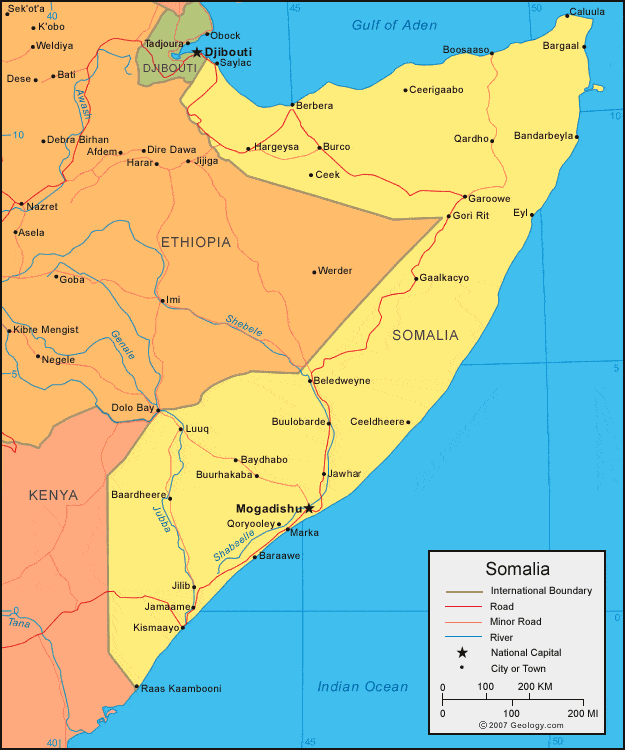 Where is Somalia?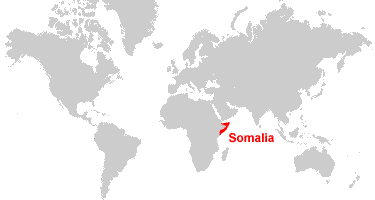 Somalia Satellite Image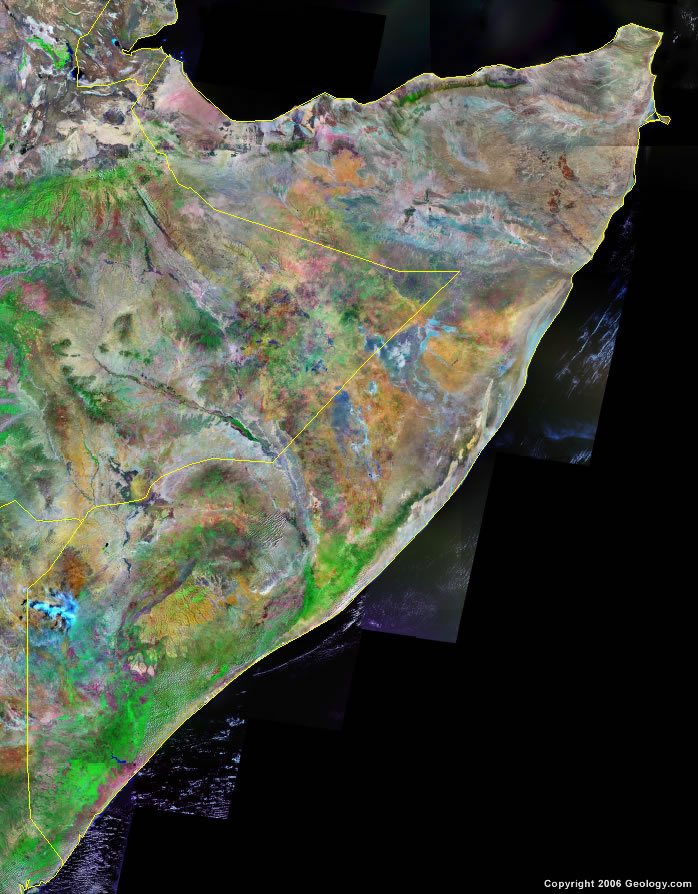 Somalia Country Information:
Somalia is located in eastern Africa. Somali is bordered by the Indian Ocean and Gulf of Aden and Djibouti, Ethiopia, and Kenya to the west.

Somalia Bordering Countries:
Djibouti
,
Ethiopia
,
Kenya

Somalia Cities:
Afgooye, Baardheere, Bandarbeyla, Baraawe, Bargaal, Baroowe, Baydhabo (Baidoa), Beledweyne, Berbera, Boosaaso, Burco, Buulobarde, Buurhakaba, Cadale, Caluula, Ceeidheere, Ceek, Ceerigaabo, Eyl, Gaalkcayo (Galcaio), Gol Bax, Gori Rit, Hargeysa, Jamaame, Jawhar (Gioar), Jilib, Kidi Faani, Kismaayo (Chisimayu), Luuq, Mareer, Marka (Merca), Muqdisho (Mogadishu), Qardho, Qoryooley, Raas Kaambooni, Saacow, Saylac, Toore, Urkut and Waajid.

Somalia Locations:
Gacanka Xaafuun Koof, Gacanka Xaafuun Waq, Gulf of Aden, Indian Ocean, Jubba River, Qooriga Neegro, Qooriga Raguda, Shabeelle River and Shebele River.

Somalia Natural Resources:
Somalia has numerous metal resources, which include uranium, tin, bauxite, copper, and largely unexploited reserves of iron ore. Other natural resources for this country include salt, gypsum, natural gas and the likelihood of oil reserves.

Somalia Natural Hazards:
Although Somalia is subject to recurring droughts, the country can experience floods during the rainy season. Other natural hazards include frequent dust storms during summer over the eastern plains.

Somalia Environmental Issues:
The country of Somalia has environmental issues concerning the land, including deforestation, overgrazing, soil erosion, and desertification. There is also a high rate of famine. The use of contaminated water contributes to the human health problems.


Copyright information: The images on this page were composed by Angela King and Brad Cole and are copyright by Geology.com © 2008. These images are not available for use beyond our websites. If you would like to share them with others please link to this page. The satellite image was produced using Landsat data from NASA and the map was produced using data licensed from and copyright by Map Resources © 2008.