Home » World Maps » Map of Uzbekistan
Uzbekistan Map - Uzbekistan Satellite Image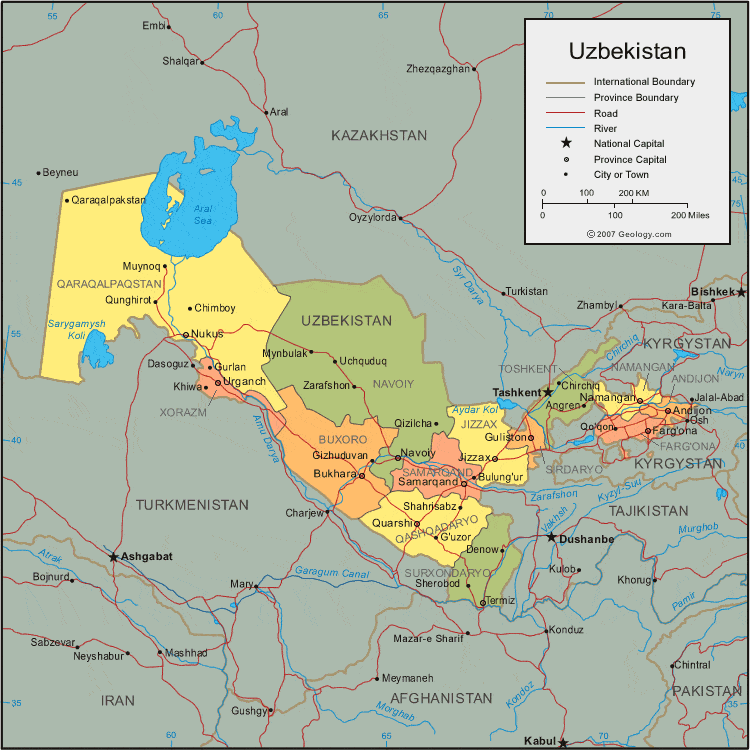 Where is Uzbekistan?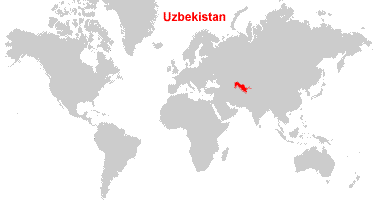 Uzbekistan Satellite Image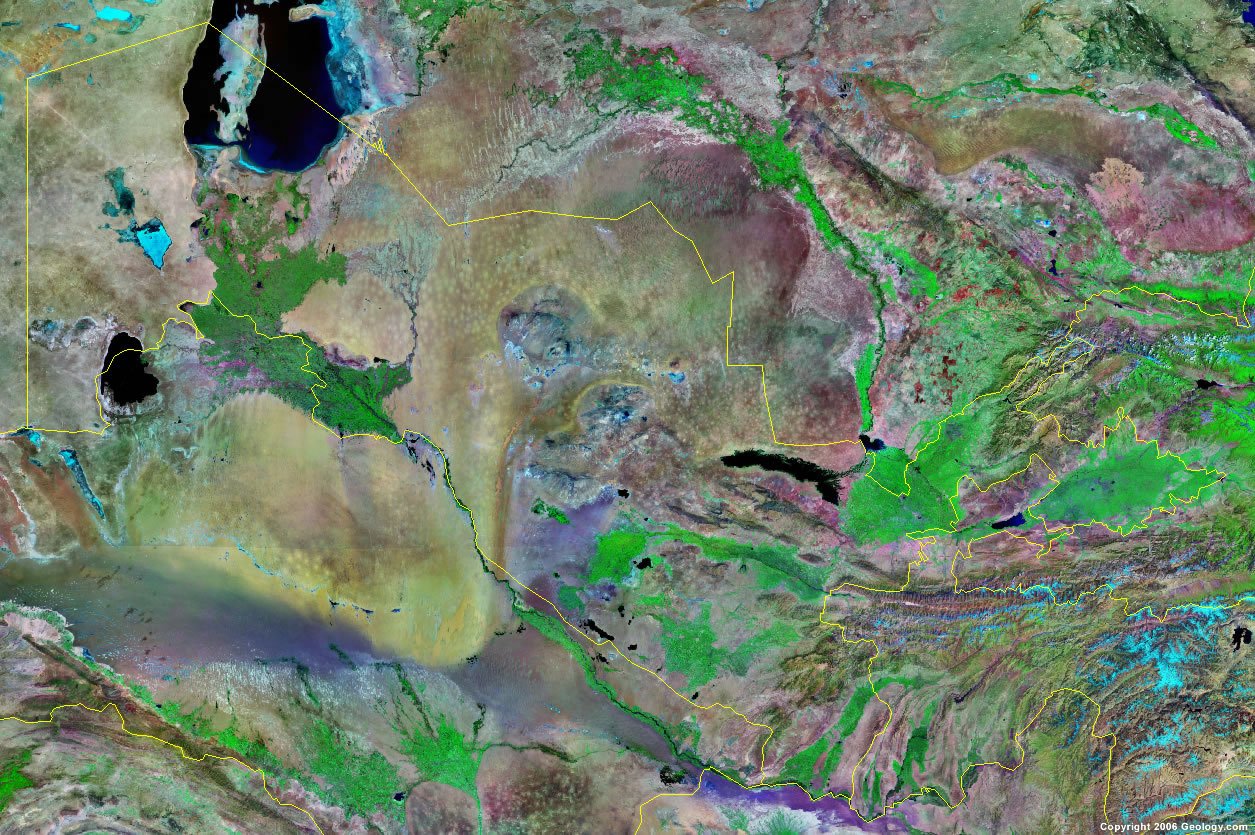 Uzbekistan Country Information:
Uzbekistan is located in Central Asia. Uzbekistan is bordered by Kazakhstan to the west and north, Tajikistan and Kyrgyzstan to the east, and Afghanistan and Turkmenistan to the south.

Uzbekistan Bordering Countries:
Afghanistan
,
Kazakhstan
,
Kyrgyzstan
,
Tajikistan
,
Turkmenistan

Uzbekistan Cities:
Andijon, Angren, Bulung'ur, Buxoro (Bukhara), Chimboy, Chirchiq, Dasoguz, Denow, Farg'ona, Gizhuduvan, Guliston, Gurlan, G'uzor, Jizzax, Karmana, Kattaqo'rg'on, Khiwa, Muynoq, Mynbulak, Namangan, Navoiy, Nukus, Olmaliq, Qaraqalpakstan, Quarshi, Qunghirot, Samarqand, Shahrisabz, Sherobod, Takhiatosh, Termiz, Toshkent (Tashkent), Uchquduq, Urganch, Urgut and Zarafshon.

Uzbekistan Locations:
Amu Darya, Aral Sea, Aydar Kol, Sarygamysh Koli, Turkestan Range and Zarafshon Range.

Uzbekistan Natural Resources:
There are fossil fuel deposits in Uzbekistan of coal, natural gas and petroleum. A number of metal resources for this country include gold, uranium, silver, copper, tungsten, molybdenum, lead and zinc.

Uzbekistan Natural Hazards:
There are no natural hazards listed in CIA - The World Factbook for Uzbekistan.

Uzbekistan Environmental Issues:
Uzbekistan has numerous environmental issues. There is soil contamination from buried nuclear processing and agricultural chemicals, including DDT. There is water pollution from industrial wastes and the heavy use of fertilizers and pesticides, which is the cause of many human health disorders. The shrinkage of the Aral Sea has resulted in growing concentrations of chemical pesticides and natural salts. These substances are then blown from the increasingly exposed lake bed and contribute to desertification. In addition, there is increasing soil salination.


Copyright information: The images on this page were composed by Angela King and Brad Cole and are copyright by Geology.com © 2008. These images are not available for use beyond our websites. If you would like to share them with others please link to this page. The satellite image was produced using Landsat data from NASA and the map was produced using data licensed from and copyright by Map Resources © 2008.