Home » World Maps » Canada » Ontario
Ontario Map - Ontario Satellite Image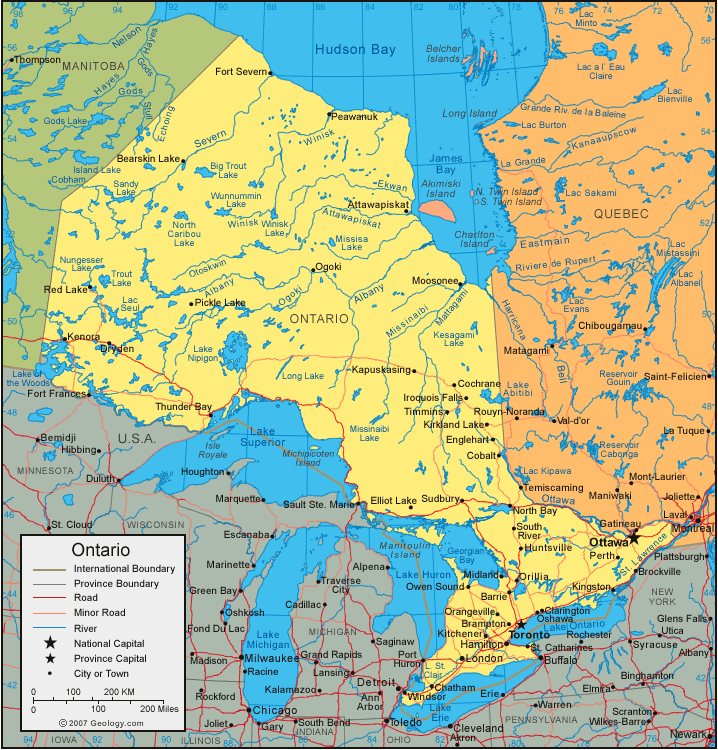 Ontario is located in east-central Canada. Ontario is bordered by the James Bay and Hudson Bay to the north; Lake Superior, Lake Huron, Lake Erie, Lake Ontario, and the United States to the south; Quebec to the east; and Manitoba to the west.
Ontario Bordering Provinces/Territories:
Manitoba, Quebec
Regional Maps:
Map of Canada, World Map

Where is Ontario?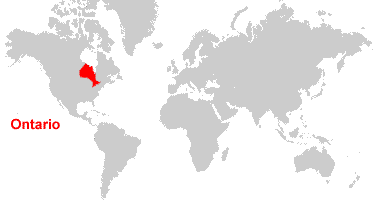 Ontario Satellite Image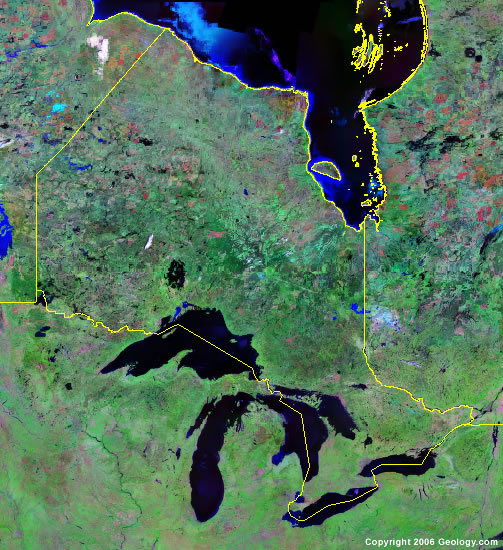 Click for high-resolution image.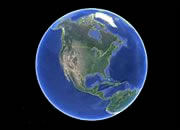 Google Earth is a free program from Google that allows you to explore satellite images showing the cities and landscapes of Ontario and all of North America in fantastic detail. It works on your desktop computer, tablet, or mobile phone. The images in many areas are detailed enough that you can see houses, vehicles and even people on a city street. Google Earth is free and easy-to-use.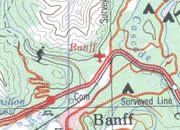 Get a custom printed large-format Canadian Topographic Map on waterproof, laminated or glossy paper. You can center the map anywhere in Canada that you want and adjust the scale with easy-to-use tools on the MyTopo website. They will then print and ship your map rolled in a tube or folded neatly in an envelope - your choice.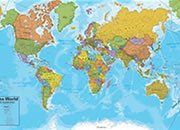 Canada is one of nearly 200 countries illustrated on our Blue Ocean Laminated Map of the World. The Canadian province and territory boundaries are shown on the map along with other political and physical features. It displays symbols for major cities. Major mountains are shown in shaded relief. Ocean depths are indicated with a blue color gradient. This is a great map for students, schools, offices and anywhere that a nice map of the world is needed for education, display or decor.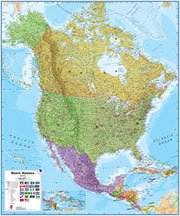 If you are interested in Ontario and the geography of Canada, our large laminated map of North America might be just what you need. It is a large political map of North America that also shows many of the continent's physical features in color and shaded relief. Major lakes, rivers, cities, roads, country/province/territory boundaries, coastlines and surrounding islands are all shown on the map.

Ontario Cities:
Attawapiskat, Barrie, Bearskin Lake, Belleville, Bracebridge, Brampton, Burlington, Chatham, Clarington, Cobalt, Cochrane, Dryden, Elliot Lake, Englehart, Fort Severn, Guelph, Hamilton, Huntsville, Iroquois Falls, Kapuskasing, Kenora, Kingston, Kirkland Lake, Kitchener, London, Markham, Midland, Mississauga, Moosonee, Nepean, North Bay, Ogoki, Orangeville, Orillia, Oshawa, Ottawa, Owen Sound, Peawanuk, Perth, Pickle Lake, Red Lake, South River, St. Catharines, Sudbury, Thunder Bay, Timmins, Toronto, Walden, Windsor, and Woodstock.

Ontario Lakes, Rivers and Locations:
Albany River, Attawapiskat River, Big Trout Lake, Ekwan River, Georgian Bay, Hudson Bay, James Bay, Kesagami Lake, Lac Seul, Lake Abitibi, Lake Huraon, Lake Nipigon, Lake Nipissing, Lake of the Woods, Lake Ontario, Lake Simcoe, Lake Superior, Lake Temagami, Lake Timiskaming, Mattagami River, Missinaibi Lake, Missinaibi River, Missisa Lake, Moose River, North Caribou Lake, Nungesser Lake, Ogoki River, Otoskwin Lake, Ottawa River, Rainy Lake, Sandy Lake, Severn River, Shibogama Lake, Trout Lake, Winisk Lake, and Wunnummin Lake.