Home » Teaching Earth Science » DonorsChoose.org
DonorsChoose.org

A website where K-12 teachers can ask for science teaching supplies.
Materials for Hands-On Learning
If you are an enthusiastic science teacher, you can probably make a long list of lessons that would be easier to teach and more engaging for your students if you had the proper materials for a hands-on lesson. You have probably purchased the materials needed for some of these lessons out of your own pocket.
It is Easy to Obtain Outside Funding
Did you know that there is a website named DonorsChoose.org where you can post a very brief description of your project, and people interested in helping you and your students will contribute the money needed to make it happen? Some of these donors visit the site regularly looking for projects to fund. Some of them make monthly donations to projects about a specific topic or in a specific geographic area.
Lots of teachers ask for Earth science teaching kits that contain rocks, minerals or fossils. Others ask for laboratory glassware, scales, reference books, educational software, or a classroom computer. Occasionally a teacher will post a project that asks donors to contribute to the cost of a field trip, or to the cost of attending a professional development conference. You are not limited to projects related to science - you are only limited by your imagination.
How Much Can You Ask For?
Most of the teachers who write successful proposals are asking for materials that cost between $200 and $600. That is enough to fund an awesome laboratory lesson on specific gravity or enough rocks and minerals to teach an entire unit. Projects that request thousands of dollars or attempt to mix a large number of topics are less likely to be funded. Focus on a single objective that donors can understand for best results.
If your project is successful, you don't receive a check. Instead, the staff of DonorsChoose.org will purchase the materials for you and have them shipped directly to your school. It is likely that many teachers find it easier to get a project funded through DonorsChoose.org than it is to get the necessary supplies through the school district's purchasing department. :-)
Does Every Project Receive Funding?
Many projects are funded, but not every one. The ones that are funded usually have a budget of a few hundred dollars and are supported by a project description that is well-planned, logical, and requests materials that will engage students. They are projects that donors can easily understand and think will be interesting and educational for the students.
Projects that request materials that can be used year after year have a better chance of being funded than projects asking for expensive consumables. In other words, projects that request materials which will receive a lot of student use are more likely to be funded than a project that requests something expensive that the teacher will use for a single demonstration.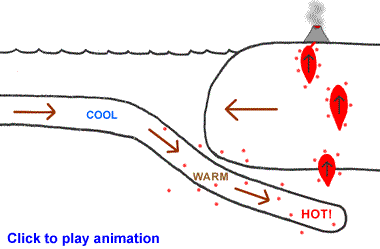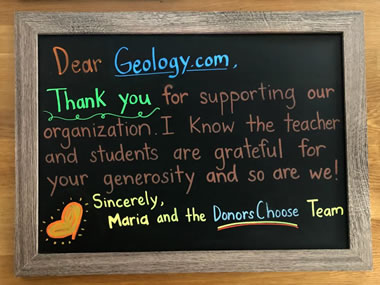 Who Are the Donors?
Most projects that attain full funding will have no more than a dozen donors who contribute $20 to $50 each. The projects are funded by people like you. That's why your project should be in the $200 to $600 range instead of enough money to build a new wing on your building. This is a good thing. It means that your project description will be simple and easy to write.
Many of the donors are retired teachers who want to help early-career teachers obtain the materials they need to do a good job. That is why Geology.com supports science projects at DonorsChoose.org every month. We understand the challenges that you face in your first years of teaching, and for that reason all of our charitable giving goes to projects at DonorsChoose.org. Most of the projects that we have contributed to there were from teachers asking for rock and mineral specimens or microscopes. We know that those types of lessons trigger the enthusiasm in many students.
Some donors are people or small businesses in your community who want to help you be successful. Occasionally, parents and grandparents will contribute to projects proposed by their child's teacher. Most of your donors will likely be people who you don't know. They simply found your project, thought that it was an important thing to do, and decided to contribute. That's why writing an easy-to-understand description is very important.
Our favorite story about Donors Choose is about a group of elementary school students. Their teacher posted a project on DonorsChoose.org, and a number of people contributed. The students were so impressed that unknown people contributed to their project that they decided to raise a small amount of money to help another classroom. They found a project that they wanted to help and made their contribution. Didn't they learn an important lesson!
You Really Need to Do This!
Writing a project description is easy. Just pick a topic from your teaching that could be significantly improved if you had between $200 and $600 worth of materials. Then describe the lesson that you would teach, explain how the materials will improve student learning, and list the benefits for your students. Include a list of items that you will need to do a good job with the lesson. If you go to the DonorsChoose.org website and register as a teacher, you can obtain a detailed explanation of how to prepare your request.
The new materials will make you a better teacher. Obtaining outside funding will be a great item for your professional resume. Getting a project or two funded at DonorsChoose.org can be helpful with promotion, tenure, or finding a job if you move to a new community. This is the type of activity that enthusiastic teachers who care about student performance engage in. That is why people want to help you.
Your students will be amazed when they learn that strangers contributed to their classroom. Other teachers in your school will see your success and decide to submit a proposal that will benefit their students. Good things are contagious.
Go for it! You can probably write a proposal in a couple hours. Writing the proposal will help you be more effective at teaching the lesson. The benefits are there on many levels. You just need to apply.
Author: Hobart M. King, Ph.D.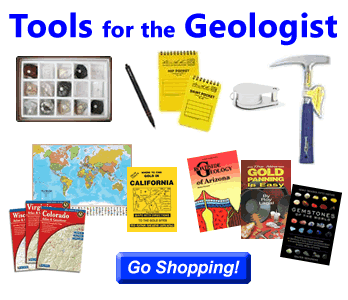 Find Other Topics on Geology.com:
| | |
| --- | --- |
| Rocks: Galleries of igneous, sedimentary and metamorphic rock photos with descriptions. | Minerals: Information about ore minerals, gem materials and rock-forming minerals. |
| Volcanoes: Articles about volcanoes, volcanic hazards and eruptions past and present. | Gemstones: Colorful images and articles about diamonds and colored stones. |
| General Geology: Articles about geysers, maars, deltas, rifts, salt domes, water, and much more! | Geology Store: Hammers, field bags, hand lenses, maps, books, hardness picks, gold pans. |
| | Diamonds: Learn about the properties of diamond, its many uses, and diamond discoveries. |