Home » World Maps » Europe » Italy
Italy Map and Satellite Image
Italy Map of Cities, Roads, and Rivers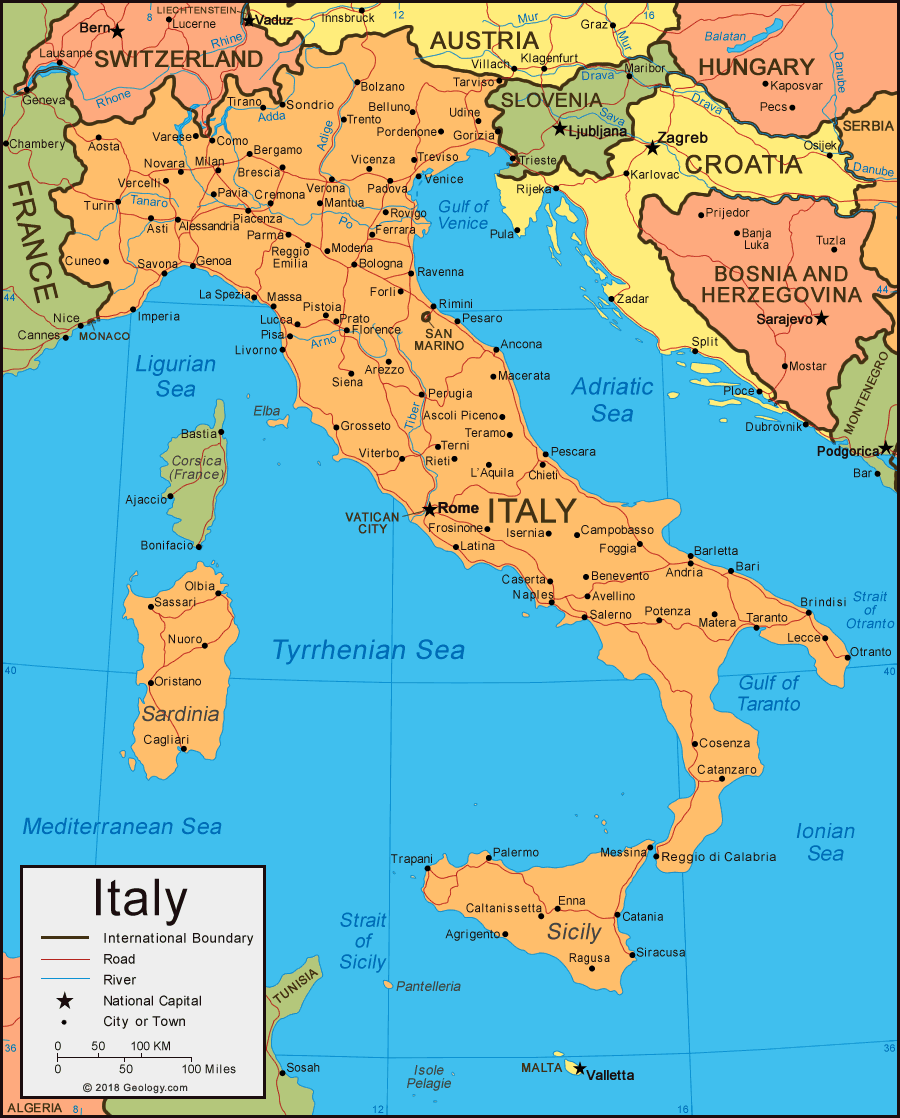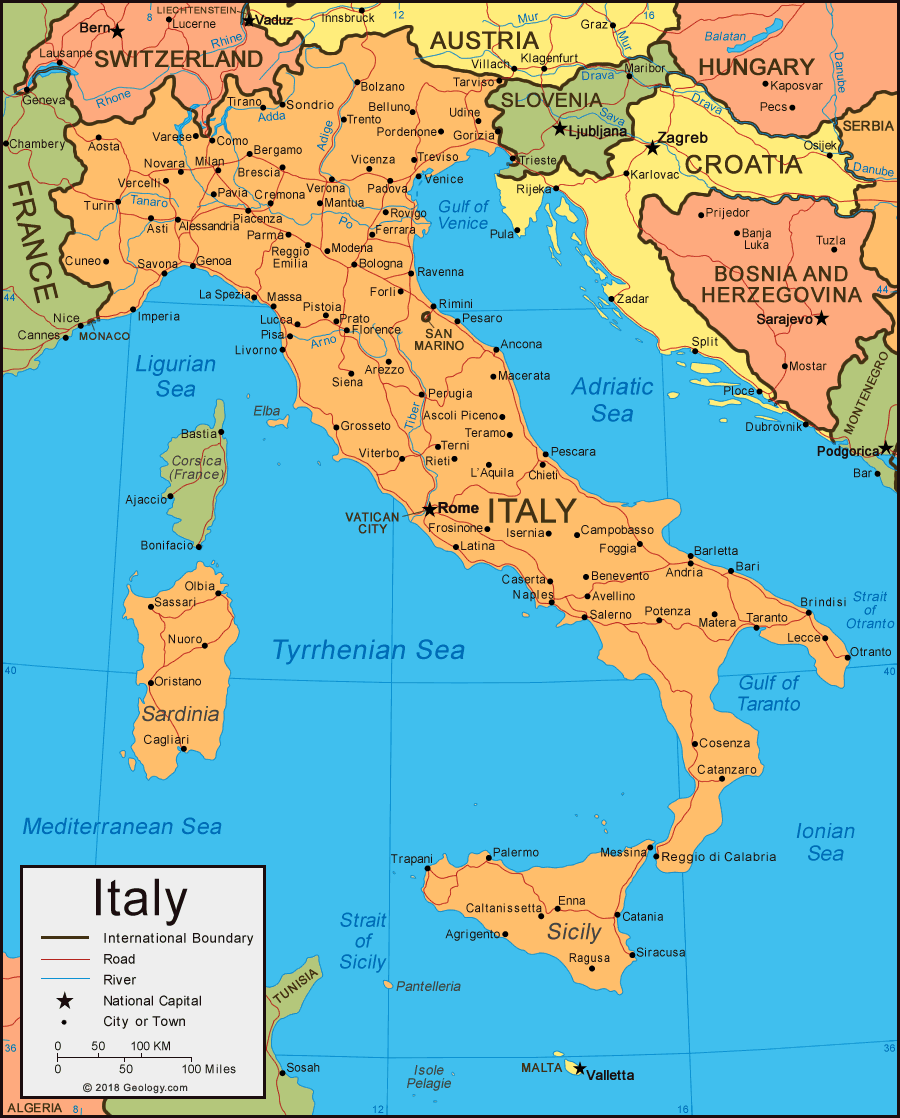 Italy is located in southern Europe. Italy is bordered by the Adriatic Sea, Tyrrhenian Sea, Ionian Sea, and the Mediterranean Sea, and France, Switzerland, Austria, and Slovenia to the north.
Italy Bordering Countries:
Austria
,
France
, Vatican City, San Marino,
Slovenia
,
Switzerland
Regional Maps:
Map of Europe
,
World Map
Where is Italy?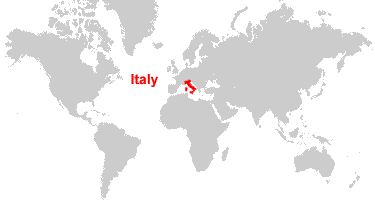 Italy Regions Map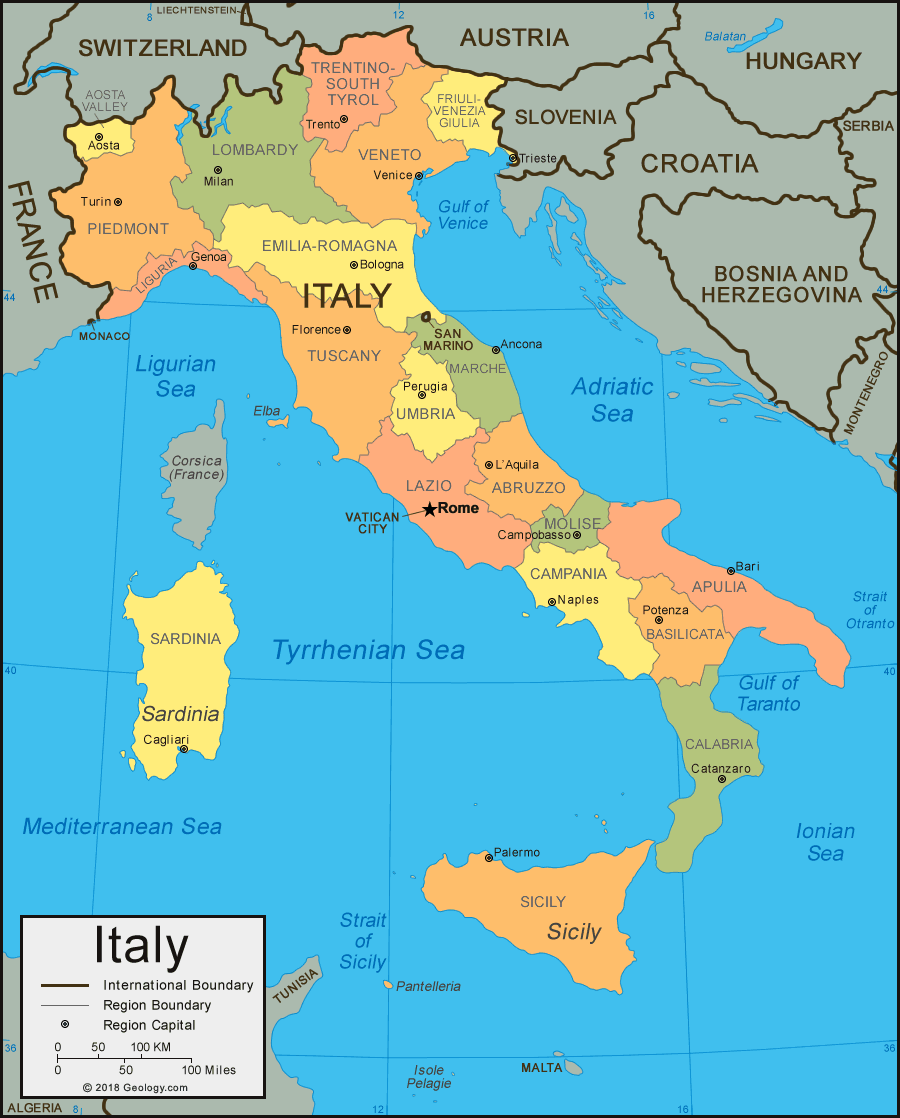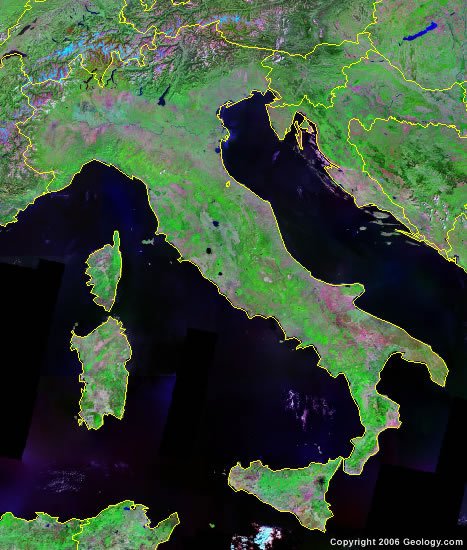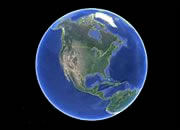 Google Earth is a free program from Google that allows you to explore satellite images showing the cities and landscapes of Italy and all of Europe in fantastic detail. It works on your desktop computer, tablet, or mobile phone. The images in many areas are detailed enough that you can see houses, vehicles and even people on a city street. Google Earth is free and easy-to-use.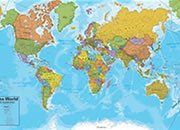 Italy is one of nearly 200 countries illustrated on our Blue Ocean Laminated Map of the World. This map shows a combination of political and physical features. It includes country boundaries, major cities, major mountains in shaded relief, ocean depth in blue color gradient, along with many other features. This is a great map for students, schools, offices and anywhere that a nice map of the world is needed for education, display, or decor.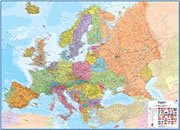 If you are interested in Italy and the geography of Europe, our large laminated map of Europe might be just what you need. It is a large political map of Europe that also shows many of the continent's physical features in color or shaded relief. Major lakes, rivers, cities, roads, country boundaries, coastlines and surrounding islands are all shown on the map.

Italy Cities:
Agrigento, Alessandria, Ancona, Andria, Aosta, Arezzo, Ascoli Piceno, Asti, Avellino, Bari, Barletta, Belluno, Benevento, Bergamo, Bologna, Bolzano, Brescia, Brindisi, Caltanissetta, Caserta, Catania, Catanzaro, Chieti, Como, Cosenza, Cremona, Cuneo, Enna, Ferrara, Florence, Foggia, Forli, Frosinone, Gela, Genoa, Grosseto, Imperia, Isernia, La Spezia, L'Aquila, Latina, Lecce, Livorno, Lucca, Macerata, Mantova, Massa, Matera, Messina, Milano (Milan), Modena, Monza, Napoli (Naples), Novara, Otranto, Padova, Palermo, Parma, Pavia, Perugia, Pesaro, Pescara, Pisa, Pistoia, Placenza, Pordenone, Potenza, Prato, Ragusa, Ravenna, Reggio di Calabria, Rieti, Rimini, Roma (Rome), Rovigo, Salerno, Savona, Siena, Siracusa, Taranto, Tarviso, Teramo, Terni, Tirano, Trapani, Trento, Treviso, Turin, Udine, Varese, Venice, Vercelli, Verona, Vincenza and Viterbo.

Italy Regions:
Abruzzo, Aosta Valley (Valle d'Aosta), Apulia (Puglia), Basilicata, Calabria, Campania, Emilia-Romagna, Friuli-Venezia Giulia, Lazio, Liguria, Lombardy (Lombardia), Marche, Molise, Piedmont (Piemonte), Sardinia (Sardegna), Sicily (Sicilia), Trentino-South Tyrol (Trentino-Alto Adige), Tuscany (Toscana), Umbria, and Veneto.

Italy Locations:
Adda River, Adige River, Adriatic Sea, Appennini Mountains, Arno River, Gulf of Genoa, Gulf of Taranto, Gulf of Venice, Ionian Sea, Lago d'Iseo, Lago d'Orta, Lago di Bolsena, Lago di Bracciano, Lago di Como, Lago di Garda, Lago di Lecco, Lago di Lugano, Lago di Varano, Lago di Vico, Lago Maggiore, Lago Trasimeno, Ligurian Sea, Mediterranean Sea, Oglio River, Po River, The Alps, Tiber River and Tyrrhenian Sea.

Italy Natural Resources:
Italy has numerous minerals, some of which are asbestos, barite, fluorspar, mercury, zinc, feldspar and sulfur pyrite. Utilized and potential fuel resources include coal, natural gas and crude oil reserves. Various other resources include potash, marble, pumice, fish and arable land.

Italy Natural Hazards:
There are numerous natural hazards in Italy. Parts of country are susceptible to avalanches, landslides, mudflows, flooding, earthquakes, and volcanic eruptions. In addition, there is land subsidence in Venice.

Italy Environmental Issues:
Some of the environmental issues for Italy are air pollution from industrial emissions, such as sulfur dioxide. The resulting acid rain is damaging lakes. The country has inadequate industrial waste treatment and disposal facilities. Therefore, coastal and inland rivers are polluted from industrial and agricultural effluents.