Home » World Maps » Europe » Latvia
Latvia Map and Satellite Image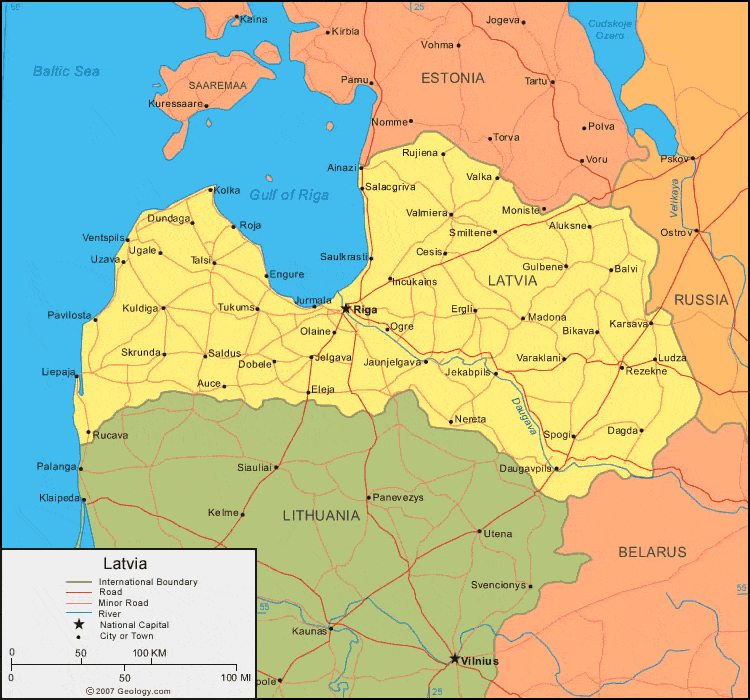 Latvia Bordering Countries:
Belarus
,
Estonia
,
Lithuania
,
Russia
Regional Maps:
Map of Europe
,
World Map
Where is Latvia?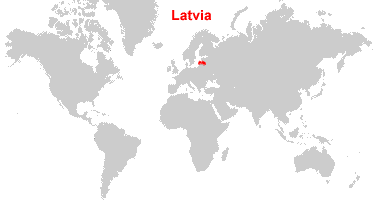 Latvia Satellite Image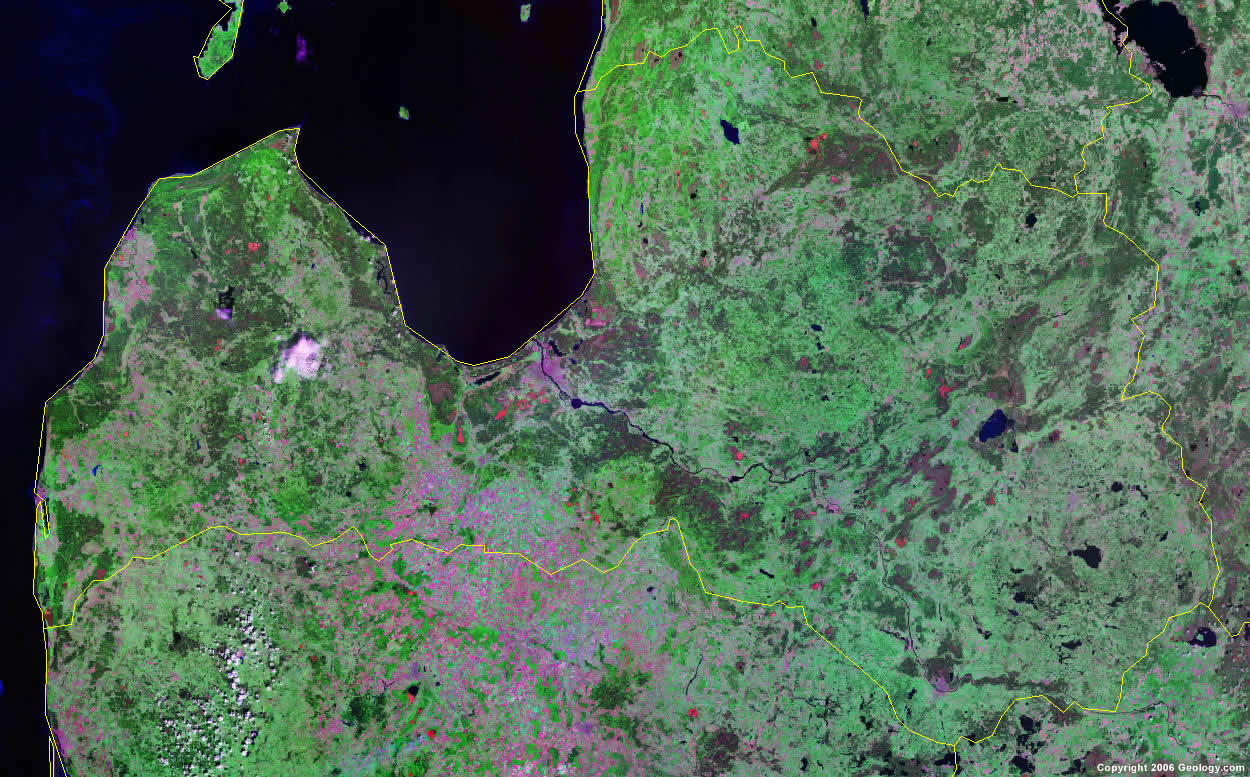 Latvia Information:
Latvia is located in eastern Europe. Latvia is bordered by the Baltic Sea, the Gulf of Irga, Estonia to the north, Russia to the east, and Belarus and Lithuania to the south.

Google Earth is a free program from Google that allows you to explore satellite images showing the cities and landscapes of Latvia and all of Europe in fantastic detail. It works on your desktop computer, tablet, or mobile phone. The images in many areas are detailed enough that you can see houses, vehicles and even people on a city street. Google Earth is free and easy-to-use.

Latvia is one of nearly 200 countries illustrated on our Blue Ocean Laminated Map of the World. This map shows a combination of political and physical features. It includes country boundaries, major cities, major mountains in shaded relief, ocean depth in blue color gradient, along with many other features. This is a great map for students, schools, offices and anywhere that a nice map of the world is needed for education, display or decor.

If you are interested in Latvia and the geography of Europe our large laminated map of Europe might be just what you need. It is a large political map of Europe that also shows many of the continent's physical features in color or shaded relief. Major lakes, rivers,cities, roads, country boundaries, coastlines and surrounding islands are all shown on the map.

Latvia Cities:
Ainazi, Aluksne, Auce, Balvi, Bentspils, Bikava, Cesis, Dagda, Daugavpils, Dobefe, Eleja, Engure, Ergli, Gulbene, Incukains, Jaunjelgave, Jekabpils, Jelgava, Jurmala, Kandava, Karsava, Kemeri, Kolka, Kuldiga, Liepaja, Ludza, Modona, Moniste, Nereta, Ogre, Olaine, Olaine, Pavilosta, Rezekne, Roja, Rujiena, Sabile, Salacgriva, Saldus, Skrunda, Sloka, Smittene, Spogi, Stende, Talsi, Tukums, Ugale, Uzava, Valka, Valmiera, Varaklani and Ventspils.

Latvia Locations:
Baltic Sea, Burtnieku Ezers, Daugava River, Engures Ezers, Gulf of Riga, Irbe Strait, Liepajas Ezers, Lubanas Ezers, Reznus Ezers, Rusonu Ezers, Sivera Ezers and Usmas Ezers.

Latvia Natural Resources:
Lativia has a variety of natural resources, some of which are amber, peat, hydropower, wood and arable land. The country's mineral resources include limestone and dolomite.

Latvia Natural Hazards:
Agricultural fields in Latvia may get waterlogged and need to be drained.

Latvia Environmental Issues:
Latvia's environment has benefited from a shift to service industries after the country regained its independence in 1991, from the Soviet Union. In 2001, the country closed the EU accession negotiation chapter on environment, and is now committed to full enforcement of EU environmental directives by the year 2010. Latvia's main environmental priorities are the improvement of drinking water quality and the sewage systems; management of household and hazardous waste; reduction of air pollution.