Home » World Maps » Map of Cuba
Cuba Map - Cuba Satellite Image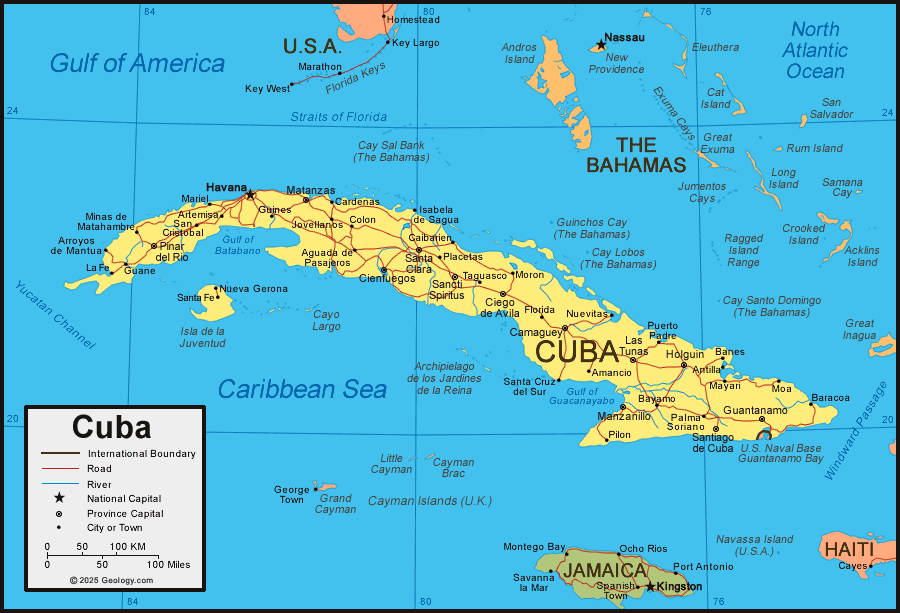 Where is Cuba?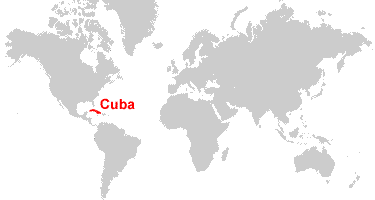 Cuba Satellite Image



Cuba Country Information:
Cuba is an island between the Caribbean Sea and the North Atlantic Ocean. Cuba is located south of Key West, Florida.

Cuba Bordering Countries:
US Naval Base at Guantanamo Bay

Cuba Cities:
Aguada de Pasajeros, Amancio, Antilla, Artemisa, Banes, Baracoa, Bayamo, Cabaiguan, Caibarin, Camaguey, Cardenas, Ciego de Cvia, Cienfuegos, Colon, Cruces, Florida, Guane, Guantanamo, Guines, Holguin, Jovellanos, La Fe, La Habana (Havana), Las Tunas, Manzanillo, Mariel, Matanzas, Mayari, Moa, Moron, Nuevitas, Palma Soriano, Pedro Betancourt, PIlon, Pinar del Rio, Placetas, Puerto Padre, San Cristobal, Sancti Spiritus, Santa Clara, antiago de Cuba, Surgidero de Batabano and Urbano Noris.

Cuba Locations:
Atlantic Ocean, Bahia de Cochinos (Bay of Pigs), Bahia de Guantanamo, Bahia de Jiguey, Bahia de Nipe, Caribbean Sea, Golfo de Ana Maria, Golfo de Batabano, Golfo de Guacanayabo, Gulf of Mexico, Old Bahama Channel, Straits of Florida, Windward Passage and Yucatan Channel.

Cuba Natural Resources:
Cuba's metallic resources include cobalt, nickel, iron ore, chromium and copper. Other resources include timber, petroleum, silica, salt, and arable land.

Cuba Natural Hazards:
Although droughts are common in Cuba, the east coast is subject to hurricanes from August to November. This country averages about one hurricane every other year.

Cuba Environmental Issues:
Some environmental issues for Cuba are air pollution, water pollution and deforestation. The country also has biodiversity loss.


Copyright information: The images on this page were composed by Angela King and Brad Cole and are copyright by Geology.com © 2008. These images are not available for use beyond our websites. If you would like to share them with others please link to this page. The satellite image was produced using Landsat data from NASA and the map was produced using data licensed from and copyright by Map Resources © 2008.