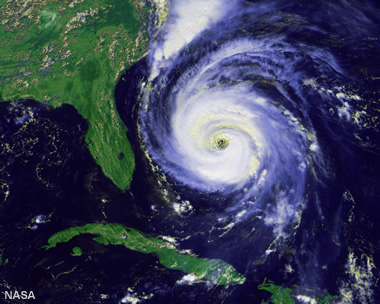 Why are Hurricanes Named?
Hurricanes occur every year, and sometimes two or three hurricanes can be active at the same time. Using names for these storms makes it much easier for meteorologists, researchers, emergency response workers, ship captains and citizens to communicate about specific hurricanes and be clearly understood.
For that reason, the World Meteorological Organization develops a list of names that are assigned in alphabetical order to tropical storms as they are discovered in each hurricane season. Names can be repeated after an interval of six years, but the names of especially severe storms are permanently retired from use.
Names used for Atlantic Tropical Storms
2023
2024
2025
2026
2027
2028
Arlene
Alberto
Andrea
Arthur
Ana
Alex
Bret
Beryl
Barry
Bertha
Bill
Bonnie
Cindy
Chris
Chantal
Cristobal
Claudette
Colin
Don
Debby
Dexter
Dolly
Danny
Danielle
Emily
Ernesto
Erin
Edouard
Elsa
Earl
Franklin
Francine
Fernand
Fay
Fred
Farrah
Gert
Gordon
Gabrielle
Gonzalo
Grace
Gaston
Harold
Helene
Humberto
Hanna
Henri
Hermine
Idalia
Isaac
Imelda
Isaias
Imani
Idris
Jose
Joyce
Jerry
Josephine
Julian
Julia
Katia
Kirk
Karen
Kyle
Kate
Karl
Lee
Leslie
Lorenzo
Leah
Larry
Lisa
Margot
Milton
Melissa
Marco
Mindy
Martin
Nigel
Nadine
Nestor
Nana
Nicholas
Nicole
Ophelia
Oscar
Olga
Omar
Odette
Owen
Philippe
Patty
Pablo
Paulette
Peter
Paula
Rina
Rafael
Rebekah
Rene
Rose
Richard
Sean
Sara
Sebastien
Sally
Sam
Shary
Tammy
Tony
Tanya
Teddy
Teresa
Tobias
Vince
Valerie
Van
Vicky
Victor
Virginie
Whitney
William
Wendy
Wilfred
Wanda
Walter
Recent and Future Hurricane Names
In the Atlantic Ocean, tropical storms that reach a sustained wind speed of 39 miles per hour are given a name, such as "Tropical Storm Fran." If the storm reaches a sustained wind speed of 74 miles per hour, it is called a hurricane - such as "Hurricane Fran." So, hurricanes are not given names, tropical storms are given names, and they retain their name if they develop into a hurricane. The names used for recent and future Atlantic storms are listed in the table on this page.
Retired Hurricane Names by Year

1979
David
Frederic
1980
Allen
1981
1982

1983
Alicia
1984

1985
Elena
Gloria
1986

1987

1988
Gilbert
Joan
1989
Hugo
1990
Diana
Klaus
1991
Bob
1992
Andrew
1993

1994

1995
Luis
Marilyn
Opal
Roxanne
1996
Cesar
Fran
Hortense
1997

1998
Georges
Mitch
1999
Floyd
Lenny
2000
Keith
2001
Allison
Iris
Michelle
2002
Isidore
Lili
2003
Fabian
Isabel
Juan
2004
Charley
Frances
Ivan
Jeanne
2005
Dennis
Katrina
Rita
Stan
Wilma
2006

2007
Dean
Felix
Noel
2008
Gustav
Ike
Paloma
2009

2010
Igor
Tomas
2011
Irene
2012
Sandy
2013
Ingrid
2014

2015
Erika
Joaquin
2016
Matthew
Otto
2017
Harvey
Irma
Maria
Nate
2018
Florence
Michael
2019
Dorian
2020
Laura
Eta
Iota
2021
Ida
2022
Fiona
Ian
History of Atlantic Hurricane Names
Names have been given to Atlantic hurricanes for a few hundred years. People living in the Caribbean Islands named storms after the saint of the day from the Roman Catholic liturgical calendar for the day on which the hurricane occurred such as "Hurricane San Felipe." When two hurricanes struck on the same date in different years, the hurricanes would be referred to by names such as "Hurricane San Felipe the first" and "Hurricane San Felipe the second."
In the early days of meteorology in the United States, storms were named with a latitude / longitude designation representing the location where the storm originated. These names were difficult to remember, difficult to communicate and subject to errors. During the Second World War, military meteorologists working in the Pacific began to use women's names for storms. That naming method made communication so easy that in 1953 it was adopted by the National Hurricane Center for use on storms originating in the Atlantic Ocean. Once this practice started, hurricane names quickly became part of common language, and public awareness of hurricanes increased dramatically.
Retired in 2021 and 2022
In 2021, Hurricane Ida caused significant damages and fatalities. The same is true of Hurricanes Fiona and Ian in 2022. Out of respect for the people who suffered losses, these names were retired and will not be used again for tropical storms. A list of names that have been retired from 1979-2022 can be viewed on this page.
In 1978, meteorologists watching storms in the eastern North Pacific began using men's names for half of the storms. Meteorologists for the Atlantic Ocean began using men's names in 1979. For each year a list of 21 names, each starting with a different letter of the alphabet, was developed and arranged in alphabetical order (names beginning with the letters Q, U, X, Y and Z were not used). The first tropical storm of the year was given the name beginning with the letter "A," the second with the letter "B" and so on through the alphabet. During even-numbered years, men's names were given to the odd-numbered storms and during odd-numbered years, women's names were given to odd-numbered storms (see the table for recent name lists).
Today, the World Meteorological Organization maintains the lists of names for tropical storms around the world. For the Atlantic hurricane names, there are six lists which are reused every six years.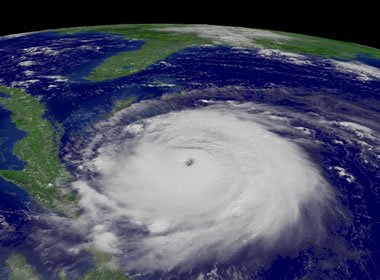 Retired Hurricane Names
The only change that is made to the list of Atlantic hurricane names is the occasional retirement of a name. This is done when a hurricane causes so much death and destruction that reuse of the same name would be insensitive to the people who suffered losses. When that happens the World Meteorological Organization replaces the name. For example, "Katrina" has been retired from the name list and will not be used again.
A list of hurricane names that have been retired since the current name list system was established in 1979 is shown on this webpage. In addition to retirements, there are a few names that were simply changed. For example, on the 2007 list the names Dean, Felix and Noel were replaced with Dorian, Fernand and Nestor for the 2013 list.
Supplemental Atlantic Tropical Storm Names
Storm #
Name
Storm #
Name
Storm #
Name
22
Adria
29
Heath
36
Orlanda
23
Braylen
30
Isla
37
Pax
24
Caridad
31
Jacobus
38
Ronin
25
Deshawn
32
Kenzie
39
Sophie
26
Emery
33
Lucio
40
Tayshaun
27
Foster
34
Makayla
41
Viviana
28
Gemma
35
Nolan
42
Will
When There Are More Than 21 Named Storms
There are normally fewer than 21 named tropical storms in any calendar year. In the rare years when more than 21 storms are named, a supplemental list is used. In the past, the additional storms were given names from the Greek alphabet: Alpha, Beta, Gamma, Delta, and so on. However, this system led to confusion in the record-breaking Atlantic storm season of 2020, when multiple storms with similar-sounding names (Zeta, Eta, and Theta) were concurrently active. In March 2021, the World Meteorological Organization Hurricane Committee made the decision to stop using the Greek alphabet, and developed a replacement list. [1] This new supplemental list can be seen in the accompanying table.
Naming Tropical Storms Outside of the Atlantic
Tropical storms occur in the Pacific Ocean, and meteorologists working there have developed naming systems for them. Separate naming systems are maintained for Eastern North Pacific Storms and Central North Pacific Storms. Visit the National Hurricane Center to see lists and pronunciations of the names used in these areas. The World Meteorological Organization maintains the lists of names for tropical storms around the world.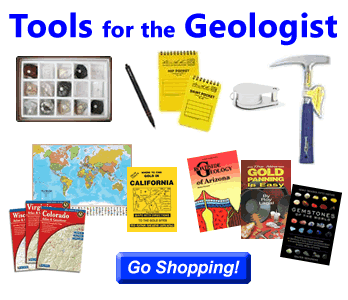 Find Other Topics on Geology.com:
| | |
| --- | --- |
| Rocks: Galleries of igneous, sedimentary and metamorphic rock photos with descriptions. | Minerals: Information about ore minerals, gem materials and rock-forming minerals. |
| Volcanoes: Articles about volcanoes, volcanic hazards and eruptions past and present. | Gemstones: Colorful images and articles about diamonds and colored stones. |
| General Geology: Articles about geysers, maars, deltas, rifts, salt domes, water, and much more! | Geology Store: Hammers, field bags, hand lenses, maps, books, hardness picks, gold pans. |
| | Diamonds: Learn about the properties of diamond, its many uses, and diamond discoveries. |