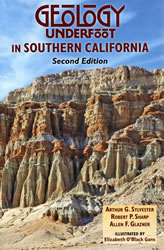 Geology Underfoot in Southern California
by Arthur G. Sylvester, Robert P. Sharp, and Allen F. Glazner.
Learn about the Geology of California with maps, photos and expert descriptions! This 6"x9" paperback has 270 pages that are packed with detailed information about California Geology. Second edition. See table of contents below.
Geology Underfoot in Southern California
Table of Contents

Preface to the First Edition

vii

Preface to the Second Edition

viii

An Important Note to Readers

ix

THE BIG PICTURE

1

VIGNETTES
1. San Onofre Nuclear Generating Station and the Cristianitos Fault

15

Decommissioned and Inactive
2. Torrey Pines State Natural Reserve

25

A Migrating Shoreline
3. San Onofre Breccia at Aliso Beach County Park

35

A Vanished Landmass
4. Ventura Avenue Anticline

45

An Oily, Growing Fold
5. Santa Barbara Harbor

55

Perils of Tampering with Nature
6. Guadalupe Dunes

65

An Ice Age Sand Lobe
7. Morro Rock and Other Knobs

77

Roots of Ancient Volcanoes
8. San Simeon Beach Pebbles

85

Sampling the Mysterious Franciscan Formation
9. The Whittier Narrows

91

A Boon To Communication
10. Wheeler Ridge

97

Gaps across a Rising Fold
11. Cajon Pass

103

San Andreas Fault Paves the Way for I-15
12. Red Rock Canyon

117

Finding Faults in a Geologist's Training Ground
13. Rainbow Basin

131

Geologic Laboratory along the Calico Fault
14. Amboy and Pisgah Craters

147

Young Volcanoes in the Mojave Desert
15. Pleistocene Lake Manix

165

Flamingos in the Desert
16. The Blackhawk Landslide

173

Eighty Seconds of Catastrophe
17. Kelso Dunes

185

A Huge Pile of Living Sand
18. Mitchell Caverns

195

A California Rarity
19. The San Andreas Fault North of the San Gabriel Mountains

207

The Elephant in the Room
20. Devils Punchbowl Natural Area

221

A Noble Fold Caught between Faults
21. St. Francis Dam

231

Disaster at Midnight, 12-13 March 1928
Glossary

240

References Cited and Further Reading

248

Index

260
ADVERTISEMENT