Home » Advertise on Geology.com
Advertise on Geology.com
Target the entire site, specific pages, or a specific ad unit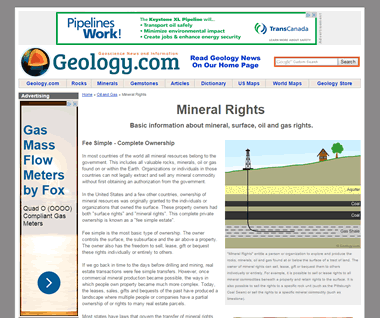 Why Advertise on Geology.com?
Geology.com is one of the internet's leading Earth science websites. Every month over one million visitors arrive at Geology.com for news, research, reference, learning, and curiosity. Our audience includes: geologists, professors, students, and teachers. However, most of our visitors are typical citizens who were motivated to visit a search engine and search for information on a specific Earth science topic.
These visitors searched for a topic such as "mineral rights," "tanzanite," "Utica Shale" or "granite." If your goal is to reach a broad cross-section of people who are interested in topics such as: geology, Earth science, gemstones, geography, maps, natural gas, satellite images, geologic resources, geologic hazards and science news, then Geology.com could be the best website for your ads.
Our visitors come here to read about specific topics. So, if we have content on our website that matches the interest of your potential customer, client, voter, or whatever, then this is where you should advertise. You will not be paying the highly competitive rates charged on a search engine, and your ads will be shown to interested people instead of to the "masses."
If you are primarily interested in reaching professional geologists, they will be a minority of the visitors to Geology.com. Your advertising budget might be better spent on websites and publications that are written specifically for geologists. Journals, magazines and websites of professional societies are examples. We don't want you to spend your money if our audience does not match your goals.
How to Purchase Ads
If you are interested in advertising on Geology.com, you can purchase ads through Google Adwords. We do not sell ads directly to advertisers. We want to spend as much time as possible working on our website, so we have made the decision to use these services to deliver our ads. If you have not purchased ads with these companies before, we provide some basic information below.
Attention Ad Networks and Ad Space Buyers
If you represent another advertising network and are interested in sending ads to our site, please know that all of our advertising needs are taken care of and we will not be making any changes. None.
Google Adwords
Google Adwords makes it very easy to advertise on Geology.com. Google Adwords is an auction system that allows you to bid for advertising position in three different ways.
You can use their "placement targeting" tool to direct your ads to a specific website (such as Geology.com).
You can use their "keyword targeting" tool to direct your ads to pages across the web that relate to a specific topic (such as "Marcellus Shale").
You can use "placement targeting then add keywords" to direct your ads to pages on a specific website about a specific topic (such as the pages on Geology.com that are relevant to "Marcellus Shale").
Isn't that a powerful way to show your ads to just the right people and save money by not showing them to others? You can even have your ads displayed only to people from certain geographic areas and not waste money advertising to people who live in an irrelevant location.

Google Adwords determines the position of your ad through an automated auction. You tell Google how much you are willing to pay per visitor (or per ad impression or per sale), and Google will use that bid to determine if your ad will be displayed and where. The more you bid the higher the probability that your ad will be displayed. You can also set a daily budget to limit your spending or schedule your ads to run at specific times of day.

Google Adwords is a fast way to get your ads running. If you already have an account, your ads can appear on our site and other science sites across the web within minutes.
Other Ad Networks and Ad Buyers
If you represent another ad network, please know that all of our advertising needs are met by Google Adsense. Solicitations from other advertising networks and providers are deleted.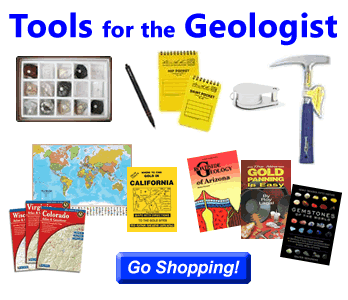 Find Other Topics on Geology.com:
| | |
| --- | --- |
| Rocks: Galleries of igneous, sedimentary and metamorphic rock photos with descriptions. | Minerals: Information about ore minerals, gem materials and rock-forming minerals. |
| Volcanoes: Articles about volcanoes, volcanic hazards and eruptions past and present. | Gemstones: Colorful images and articles about diamonds and colored stones. |
| General Geology: Articles about geysers, maars, deltas, rifts, salt domes, water, and much more! | Geology Store: Hammers, field bags, hand lenses, maps, books, hardness picks, gold pans. |
| | Diamonds: Learn about the properties of diamond, its many uses, and diamond discoveries. |