Home » World Maps » Europe » Germany
Germany Map and Satellite Image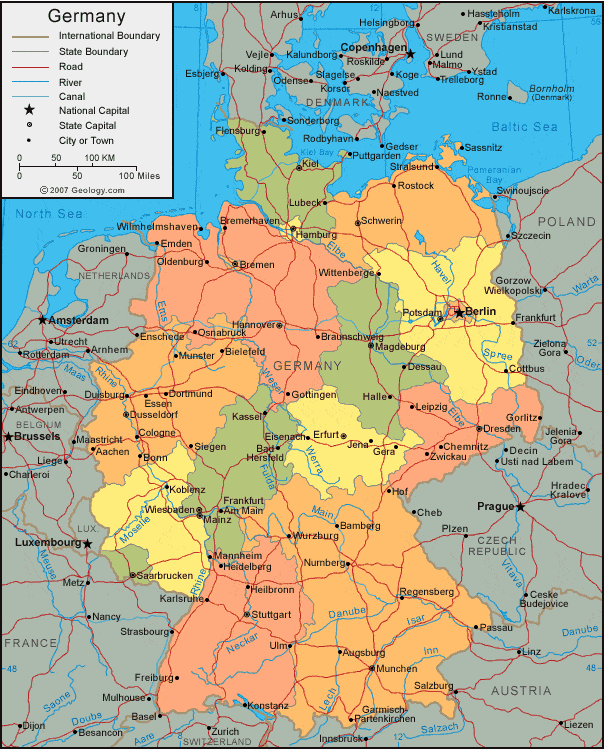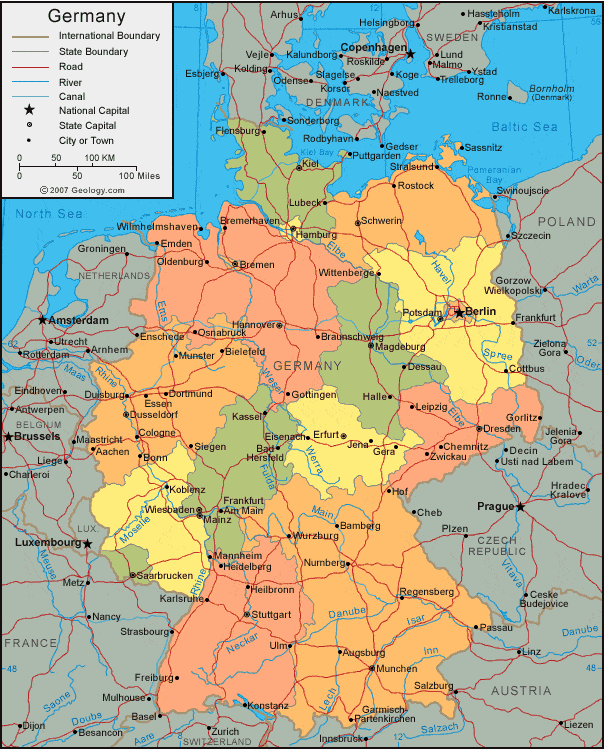 Germany is located in central Europe. Germany is bordered by the Baltic and North Seas, Denmark to the north, Poland and the Czech Republic to the east, Austria and Switzerland to the south, and France, Luxembourg, Belgium, and the Netherlands to the west.
Germany Bordering Countries:
Austria
,
Belgium
,
Czech Republic
,
Denmark
,
France
, Luxembourg,
Netherlands
,
Poland
,
Switzerland
Regional Maps:
Map of Europe
,
World Map
Where is Germany?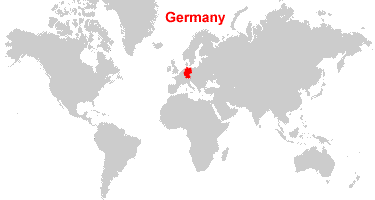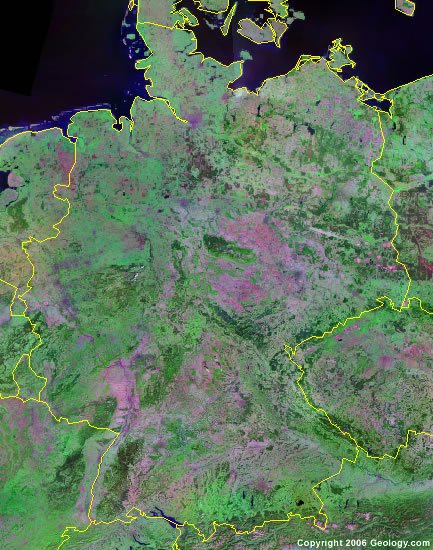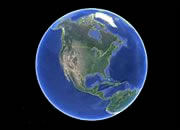 Google Earth is a free program from Google that allows you to explore satellite images showing the cities and landscapes of Germany and all of Europe in fantastic detail. It works on your desktop computer, tablet, or mobile phone. The images in many areas are detailed enough that you can see houses, vehicles and even people on a city street. Google Earth is free and easy-to-use.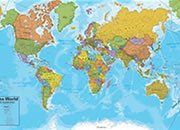 Germany is one of nearly 200 countries illustrated on our Blue Ocean Laminated Map of the World. This map shows a combination of political and physical features. It includes country boundaries, major cities, major mountains in shaded relief, ocean depth in blue color gradient, along with many other features. This is a great map for students, schools, offices and anywhere that a nice map of the world is needed for education, display or decor.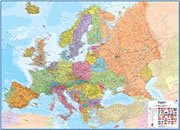 If you are interested in Germany and the geography of Europe our large laminated map of Europe might be just what you need. It is a large political map of Europe that also shows many of the continent's physical features in color or shaded relief. Major lakes, rivers,cities, roads, country boundaries, coastlines and surrounding islands are all shown on the map.

Germany Cities:
Aachen, Am Main, Augsburg, Berlin, Bielefeld, Bonn, Braunschweig, Bremen, Bremerhaven, Chemnitz, Cottbus, Darmstadt, Dessau, Dortmund, Dresden, Duisburg, Erfurt, Essen, Flensburg, Freiburg, Furth, Gera, Gorlitz, Gottingen, Halle, Hamburg, Hannover, Heilbronn, Hof, Jena, Kaiserslautern, Karlsruhe, Kassel, Kiel, Kobienbz, Konstanz, Leipzig, Lubeck, Magdeburg, Mainz, Munchen (Munich), Munster, Nurnberg, Osnabruck, Partenkirchen, Passau, Potsdam, Regensburg, Remagen, Rostock, Saarbrucken, Salzburg, Schwerin, Siegen, Stuttgart, Ulm, Wiesbaden, Wolfsburg and Zwickau.

Germany Locations:
Allgauer Alpen, Ammersee, Baltic Sea, Bavarian Alps, Chiemsee, Danube River, Elbe River, Ems River, Fulda River, Grosser Ploner See, Havel River, Inn River, Isar River, Kummerewer See, Lake Constance, Lech River, Main River, Malchiner See, Moselle River, Neckar River, North Sea, Parsteiner See, Plauer See, Rhine River, Schaalsee, Schweriner See, Selenter See, Spree River, Starnberger See, Steinhuder Meer, Tegernsee, Tollensesee, Unterueckersee, Werbellinsee, Werra River and Weser River.

Germany Natural Resources:
Fuel resources for Germany include coal, lignite, natural gas, and uranium. The mineral resources for the country include iron ore, copper, and nickel. Salt, potash, construction materials, timber,- and arable land are also a few of the viable resources for Germany.

Germany Natural Hazards:
One of the natural hazards for Germany is flooding.

Germany Environmental Issues:
Germany has a number of issues concerning the environment. These include air pollution, partly due to the emissions from coal-burning utilities and industries. A result of the sulfur dioxide emissions is acid rain, which is damaging the forests. There is pollution in the Baltic Sea from raw sewage and industrial waste. The country's government has established a plan for ending the use of nuclear power by 2022; however, there are still issues with the disposal of hazardous waste. The government is also working to meet the EU commitment to identify nature preservation areas, which is in line with the EU's Flora, Fauna, and Habitat directive.

ADVERTISEMENT