Home » World Maps » Europe » Czech Republic
Czech Republic Map and Satellite Image
Czech Republic Map with Cities, Roads, and Rivers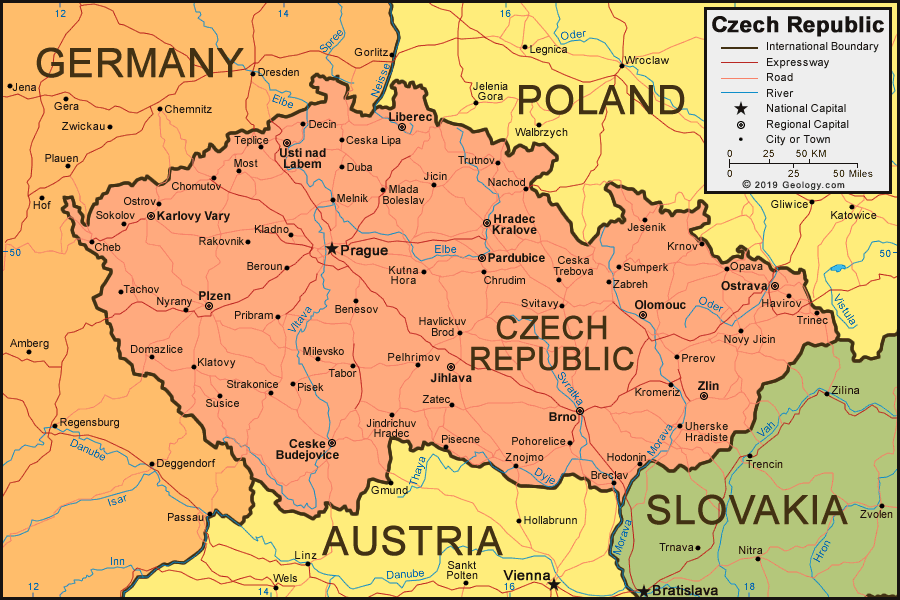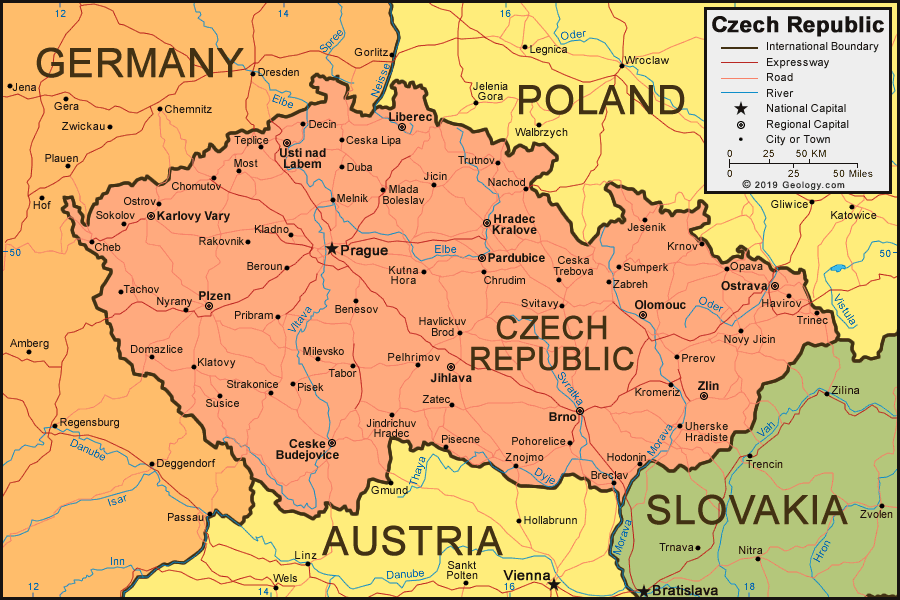 The Czech Republic, also known as Czechia, is located in central Europe. Czech Republic is bordered by Austria to the south, Germany to the west, Poland to the north, and Slovakia to the east.
Czech Republic Bordering Countries:
Austria
,
Germany
,
Poland
,
Slovakia
Regional Maps:
Map of Europe
,
World Map
Where is Czech Republic?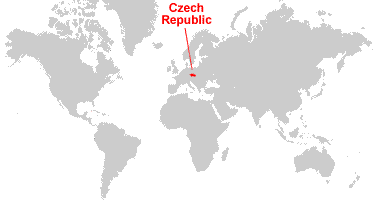 Czech Republic Regions Map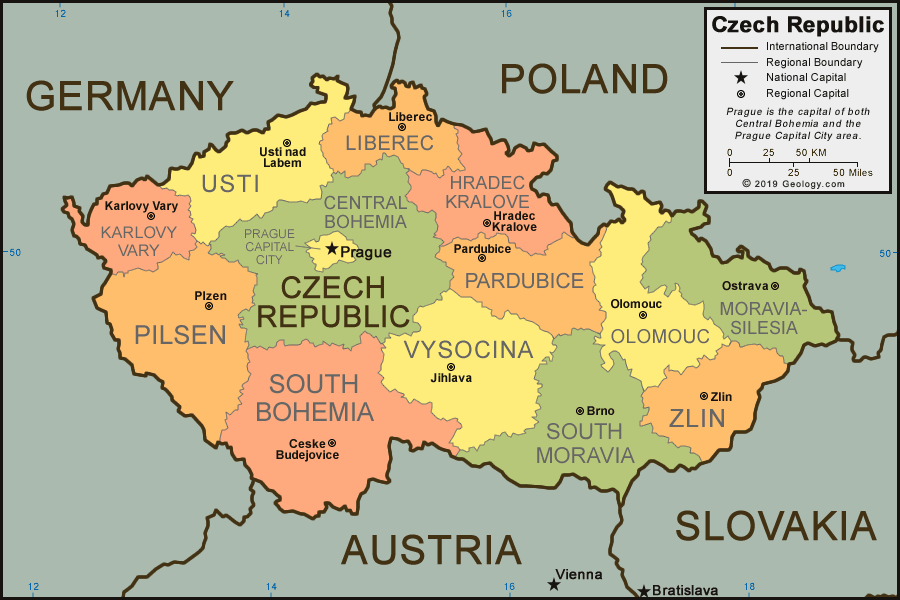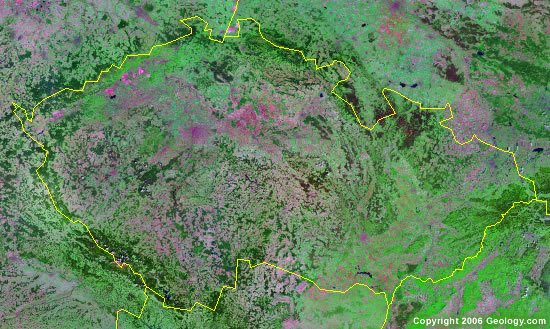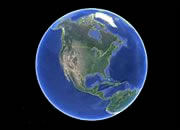 Google Earth is a free program from Google that allows you to explore satellite images showing the cities and landscapes of Czech Republic and all of Europe in fantastic detail. It works on your desktop computer, tablet, or mobile phone. The images in many areas are detailed enough that you can see houses, vehicles and even people on a city street. Google Earth is free and easy-to-use.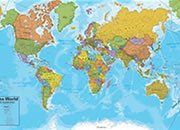 Czech Republic is one of nearly 200 countries illustrated on our Blue Ocean Laminated Map of the World. This map shows a combination of political and physical features. It includes country boundaries, major cities, major mountains in shaded relief, ocean depth in blue color gradient, along with many other features. This is a great map for students, schools, offices and anywhere that a nice map of the world is needed for education, display or decor.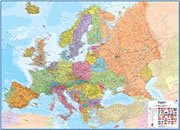 If you are interested in Czech Republic and the geography of Europe, our large laminated map of Europe might be just what you need. It is a large political map of Europe that also shows many of the continent's physical features in color or shaded relief. Major lakes, rivers, cities, roads, country boundaries, coastlines and surrounding islands are all shown on the map.

Czech Republic Cities:
Benesov, Beroun, Breclav, Brno, Ceska Lipa, Ceska Trebova, Ceske Budejovice, Cheb, Chomutov, Chrudim, Decin, Domazlice, Duba, Havirov, Havlickuv Brod, Hodonin, Hradec Kralove, Jesenik, Jicin, Jihlava, Jindrichuv Hradec, Karlovy Vary, Kladno, Klatovy, Krnov, Kromeriz, Kulna Hora, Liberec, Melnik, Milevsko, Mlada Boleslav, Most, Nachod, Novy Jicin, Nyrany, Olomouc, Opava, Ostrava, Ostrov, Pardubice, Pelhrimov, Pisecne, Pisek, Plzen (Pilsen), Pohorelice, Prague (Praha), Prerov, Pribram, Rakovnik, Sokolov, Strakonice, Susice, Sumperk, Svitavy, Tabor, Tachov, Teplice, Trinec, Trutnov, Uherske Hradiste, Usti nad Labem, Zabreh, Zatec, Zlin, and Znojmo.

Czech Republic Regions:
Central Bohemia (Stredocesky Kraj), Hradec Kralove (Kralovehradecky Kraj), Karlovy Vary (Karlovarsky Kraj), Liberec (Liberecky Kraj), Moravia-Silesia (Moravskoslezsky Kraj), Olomouc (Olomoucky Kraj), Pardubice (Pardubicky Kraj), Pilsen (Plzensky Kraj), Prague Capital City (Hlavni mesto Praha), South Bohemia (Jihocesky Kraj), South Moravia (Jihomoravsky Kraj), Usti (Ustecky Kraj), Vysocina, and Zlin (Zlinsky Kraj).

Czech Republic Locations:
Bohemia, Carpathian Mountains, Cerne Jezero, Thaya River (Dyje River), Elbe River (Labe River), Jesenice Reservoir, Lipno Lake, Morava River, Moravia, Neisse River, Oder River, Ore Mountains, Sudetic Mountains, Svratka River, and Vltava River.

Czech Republic Natural Resources:
Some of the natural resources for Czech Republic are clay, kaolin, hard coal, soft coal, graphite, and timber.

Czech Republic Natural Hazards:
Flooding is one of the natural hazards in the Czech Republic.

Czech Republic Environmental Issues:
The Czech Republic has air and water pollution in the areas of northwest Bohemia and northern Moravia (around Ostrava), which presents health risks. Acid rain in this country is damaging the forests. There have been efforts to bring industry up to EU code, which should improve domestic pollution.