Home » World Maps » Map of Algeria
Algeria Map - Algeria Satellite Image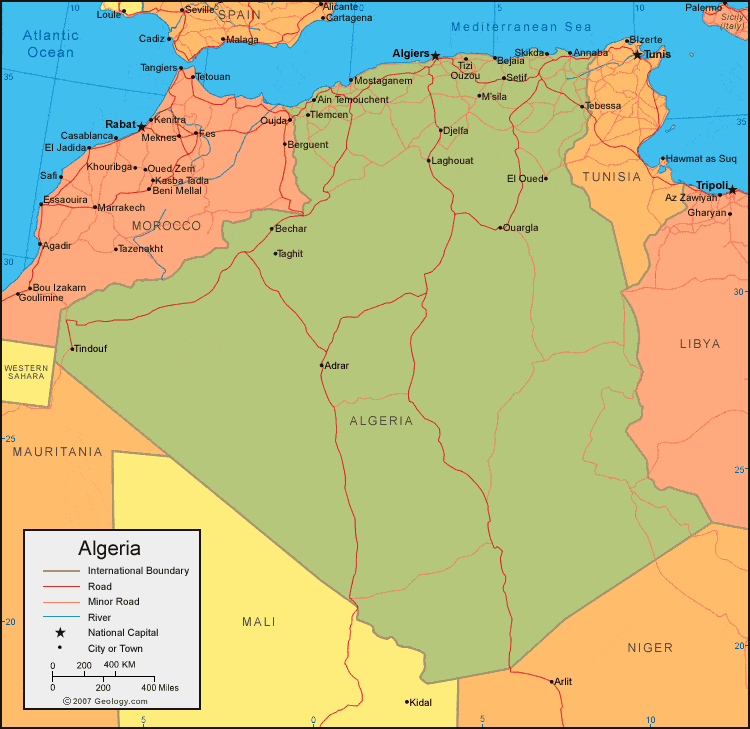 Where is Algeria?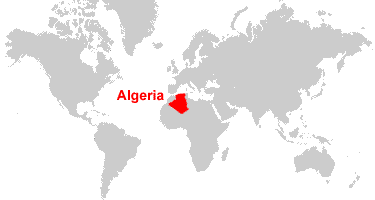 Algeria Satellite Image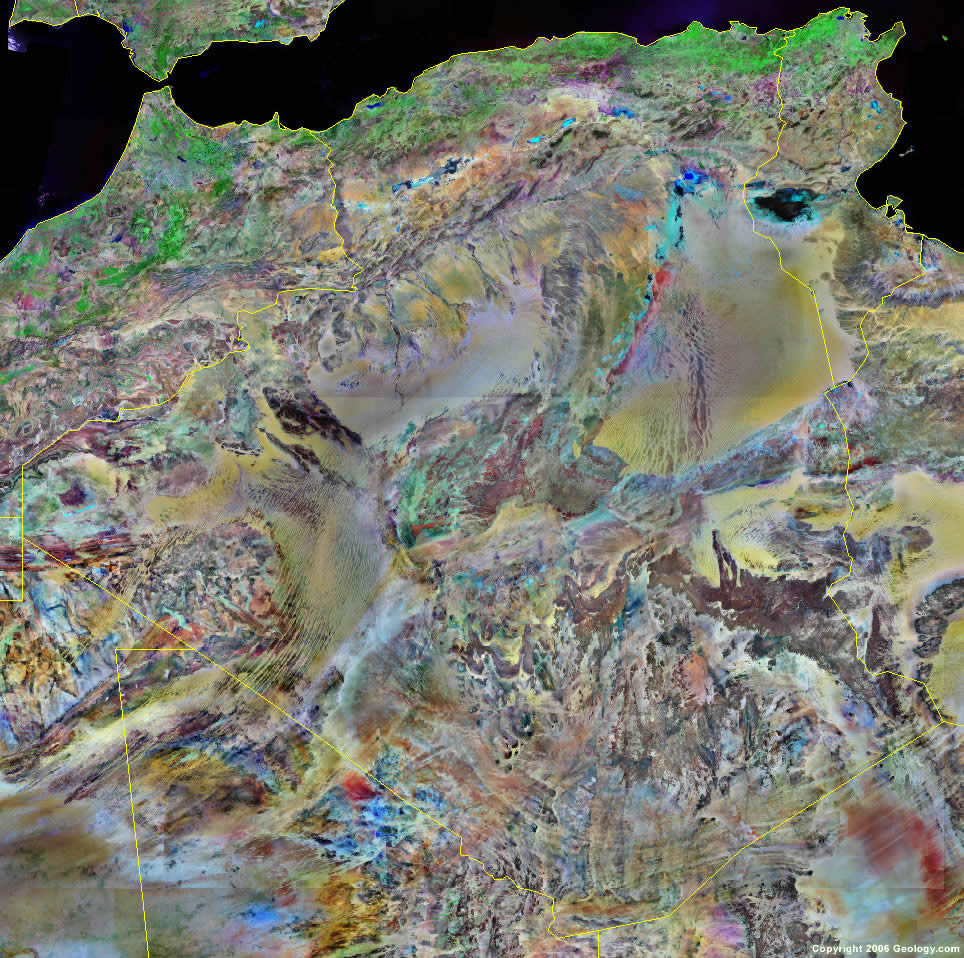 Algeria Country Information:
Algeria is located in northern Africa. Algeria is bordered by the Mediterranean Sea, Morocco and Western Sahara to the west, Mauritania, Mali, and Niger to the south, and Libya and Tunisia to the east.

Algeria Bordering Countries:
Libya
,
Mali
,
Mauritania
,
Morocco
,
Niger
,
Tunisia
,
Western Sahara

Algeria Cities:
Adrar, Ain Temouchent, Alger (Algiers), Annaba (Bone), Batna, Bechar, Bejaia, Bejaia (Bougie), Biskra, Blida, Bou Saada, Constantine, Dellys, Djelfa, El Harrach, El Oued, Laghouat, Mostaganem, M'sila, Oran, Ouargla, Setif, Skikda (Philippeville), Taghit, Tebessa, Tindouf, Tizi Ouzou and Tlemcen.

Algeria Locations:
Ahaggar (Hoggar) Mountains, Alboran Sea, Atlantic Ocean, Atlas Mountians, Atlas Saharien Mountains, Bahar el Hammar, Chott ech Chergui, Chott el Honda, Chott Melrhir, 'Erg Chech, 'Erg Lguidi, Golfe de Bejaia, Grand Erg Occidental, Grand Erg Oriental, Mediterranean Sea, Sebkha Azzel Matti, Sebkha d'Oran (dry salt lakes), Sebkha Mekerrhane and Strait of Gibraltar.

Algeria Natural Resources:
Algeria has fossil fuel resources which include oil and natural gas. Metal resources include iron ore, uranium, lead and zinc. Commercial phosphate resources are also present.

Algeria Natural Hazards:
The mountainous areas of Algeria are subject to severe earthquakes. During the rainy season the country can also experience mudslides and floods.

Algeria Environmental Issues:
Environmental issues for Algeria include inadequate supplies of potable water, and pollution of rivers and coastal waters, due to dumping of raw sewage, petroleum refining waste and other industrial runoff. The Mediterranean Sea, on Algeria's northern border, is especially becoming polluted from oil wastes, fertilizer runoff, and soil erosion. Soil erosion is taking place from overgrazing, other poor farming practices, and desertification.


Copyright information: The images on this page were composed by Angela King and Brad Cole and are copyright by Geology.com © 2008. These images are not available for use beyond our websites. If you would like to share them with others please link to this page. The satellite image was produced using Landsat data from NASA and the map was produced using data licensed from and copyright by Map Resources © 2008.