Home » World Maps » Map of Chad
Chad Map - Chad Satellite Image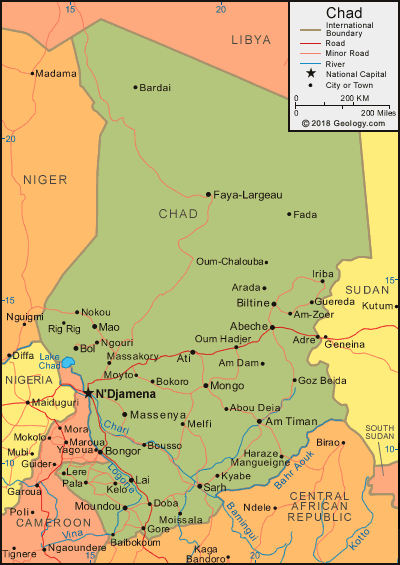 Where is Chad?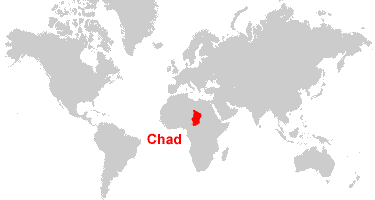 Chad Satellite Image


Chad Country Information:
Chad is located in central Africa. Chad is bordered by Libya to the north, Niger, Cameroon, and Nigeria to the west, the Central African Republic to the south, and Sudan to the east.

Chad Bordering Countries:
Cameroon
,
Central African Republic
,
Libya
,
Niger
,
Nigeria
,
Sudan

Chad Cities:
Abeche, Abou Deia, Adre, Alma, Am Dam, Am Timan, Am Zoer, Arada, Ati, Bardai, Benoy, Biltine, Bokoro, Bol, Bongor, Bousso, Doba, Fada, Faya Largeau, Gore, Goz Beida, Guereda, Haraze Mangueigne, Iriba, Kelo, Koumra, Kyabe, Lai (Behagle), Lere, Mao, Massakory, Massenya, Melfi, Moissala, Mongo, Moundou, Moyto, N'Djamena, Ngouri, Nokou, Oum Chalauba, Pala, Rig Rig, Sarh and Tapol.

Chad Locations:
Bahr Aouk River, Bahr Aoule River, Chari River, Ennedi Mountains, Lac Fitri, Lac Iro, Lake Chad (Lac Tchad), Logone River, Ouadi Howra River and Tibesti Mountains.

Chad Natural Resources:
The mineral resources for Chad include uranium, natron, kaolin, salt, gold, limestone, sand and gravel. The fish in Lake Chad is a natural resource. Petroleum is also a resource.

Chad Natural Hazards:
The hot, dry, dusty harmattan winds occur in northern portion of Chad. Other natural hazards for this country include periodic droughts, and locust plagues.

Chad Environmental Issues:
Some of the environmental issues in rural areas of Chad are improper waste disposal, which contribute to the soil and water pollution. The country also has desertification and inadequate supplies of potable water.


Copyright information: The images on this page were composed by Angela King and Brad Cole and are copyright by Geology.com © 2008. These images are not available for use beyond our websites. If you would like to share them with others please link to this page. The satellite image was produced using Landsat data from NASA and the map was produced using data licensed from and copyright by Map Resources © 2008.