Home » World Maps » Map of Chile
Chile Map - Chile Satellite Image

Where is Chile?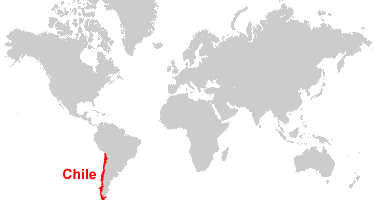 Chile Satellite Image



Chile Country Information:
Chile is located in eastern South America. Chile is bordered by the Pacific Ocean, Argentina to the east, and Bolivia and Peru to the north.

Chile Bordering Countries:
Argentina
,
Bolivia
,
Peru

Chile Cities:
Ancud, Antofagasta, Arica, Caldera, Castra, Cauquenes, Chanaral, Chillen, Chuquicamata, Concepcion, Copiapo, Coquimbo, Huasco, Iquique, La Serena, La Union, Lebu, Londdimay, Osorno, Ovalie, Pisagua, Porvenir, Pueblo Hundido, Puerto Aisen, Puerto Montt, Punta Arenas, Puquios, Quilpue, Rancagua, San Antonio, San Bernardo, San Felipe, San Javier, Santiago, Talca, Talcahuano, Taltal, Temuco, Tocopilla, Ushuaia, Valdivia, Valparaiso and Vina del Mar.

Chile Locations:
Boca del Guafo, Canal Moraledo, Estreeho de Magallanes, Golfo de Ancud, Golfo de Penas, Lago Blanca, Lago Rupanco, Pacific Ocean, Salar de Atacama and Salar de Llamara.

Chile Natural Resources:
Chile has mineral resources which include copper, iron ore, molybdenum, nitrates and precious metals. The country's other natural resources include timber and hydropower.

Chile Natural Hazards:
Chile has some natural hazards which relate to the country's active volcanism. These include severe earthquakes, and tsunamis.

Chile Environmental Issues:
Chile's natural resources are threatened by the widespread deforestation and mining. Other environmental issues for the country include water pollution from raw sewage, and air pollution from industrial and vehicle emissions.


Copyright information: The images on this page were composed by Angela King and Brad Cole and are copyright by Geology.com © 2008. These images are not available for use beyond our websites. If you would like to share them with others please link to this page. The satellite image was produced using Landsat data from NASA and the map was produced using data licensed from and copyright by Map Resources © 2008.