Home » World Maps » United Kingdom » Falkland Islands
Falkland Islands Map and Satellite Image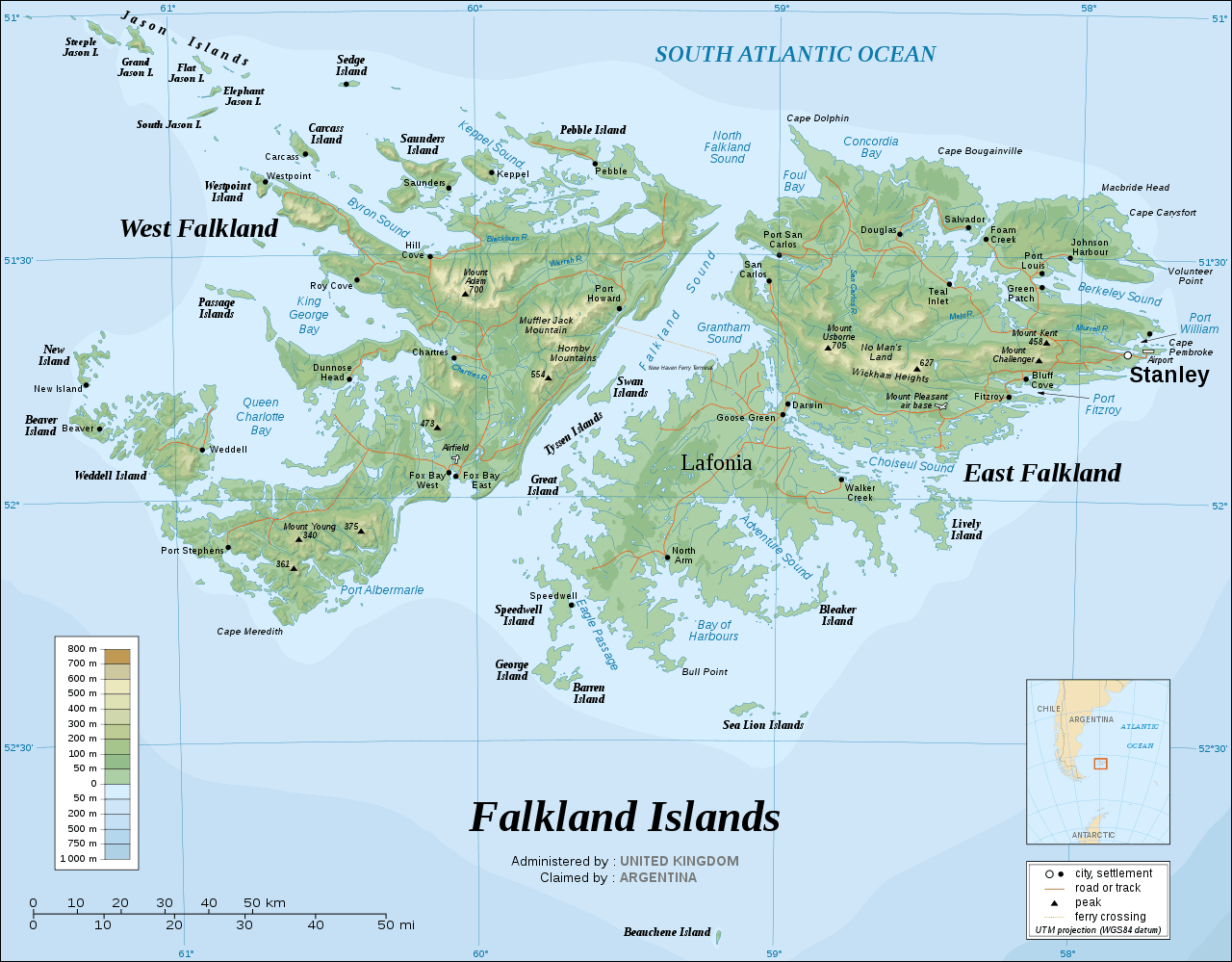 The Falkland Islands are a group of islands located in the South Atlantic Ocean, off the eastern coast of Argentina. The Falkland Islands, also known as Islas Malvinas, are a British Overseas Territory; however, they are claimed by Argentina. The two main islands, East Falkland and West Falkland, are surrounded by approximately 776 smaller islands. Image by Eric Gaba, used here under a GNU Free Documentation License.
Falkland Islands Neighboring Countries:
Argentina
,
Chile
Regional Maps:
South Georgia & South Sandwich Islands
,
South America
,
Antarctica
,
World Map
Where are the Falkland Islands?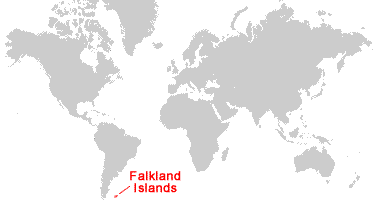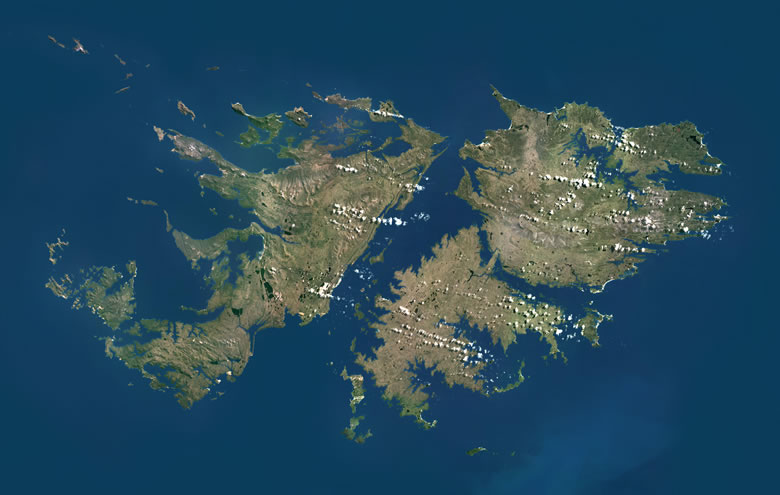 Data for the satellite image above was acquired by Landsat 5 & 7 satellites. Image by Universal Images Group North America LLC / Alamy Stock Photo. Click for a larger view.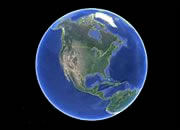 Google Earth is a free program from Google that allows you to explore satellite images showing the settlements and landscapes of the Falkland Islands and the rest of the world in fantastic detail. It works on your desktop computer, tablet, or mobile phone. The images in many areas are detailed enough that you can see houses, vehicles and even people on a city street. Google Earth is free and easy-to-use.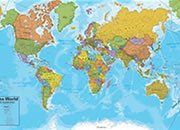 The Falkland Islands are included on our Blue Ocean Laminated Map of the World. This map shows a combination of political and physical features. It includes country boundaries, major cities, major mountains in shaded relief, ocean depth in blue color gradient, along with many other features. This is a great map for students, schools, offices, and anywhere that a nice map of the world is needed for education, display or decor.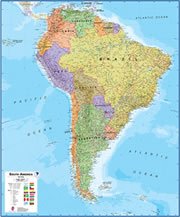 If you are interested in the Falkland Islands and the geography of South America, our large laminated map of South America might be just what you need. It is a large political map of South America that also shows many of the continent's physical features in color or shaded relief. Major lakes, rivers, cities, roads, country boundaries, coastlines and surrounding islands are all shown on the map.

Falkland Islands Cities / Settlements:
Beaver, Bluff Cove, Carcass, Chartres, Darwin, Douglas, Dunnose Head, Fitzroy, Foam Creek, Fox Bay East, Fox Bay West, Goose Green, Green Patch, Hill Cove, Johnson Harbour, Keppel, New Island, North Arm, Pebble, Port Howard, Port Louis, Port San Carlos, Port Stephens, Roy Cove, Salvador, San Carlos, Saunders, Speedwell, Stanley, Teal Inlet, Walker Creek, Weddell, Westpoint.

Falkland Islands Named Islands:
Barren Island, Beauchene Island, Beaver Island, Bleaker Island, Carcass Island, East Falkland Island, George Island, Great Island, Jason Islands (Clarke's Islet, Elephant Jason, Flat Jason, Grand Jason, Jason East Cay, Jason West Cay, North Fur, Seal Rocks, South Fur, South Jason, Steeple Jason, and The Fridays), Lively Island, New Island, Passage Islands (First, Second, Third, and Fourth), Pebble Island, Saunders Island, Sea Lion Islands (Sea Lion Island, Sea Lion Easterly, Rum, Brandy, and Whisky), Sedge Island, Shag Rock, Speedwell Island, Swan Islands (Swan Island, North Swan, and West Swan), Tyssen Islands (Flat Tyssen, High Tyssen, North Tyssen, Peat Tyssen, West Tyssen, and Tyssen Patch), Weddell Island, West Falkland Island, Westpoint Island.

Falkland Islands Locations:
Adventure Sound, Bay of Harbours, Berkeley Sound, Blackburn River, Bull Point, Byron Sound, Cape Bougainville, Cape Carysfort, Cape Dolphin, Cape Meredith, Cape Pembroke, Cape Terrible, Chartres River, Choiseul Sound, Concordia Bay, Dangerous Point, Eagle Passage, Falkland Sound, Foul Bay, Grantham Sound, Hornby Mountains, Keppel Sound, King George Bay, Lafonia, Macbride Head, Malo River, Mount Adam, Mount Challenger, Mount Kent, Mount Pleasant Air Base, Mount Usborne, Mount Young, Muffler Jack Mountain, Murrell River, New Haven Ferry Terminal, No Man's Land, North Falkland Sound, Port Albermarle, Port Fitzroy, Port William, Queen Charlotte Bay, San Carlos River, Storm Mountain, Volunteer Point, Warrah River, Wickham Heights.

Falkland Islands Natural Resources:
Fish, squid, and perennial pasture land. It is possible that oil drilling could become a future revenue source for the islands; however, commercially viable deposits have yet to be identified.

Falkland Islands Natural Hazards:
Winters in the Falkland Islands are cold and very windy.

Falkland Islands Environmental Issues:
The native plants and animals have been negatively affected by humans' introduction of non-native species. For example, the introduction of foxes, cats, and rats has been detrimental to the bird species that nest on the islands' shores.

ADVERTISEMENT