Home » World Maps » Map of Mozambique
Mozambique Map - Mozambique Satellite Image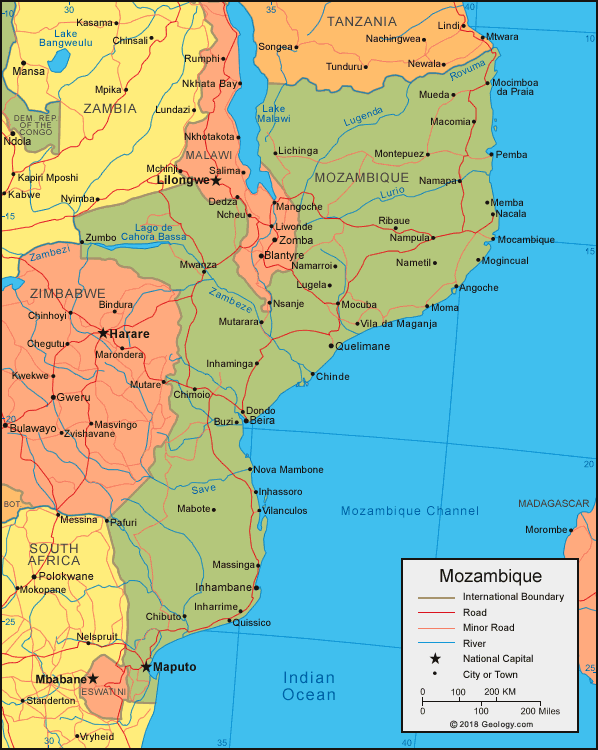 Where is Mozambique?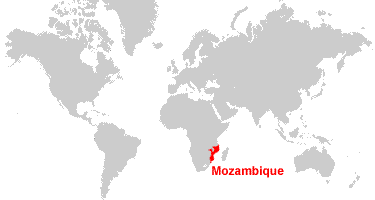 Mozambique Satellite Image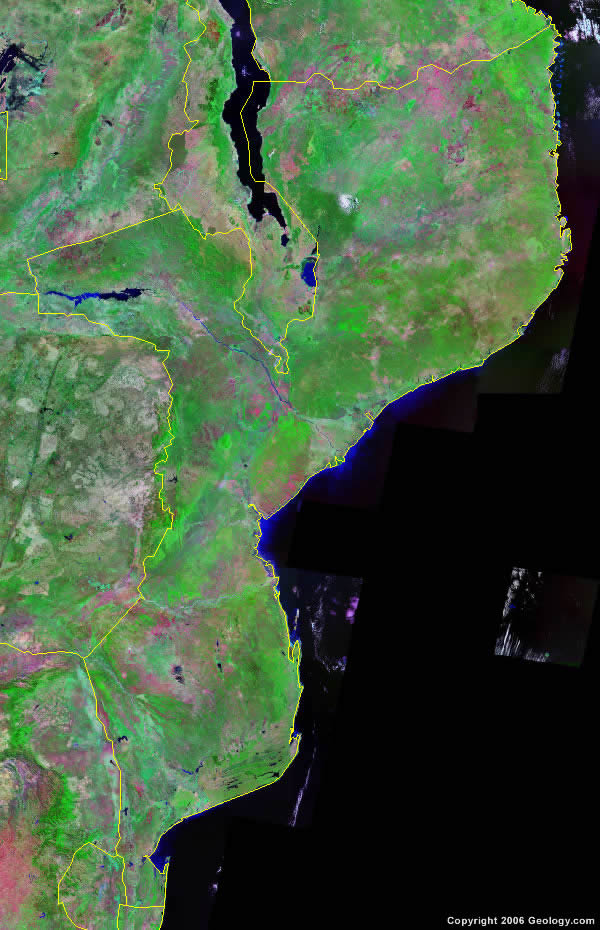 Mozambique Country Information:
Mozambique is located in southeastern Africa. Mozambique is bordered by the Indian Ocean, Tanzania to the north, Malawi, Zambia, and Zimbabwe to the west, and South Africa and Swaziland to the south.

Mozambique Bordering Countries:
Malawi
,
South Africa
,
Swaziland
,
Tanzania
,
Zambia
,
Zimbabwe

Mozambique Cities:
Angoche, Beira, Buzi, Chibuto, Chimolo, Chinde, Divinhe, Dondo, Inhambane, Inhaminga, Inharrime, Inhassoro, Lichinga, Lugela, Mabote, Macomia, Manga, Manica, Maputo, Massinga, Memba, Mocambique, Mocimboa, Mocuba, Mogincual, Moma, Montepuez, Mueda, Mutarara, Mutare, Mwanza, Nacala, Namapa, Namarroi, Nametil, Nampula, Nangade, Negomano, Nova Mambone, Nova Sofala, Pafuri, Pemba, Quelimane, Quissico, Ribaue, Vila da Maganja, Vilanculos, Xai-Xai and Zumbo.

Mozambique Locations:
Baia de Fernao Veloso, Baia de Pemba, Indian Ocean, Lago Chiuta, Lago de Cahora Bassa, Lake Chilwa, Lake Malawi, Lebombo Mountains, Limpopo River, Lugenda River, Lurio River, Rio Zambeze River, Rovuma River, Save River and Zambeze River.

Mozambique Natural Resources:
Mozambique has several fuel resources including coal, natural gas and hydropower. Metal and mineral resources include titanium, tantalum and graphite.

Mozambique Natural Hazards:
Mozambique is subject to devastating cyclones and floods in the central and southern provinces. There are other serious occurrences in this country, including severe droughts.

Mozambique Environmental Issues:
Mozambique has had an increased migration of its population to the urban and coastal areas, because of recurrent droughts and a long civil war in the hinterlands. This has resulted in adverse environmental consequences. The coastal and surface waters are polluted. The country also has desertification. The elephant population is threatened by poaching for ivory.


Copyright information: The images on this page were composed by Angela King and Brad Cole and are copyright by Geology.com © 2008. These images are not available for use beyond our websites. If you would like to share them with others please link to this page. The satellite image was produced using Landsat data from NASA and the map was produced using data licensed from and copyright by Map Resources © 2008.