Home » World Maps » Map of Turkey
Turkey Map - Turkey Satellite Image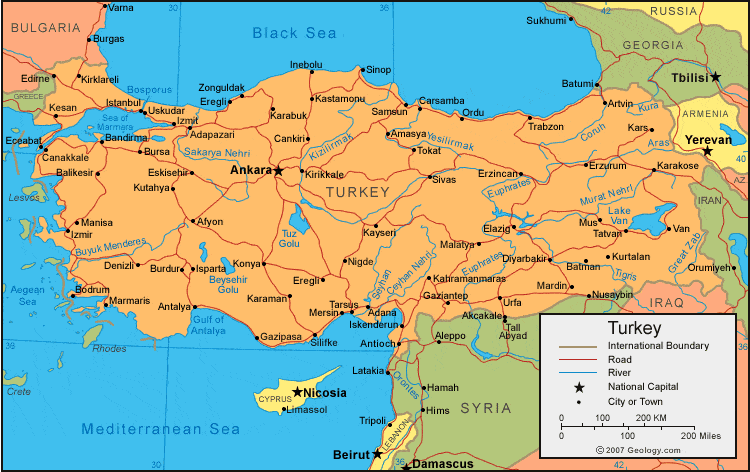 Where is Turkey?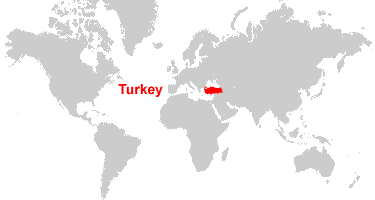 Turkey Satellite Image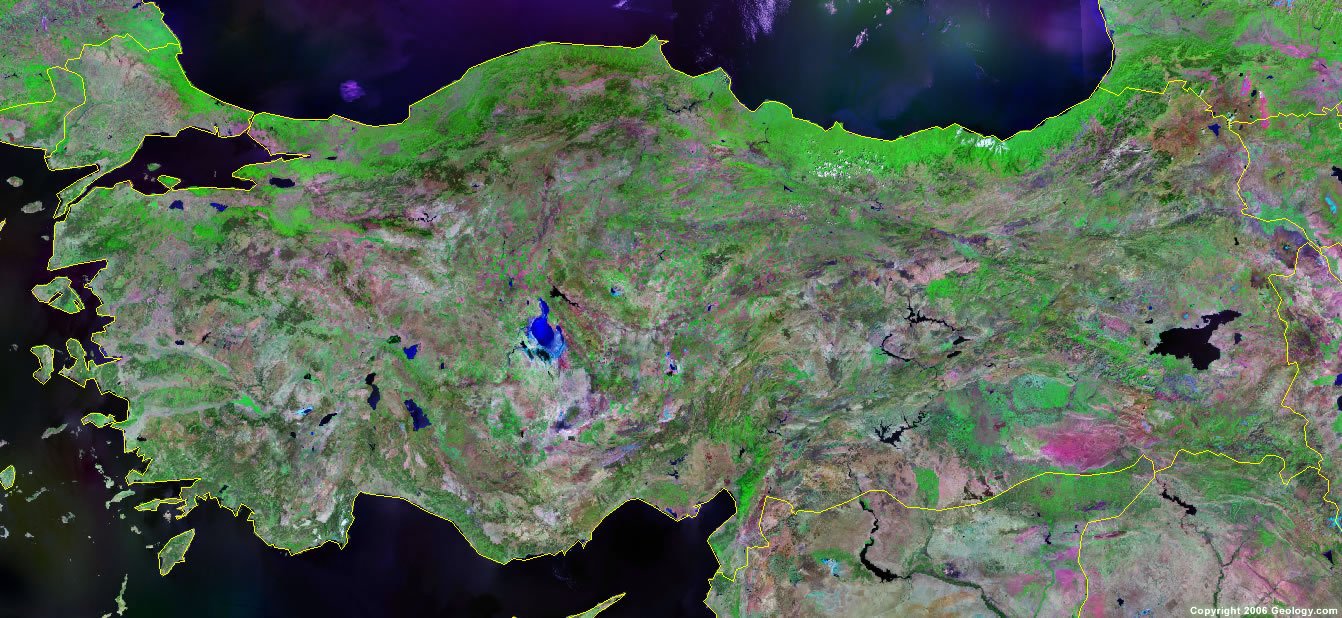 Turkey Country Information:
Turkey is located in southwestern Asia. Turkey is bordered by the Black Sea to the north, the Mediterranean Sea to the southwest, Bulgaria and Greece to the northwest, Georgia, Armenia, Azerbaijan, and Iran to the east, and Iraq and Syria to the south.

Turkey Bordering Countries:
Armenia
,
Azerbaijan
,
Bulgaria
,
Georgia
,
Greece
,
Iran
,
Iraq
,
Syria

Turkey Cities:
Adana, Adapazari, Adiyaman, Afyon, Amasya, Ankara (Angora), Antalya, Antioch, Artvin, Batumi, Bodrum, Bursa, Cankiri, Carsamba, Corum, Denizli, Diyarbakir, Edime, Eregli, Erzincan, Erzurum, Eskisebir, Gaziantep, Gazipasa, Inebolu, Isparta, Istanbul (Constantinople), Izmir (Smyrna), Izmit, Karabuk, Karakose, Karaman, Kastamonu, Kayseri, Kesan, Kirikkale, Kirklareli, Konya, Kurtalan, Kutahya, Malatya, Manisa, Mardin, Marmaris, Mersin, Mus, Nigde, Ordu, Samsun, Silifke, Sinop, Sivas, Tarsus, Tatvan, Tekirdag, Tokat, Trabzon, Uskudar, Van and Zonguldak.

Turkey Locations:
Agean Sea, Antalya Korfezi, Aras River, Beysehir Golu Lake, Black Sea, Buyuk Menderes River, Edremit Korfezi, Egridir Golu Lake, Euphrates River, Gemlik Korfezi, Great Zab River, Kizilirmak (Halys River), Kurbaga Golu Lake, Kus Golu Lake, Marmara Denizi, Mediterranean Sea, Peri River, Seyfe Golu Lake, Tersakan Golu Lake, Tigris River, Tuz Golu Lake, Tuzla Golu Lake, Ulubat Golu Lake, Van Golu Lake and Yesilirmak River.

Turkey Natural Resources:
Turkey has numerous mineral resources which include feldspar, barite, borate, emery, clay, magnesite and strontium celestite. Some of the country's metallic resources are iron ore, copper, chromium, antimony, mercury and gold. A variety of other natural resources in Turkey include marble, limestone, perlite, pumice, sulfur pyrites, coal, hydropower and arable land.

Turkey Natural Hazards:
Turkey is subject to severe earthquakes, especially in the northern portion of the country, extending along an arc from the Sea of Marmara to Lake Van.

Turkey Environmental Issues:
Turkey has air pollution, particularly in its urban areas. Another environmental issue is the water pollution from dumping of chemicals and detergents. There is concern about the oil spills from increasing ship traffic in the Bosporus strait. The country also has deforestation.


Copyright information: The images on this page were composed by Angela King and Brad Cole and are copyright by Geology.com © 2008. These images are not available for use beyond our websites. If you would like to share them with others please link to this page. The satellite image was produced using Landsat data from NASA and the map was produced using data licensed from and copyright by Map Resources © 2008.