Home » World Maps » Map of Yemen
Yemen Map - Yemen Satellite Image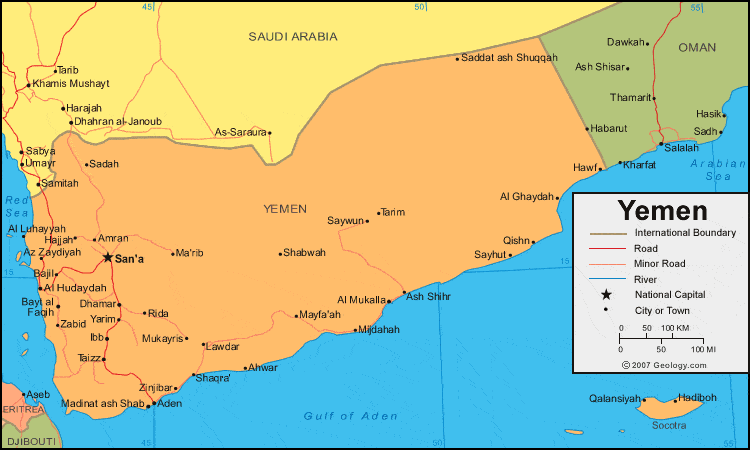 Where is Yemen?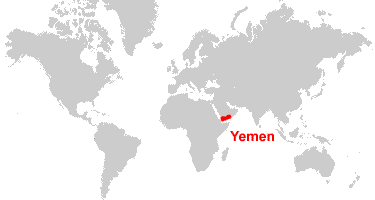 Yemen Satellite Image


Yemen Country Information:
Yemen is located in the Middle East. Yemen is bordered by the Red Sea, Arabian Sea, Gulf of Aden, Saudi Arabia to the north, and Oman to the east.

Yemen Bordering Countries:
Oman
,
Saudi Arabia

Yemen Cities:
Adan (Aden), Ahwar, Al Ghaydah, Al Hudaydah, Al Luhayyah, Al Mukalla, Amran, Ash Shihr, Az Zaydiyah, Bajil, Bayt al Faqih, Dhamar, Hajjah, Harrah, Hawf, Ibb, Lahij, Lawdar, Madinat ash Shab, Ma'rib, Mayfa'ah, Mijdahah, Mukayris, Nishtun, Qishn, Rida, Sadah, Saddat ash Shuqqah, San'a' (Sanaa), Sanaw, Sayhut, Saywun, Shabwah, Shaqra', Shaykh 'Uthman, Shihan, Ta'izz, Tarim, Yarim, Zabid and Zinjibar.

Yemen Locations:
Arabian Sea, Bab al Mandab, Ghubbat al Qamar, Gulf of Aden, Red Sea, Tihamat ash Sham and Wadi al Masilah.

Yemen Natural Resources:
Yemen has metal resources which include gold, lead, nickel and copper. Fossil fuels are present of petroleum, as well as small deposits of coal. There are other natural resources including rock salt, marble, fish, and fertile soil in western part of the country.

Yemen Natural Hazards:
There are dust storms and sandstorms in Yemen, during the summer.

Yemen Environmental Issues:
Yemen has environmental issues concerning the land and water. There are very limited natural fresh water resources, and inadequate supplies of potable water. Issues regarding the land include overgrazing, soil erosion, and desertification.


Copyright information: The images on this page were composed by Angela King and Brad Cole and are copyright by Geology.com © 2008. These images are not available for use beyond our websites. If you would like to share them with others please link to this page. The satellite image was produced using Landsat data from NASA and the map was produced using data licensed from and copyright by Map Resources © 2008.