Home » Astronomy » Meteorites on Mars
Meteorites on Mars
NASA's Mars Rovers Are the Best Meteorite Hunters in the Solar System!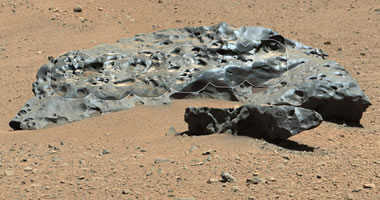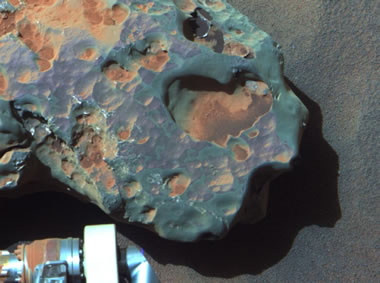 Hard to Find on Earth but Abundant on Mars?
NASA's Mars Rovers have found some spectacular meteorites. On Earth, the only humans who are as successful at finding meteorites are professional meteorite hunters and the scientists who hunt for meteorites in Antarctica. Are meteorites that abundant on Mars or are these Rovers simply lucky?
The answer to this question has a lot to do with the environment of the two planets. The surface of Earth has an environment that is rich in oxygen and moisture - both of which are rapidly destructive to iron meteorites.
A meteorite that lands on Earth's surface would rust away in a blink of geologic time. Mars, however, has very little oxygen and moisture in its atmosphere and surface soils. Meteorites that land on Mars can remain in excellent condition for millions - or even billions - of years. Mars is the perfect place for hunting meteorites.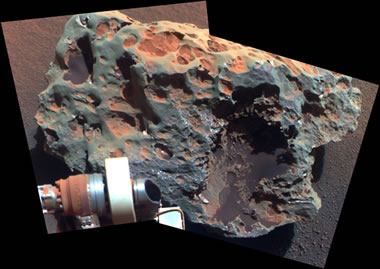 What Do the Meteorites Reveal About Mars?
NASA scientists are fascinated with the Mars meteorites because they reveal interesting information about the environment of Mars. For example, the "Block Island" meteorite (pictured) is much too large to have landed intact given the current thinness of the Martian atmosphere. A thicker atmosphere would be needed to cushion its fall. With this information, scientists suspect that the Block Island meteorite fell billions of years ago when the atmosphere of Mars was much thicker.
The Mars meteorites also display very little surface alteration. This confirms that the atmosphere and surface soil of Mars contain very little moisture or free oxygen.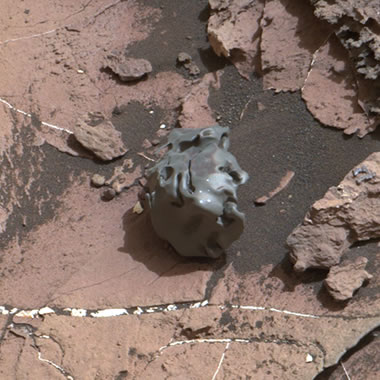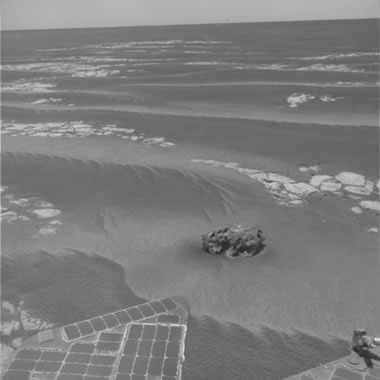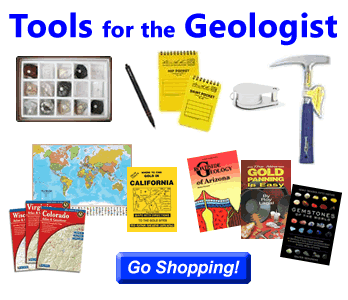 Find Other Topics on Geology.com:
| | |
| --- | --- |
| Rocks: Galleries of igneous, sedimentary and metamorphic rock photos with descriptions. | Minerals: Information about ore minerals, gem materials and rock-forming minerals. |
| Volcanoes: Articles about volcanoes, volcanic hazards and eruptions past and present. | Gemstones: Colorful images and articles about diamonds and colored stones. |
| General Geology: Articles about geysers, maars, deltas, rifts, salt domes, water, and much more! | Geology Store: Hammers, field bags, hand lenses, maps, books, hardness picks, gold pans. |
| | Diamonds: Learn about the properties of diamond, its many uses, and diamond discoveries. |