Home » General Geology » Yosemite Glaciers
Glaciers in Yosemite: Lyell Glacier and Maclure Glacier
Ice Age Glaciation of Yosemite Valley
Glaciers played a major role in determining the landscape and features of Yosemite National Park. During the Great Ice Age, portions of the Park were covered by glacial advances at least three times. These glaciers, along with stream erosion and mechanical weathering, deepened Yosemite Valley, widened it, and produced the extremely steep valley walls.
Hanging Valleys and Waterfalls
During the time of maximum glacial advance, a large trunk glacier filled Yosemite Valley. Smaller tributary glaciers flowed down adjacent valleys and merged into the trunk. When the glaciers retreated, the trunk glacier had cut a much deeper valley than the tributary glaciers, forming hanging valleys where the tributary glaciers joined the trunk. Today waterfalls such as Yosemite Falls and Bridalveil Fall mark the mouths of these hanging valleys.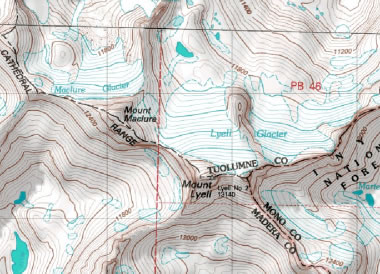 Moraines and Lake Yosemite
The glacial retreat also left a terminal moraine that created a dam across Yosemite Valley. A large lake known as Lake Yosemite formed behind that dam. Meltwater washed millions of tons of rock, sand and mud into the lake, filling it in some places with over 1000 feet of glacial sediment. Today those sediments underlie the flat floor of Yosemite Valley.
Smaller Glacial Features
Today in the higher portions of Yosemite National Park, small-scale evidence of Ice Age glaciers can still be seen. Grooves and scratches in the Valley's bedrock, known as "striations," are evidence that glaciers scoured and gouged their way through the valley. And, rocks different from the Yosemite bedrock can be found. These out-of-place rocks, known as "erratics," were transported by glacial ice from areas outside the park, but they are now left as evidence that a glacier passed through.
Two Glaciers Remain
Today, at the highest elevations in the Park (over 12,000 feet above sea level), two glaciers, Lyell Glacier and Maclure Glacier, are still active. These glaciers are small and slowly retreating as climate change warms their environment. They are expected to last just a few more decades.
Very few visitors see Lyell and Maclure Glaciers because long strenuous hikes are required to reach their high elevations. Crevasses, boulder fields and slippery ice make them dangerous places to visit. However, you can visit these glaciers easily today by viewing the video at the top of this page.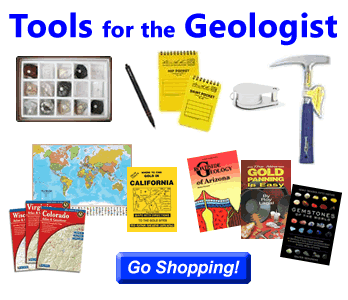 Find Other Topics on Geology.com:
| | |
| --- | --- |
| Rocks: Galleries of igneous, sedimentary and metamorphic rock photos with descriptions. | Minerals: Information about ore minerals, gem materials and rock-forming minerals. |
| Volcanoes: Articles about volcanoes, volcanic hazards and eruptions past and present. | Gemstones: Colorful images and articles about diamonds and colored stones. |
| General Geology: Articles about geysers, maars, deltas, rifts, salt domes, water, and much more! | Geology Store: Hammers, field bags, hand lenses, maps, books, hardness picks, gold pans. |
| | Diamonds: Learn about the properties of diamond, its many uses, and diamond discoveries. |