Home » US Maps » West Virginia » Lakes and Rivers
West Virginia Lakes, Rivers and Water Resources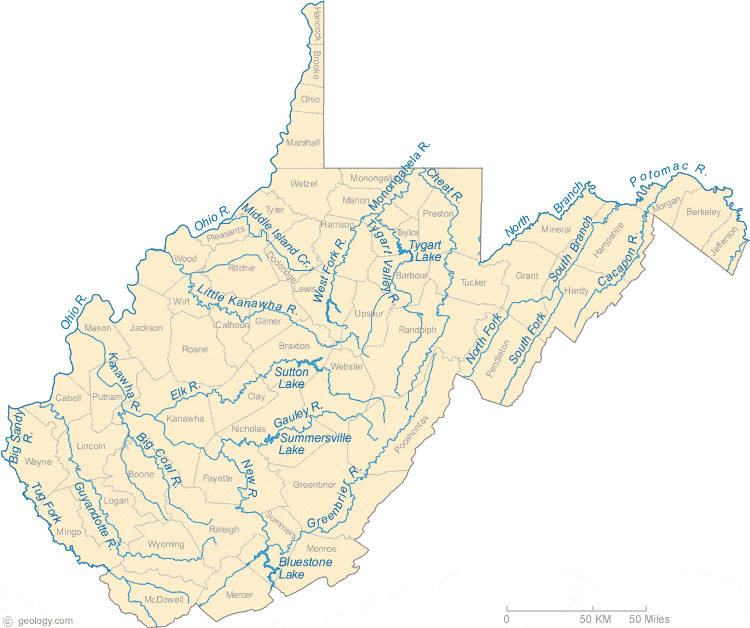 West Virginia Rivers Shown on the Map: Big Coal River, Big Sandy River, Cacapon River, Elk River, Gauley River, Green Brier River, Guyandotte River, Little Kanawha River, Middle Island Creek, Monongahela River, New River, North Branch Potomac River, North Fork, Ohio River, Potomac River, South Branch Potomac River, South Fork, Tug Fork, Tygart Valley River and West Fork River.

West Virginia Lakes Shown on the Map: Bluestone Lake, Summersville Lake, Sutton Lake and Tygart Lake.













West Virginia Stream and River Levels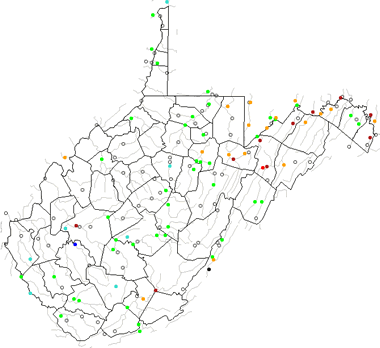 The United States Geological Survey has a number of stream gages located throughout West Virginia. These estimate stream levels, discharges and record them over time. This data is published on the web and many stations allow users to plot custom graphs. Get updated West Virginia river and stream levels from USGS
here
.
West Virginia Stream and River Level Alerts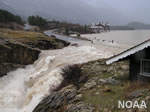 The United States Geological Survey has a system that will send you an email message when flood levels are reached on any steam with USGS gaging equipment that you have selected. Sign up
here
to recieve West Virginia stream and river level alerts.
West Virginia Water Publications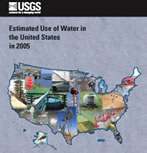 The United States Geological Survey has a number of publications related to water use and water resources in West Virginia. View the water resource publications for West Virginia
here
.
West Virginia Drought Map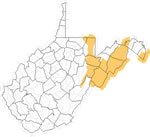 The United States Geological Survey publishes updated drought maps on their website. There you can view a map that shows where below normal 7-day average stream flow conditions were recently recorded. The maps are updated daily. Get a current West Virginia drought map here.



West Virginia Precipitation Map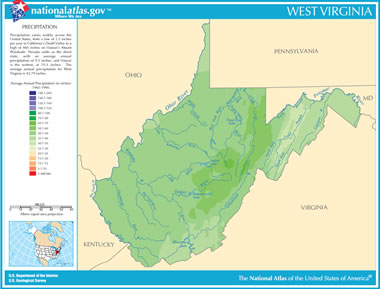 The National Atlas Project has precipitation maps for West Virginia and other states that you can view online or print for personal use. These maps show the average annual precipitation levels mapped across the state. View and print an West Virginia precipitation map here. Precipitation maps prepared by the PRISM Climate Group at Oregon State University and the United States Geological Survey.



West Virginia Elevation Map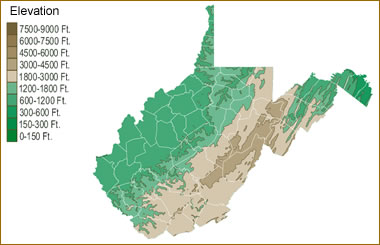 The topography of an area determines the direction of stream flow and often is a primary influence on the geographic distribution of precipitation. View a detailed West Virginia elevation map.





More From Geology.com:
| | |
| --- | --- |
| Diamonds: Learn about the properties of diamond, its many uses and diamond discoveries. | Rock Gallery: Photos of igneous, sedimentary and metamorphic rocks. |
| 100+ Gems Photos of over 100 beautiful gems ranging from the popular to the obscure. | Know the Rules before removing rocks or minerals from public or private property. |
| Minerals: Information about ore minerals, gem materials and rock-forming minerals. | |
| Meteorites - Rocks that were once parts of planets or large asteroids. | Lapis Lazuli - a metamorphic rock and the most popular blue opaque gemstone in history. |