Kamchatka, Russia - February 3, 1923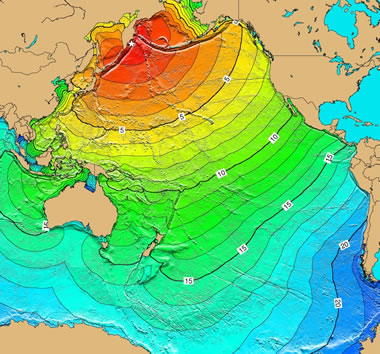 Subduction Zones as Tsunami Sources
Most of Earth's seismic energy is released along the subduction zones and transform faults that rim the Pacific Ocean. Magnitude 7, 8 and 9 earthquakes are not uncommon in these areas. Subduction zone earthquakes of these magnitudes are the most likely to produce a tsunami.
Since 1900 a number of deadly tsunamis have killed thousands of people around the Pacific Ocean. An earthquake in Chile can produce a tsunami that is capable of crossing the Pacific Ocean and over twenty hours later killing people in Japan.
Each of the images on this page is a travel time map for a tsunami generated by a specific earthquake. They show that Alaska, Japan and Chile are common sources of tsunami-generating earthquakes. They also show that Hawaii is in a vulnerable location because a large tsnuami generated almost anywhere around the rim of the Pacific will arrive there in five to fifteen hours.
Unimak Island, Alaska - April 1, 1946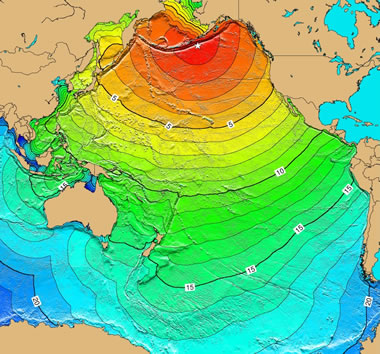 Kii Peninsula, Japan - December 7, 1944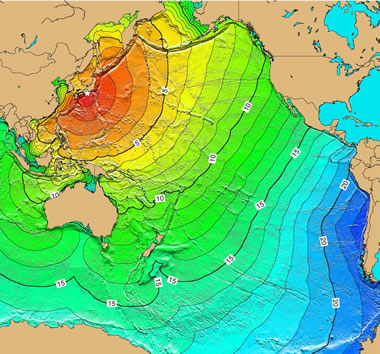 Hokkaido, Japan - March 4, 1952
Honshu, Japan - December 20, 1946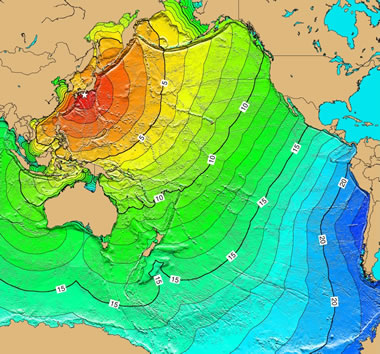 Aleutian Islands, Alaska - March 9, 1957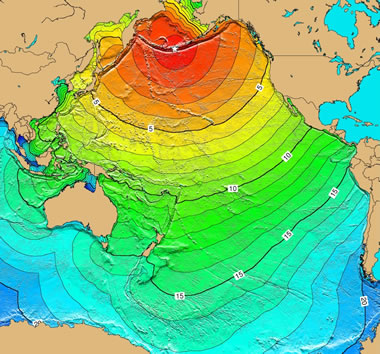 Kamchatka, Russia - November 4, 1952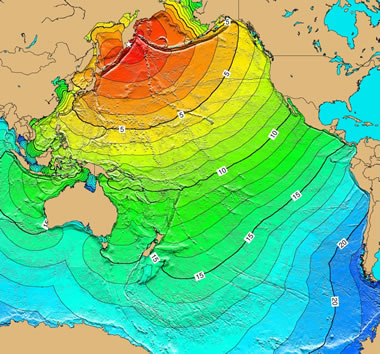 Prince William Sound, Alaska - March 28, 1964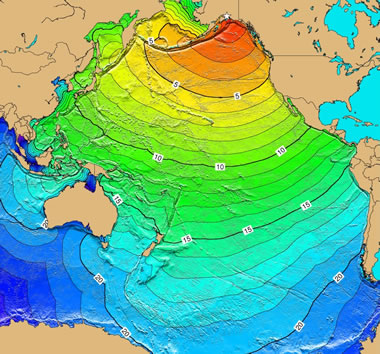 Southern Chile - May 22, 1960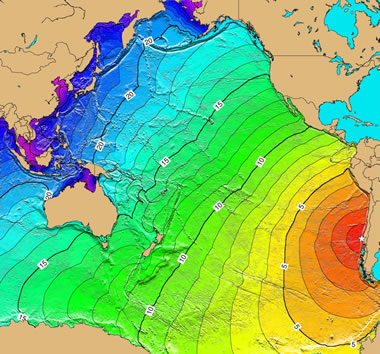 Hawaii - November 29, 1975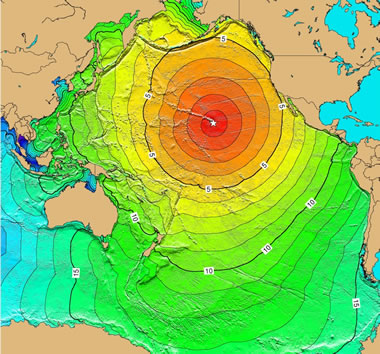 Honshu, Japan - May 16, 1968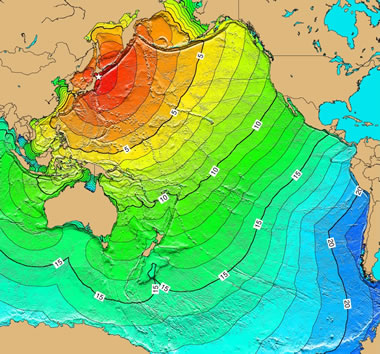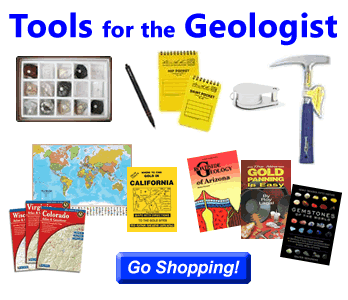 Find Other Topics on Geology.com:
| | |
| --- | --- |
| Rocks: Galleries of igneous, sedimentary and metamorphic rock photos with descriptions. | Minerals: Information about ore minerals, gem materials and rock-forming minerals. |
| Volcanoes: Articles about volcanoes, volcanic hazards and eruptions past and present. | Gemstones: Colorful images and articles about diamonds and colored stones. |
| General Geology: Articles about geysers, maars, deltas, rifts, salt domes, water, and much more! | Geology Store: Hammers, field bags, hand lenses, maps, books, hardness picks, gold pans. |
| | Diamonds: Learn about the properties of diamond, its many uses, and diamond discoveries. |