Diamonds Don't Form From Coal:
Many students are being taught that diamonds form from coal. Most diamonds formed before Earth's first coal seam was deposited and before the first land plant.
USGS Educational Resources
These resources are useful for 7-12 grade science educators. USGS has complete teaching modules, structured classroom activities, and resources for many topics.
Art's Mineral Identification Chart
A printable mineral identification chart in an excel document. It can be customized for the minerals you use when teaching and adapted to various grade levels.
The Most Difficult Rocks to Identify
An experienced geologist admits that he is seriously challenged when students bring him rocks to identify. The article includes tips for dealing with student specimens that can't be identified with confidence.
Geological Society of America
The Geological Society of America has compiled a list of resources for K-12 Earth science educators. All topics include lesson plans and additional resources to assist the educators.
Resources for Earth Science Instruction
Resources for Earth Sciences and Geography Instruction has an alphabetized listing of topics with links to almost 400 earth science concepts that can be developed into organized lesson plans.
Geologic Time Scale
This printable geologic time scale is easy to understand and is not too complex. A word document that you can print for reference or classroom use with students.
The Geological Society
The Geological Society has compiled many teacher resources from their own material, web-based resources, and printed teaching support material.
Earth Science Dictionary
This easy to use earth science dictionary contains several hundred of the most commonly used earth science terms.
Science-Teacher
Science-Teacher has many types of science teaching materials like activities, worksheets, and lesson plans for upper elementary and middle school science teachers.
Geography4Kids
This website has a great assortment of earth science, geography, astronomy, etc. material that can be used as lesson plans and even classroom activities.
EarthNet
EarthNet has educational activities, links to different earth science websites, a teacher's page, and many more beneficial topics for the earth science educator.
Illinois State Museum
Illinois State Museum has a great assortment of earth science lesson plans to help teachers explain the material to students in grades K-12.
The Science Mission Directorate
This website has educational activities that provide opportunities for learners to investigate the world and universe using NASA resources.
USGS
USGS explains the Water Cycle through a clickable diagram that covers all aspects dealing with the water cycle. There are a few versions of the diagram available for teachers to use in the classroom.
Windows to the Universe
This website offers Earth science activities, classroom journals, educational links, and a place for teachers to share information.
Science Class
Science class has a great variety of science topics and accompanying each topic there are multiple activities, internet resources, demonstrations, and much more.
John Lahr
John Lahr has a great list of hands-on learning activities and lesson plans to use in the earth science classroom.
Science Teacher
Science teacher offers a large list of completed lesson plans and activities that can be used by earth science educators.
NOVA
A variety of Earth science activities, ideas from teachers, related resources, and student interactions for classroom use.
The University of Illinois
The University of Illinois has a listing of classroom activities that introduce topics in meteorology. There is also a teacher's guide that corresponds to each activity.
NASA
Useful information about auroral science and the study of Earth's magnetic field. The classroom activities and projects are beneficial for both educators and students.
Earth & Sky
A radio series that has a variety of discussions that the educator can use in the classroom. Also ideas for using the radio show in class.
Oil On My Shoes
The Science of petroleum Geology is explained through this website. This website helps discover rocks, fossils, drilling for oil, sandstone, and much more that can easily be used by educators.

Rocks - Igneous, Metamorphic & Sedimentary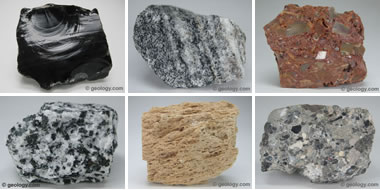 Teach Plate Tectonics With Drawings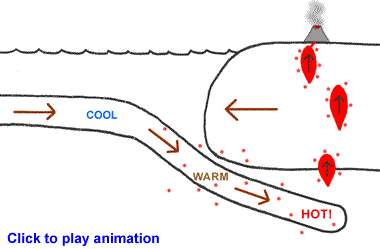 Teaching Plate Tectonics: Use these easy-to-draw illustrations to teach your students about plate tectonics. Step-by-step teaching plan that can be modified for a variety of grade levels.
Diamonds Don't Form From Coal!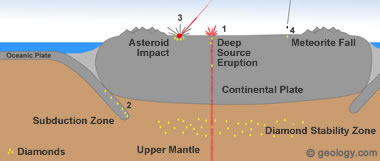 Diamonds Don't Form From Coal: Lots of students are being taught that diamonds form from coal. That is almost entirely false. A very small minority of diamonds have formed with coal as their carbon source. Most of Earth's diamonds formed deep in the mantle long before the first land plant (the source sediment of coal) existed! This article explains how diamonds form and why coal should not be considered the primary carbon source.
Free Graph Paper and Free Maps
Your students can get free printable graph paper, printable maps, printable calendars and more at Waterproof Paper.com, a website affiliated with Geology.com..
OpenCourseWare Search
Several universities publish their course materials for free online, under the OpenCourseWare Initiative. Here is a search engine to find them.
Rock, Mineral and Fossil Kits
Get a rock, mineral or fossil kit to teach your students about earth materials and how to identify them. We offer nine different kits in various sizes.
More from Geology.com

Sunstone: a feldspar with aventurescence caused by light reflecting from platy inclusions.

Salt Glaciers are masses of salt that flow downslope under their own weight.

What is a Maar? The second most common volcanic landscape feature on Earth.

Minerals are the building blocks of our society. We use items made with them every day.

Rocks Galleries of igneous, sedimentary and metamorphic rock photos.