Home » World Maps » Asia » China
China Map and Satellite Image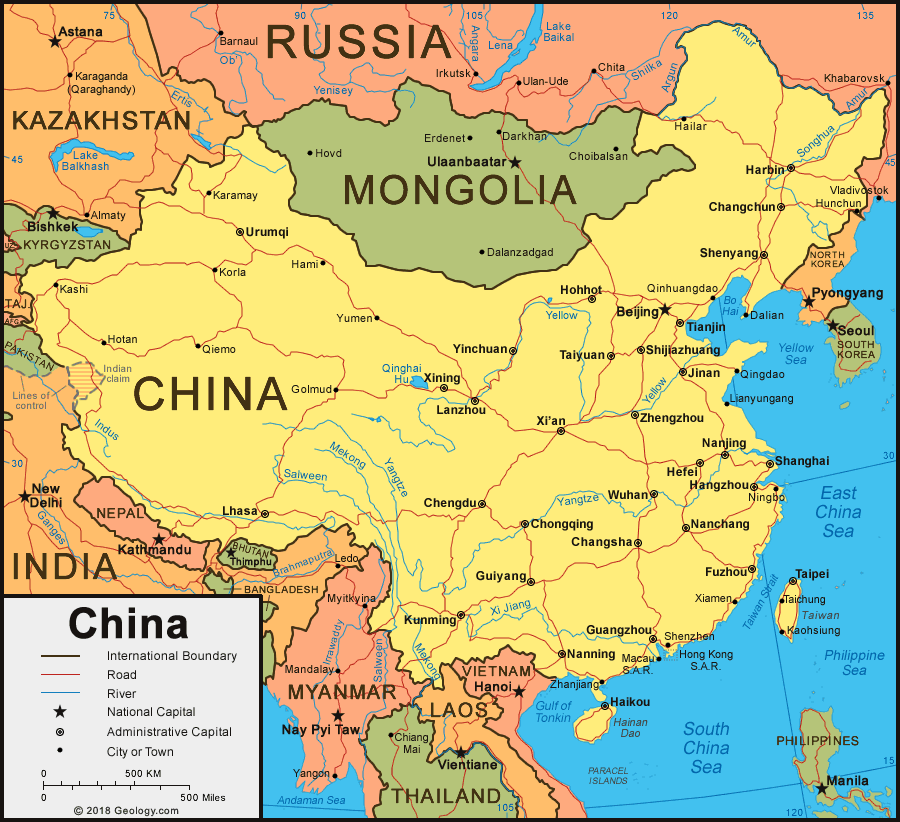 China Bordering Countries:
Afghanistan, Bhutan, Burma, India, Kazakhstan, North Korea, Kyrgyzstan, Laos, Mongolia, Nepal, Pakistan, Russia, Tajikistan, Vietnam, Hong Kong, Macau


Regional Maps:
Map of Asia, World Map




Where is China?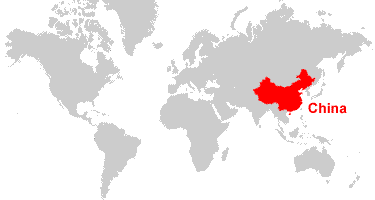 China Satellite Image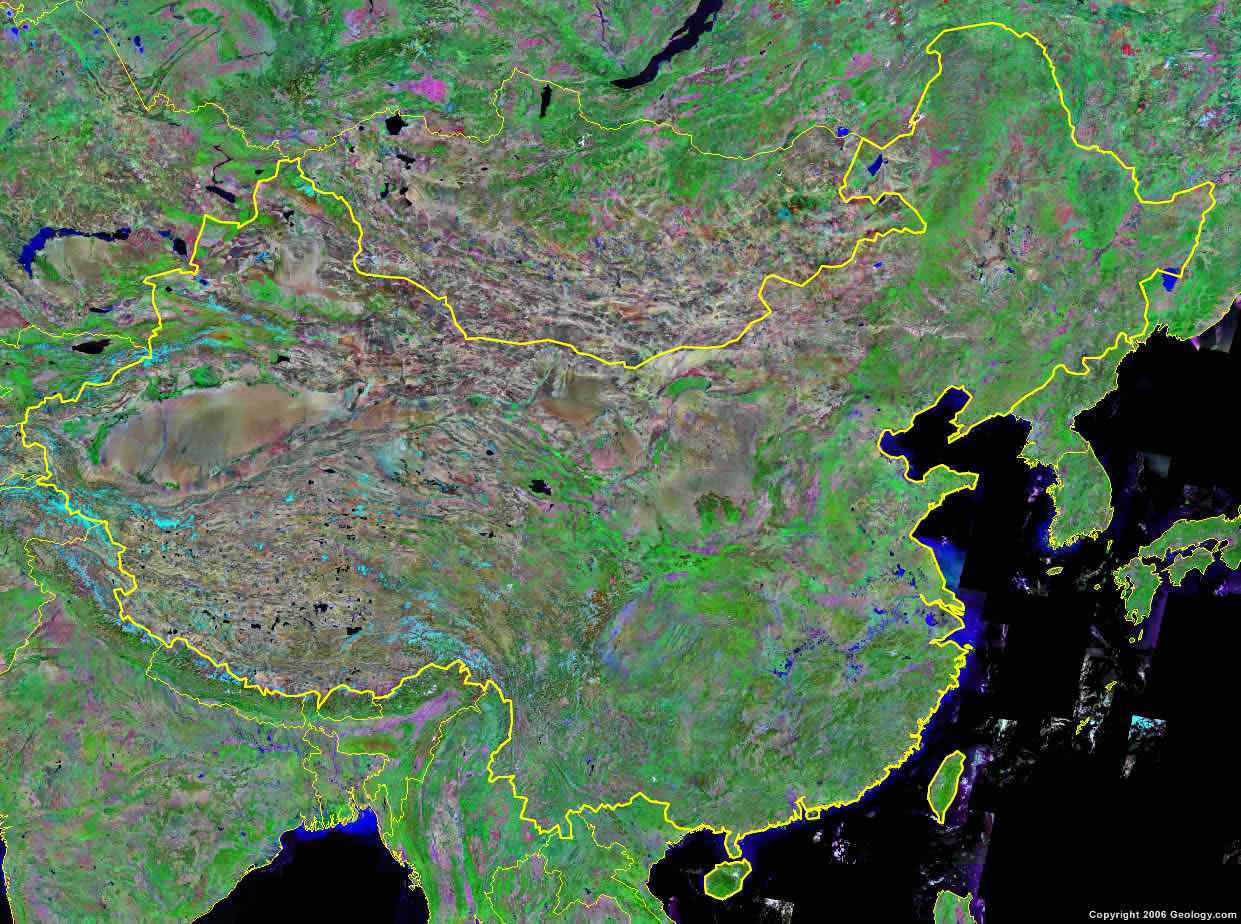 China Information:
China is located in eastern Asia. China is bordered by the Yellow Sea, Korea Bay, South China Sea, and East China Sea; Kazakhstan, Kyrgyzstan, Tajikistan, Afghanistan, Pakistan, India, and Nepal to the west, Russia and Mongolia to the north, Bhutan, Myanmar (Burma), Laos, North Korea, and Vietnam to the south, and Regional Borders with Hong Kong and Macau to the south.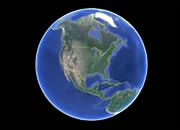 Google Earth is a free program from Google that allows you to explore satellite images showing the cities and landscapes of China and all of Asia in fantastic detail. It works on your desktop computer, tablet, or mobile phone. The images in many areas are detailed enough that you can see houses, vehicles and even people on a city street. Google Earth is free and easy-to-use.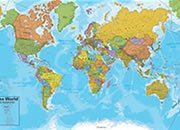 China is one of nearly 200 countries illustrated on our Blue Ocean Laminated Map of the World. This map shows a combination of political and physical features. It includes country boundaries, major cities, major mountains in shaded relief, ocean depth in blue color gradient, along with many other features. This is a great map for students, schools, offices and anywhere that a nice map of the world is needed for education, display or decor.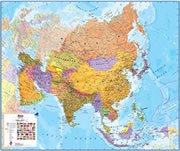 If you are interested in China and the geography of Asia our large laminated map of Asia might be just what you need. It is a large political map of Asia that also shows many of the continent's physical features in color or shaded relief. Major lakes, rivers,cities, roads, country boundaries, coastlines and surrounding islands are all shown on the map.

China Cities:
Baotou, Beijing (Peking), Benxi, Changchung, Changsha, Chongqing, Dalian, Datong, Dunhuang, Fuxin, Fuzhou, Golmud, Guangzhou, Guiyang, Haikou, Hailar, Hami, Handan, Hangzhou, Harbin, Hefei, Hohhot, Hotan, Jilin, Jinan, Jinchang, Jinxi, Jixi, Kaifeng, Karamay, Kashi, Korta, Kunming, Lanzhou, Lhasa, Mianyang, Nanjing, Nanning, Ningbo, Panzhihua, Qiemo, Qingdao, Qiqihar, Shanghai, Shantou, Shenyang, Shijiazhuang, Taian, Taipei, Taiyuan, Tianjin, Urumqi, Wuhan, WuWei, Xiamen, Xian, Xiangfan, Xining, XinXiang, Yakeshi, Yinchuan, Yueyang, Yumen and Zigong.

China Locations:
Bam Co Lake, Bay of Bengal, Baytik Shan Mountains, Bo Hai, Chang Jiang, East China Sea, Gobi Desert, Gulf of Tonkin, Hengduan Shan Mountains, Huang (Yellow River), Korea Bay, Korea Strait, Kunlun Shan Mountains, Nam Co Lake, Philippine Sea, Qilian Shan Mountains, Qinghai Lake, Sea of Japan (East Sea), South China Sea, Taiwan Strait, Tian Shan Mountains, Yangtze River and Yellow Sea.

China Natural Resources:
China has numerous natural resources. The fuel resources include coal, petroleum, natural gas and the world's largest hydropower potential. The many metallic resources include mercury, iron ore, tin, tungsten, antimony, manganese, magnetite, molybdenum, uranium, vanadium, aluminum, lead and zinc.

China Natural Hazards:
China has a wide range of natural hazards that occur in this large country. These include droughts, land subsidence, earthquakes, tsunamis, and damaging floods. In addition, approximately five typhoons strike the southern and eastern coasts each year.

China Environmental Issues:
China has numerous environmental issues. These include air pollution, particularly greenhouse gases and sulfur dioxide particulates, from dependence on coal. This, in turn, produces acid rain. There is water pollution from untreated wastes. In the northern part of the country there are water shortages. China has an estimated loss of one-fifth of their agricultural land, since 1949, due to soil erosion and economic development. In addition to this is deforestation and desertification. The country also has an active trade of endangered species.


Copyright information: The images on this page were composed by Angela King and Brad Cole and are copyright by Geology.com © 2008. These images are not available for use beyond our websites. If you would like to share them with others please link to this page. The satellite image was produced using Landsat data from NASA and the map was produced using data licensed from and copyright by Map Resources © 2008.