Home » World Maps » Map of Morocco
Morocco Map - Morocco Satellite Image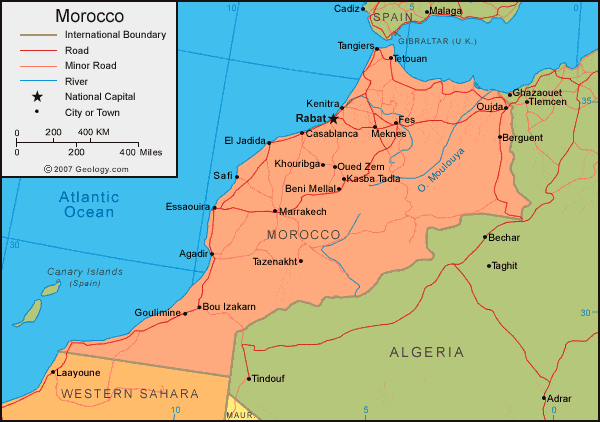 Where is Morocco?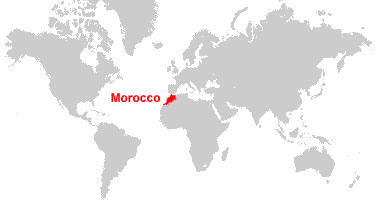 Morocco Satellite Image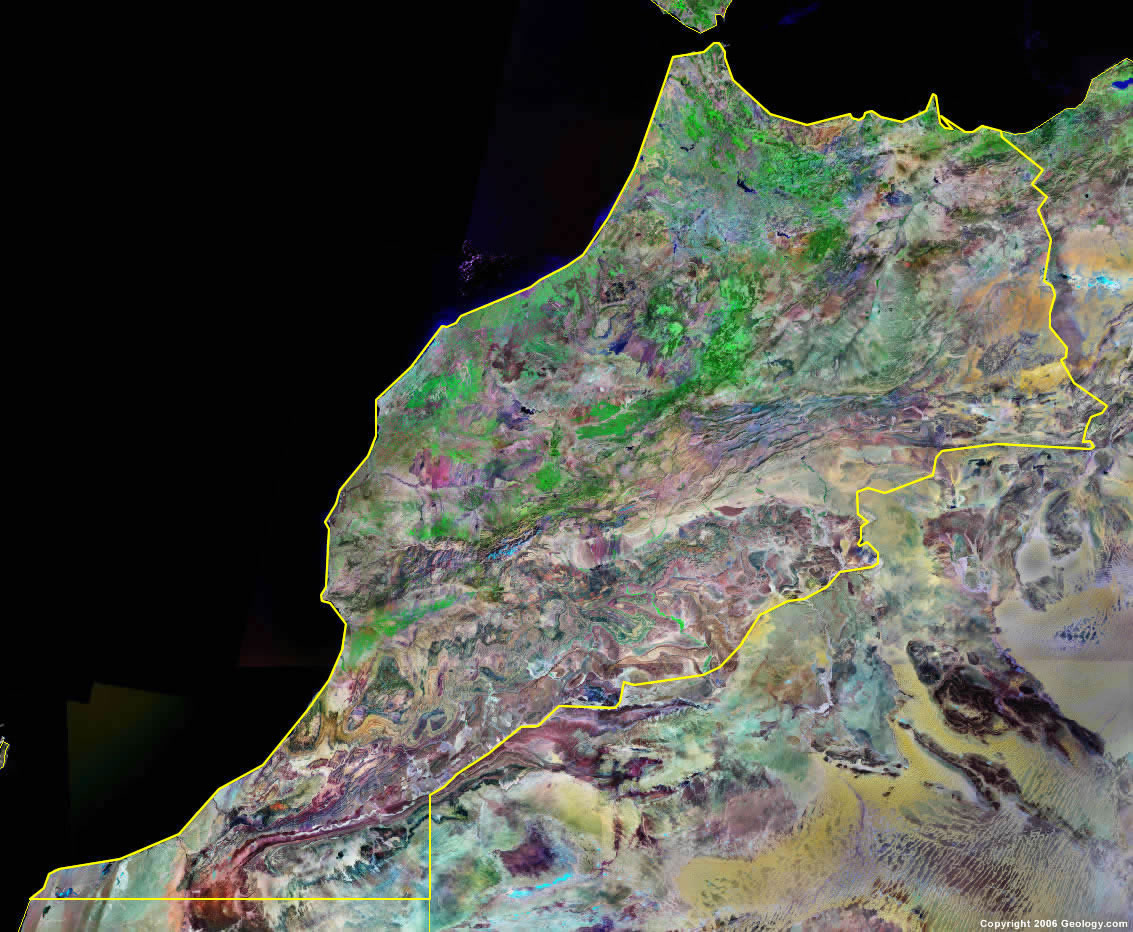 Morocco Country Information:
Morocco is located in northwestern Africa. Morocco is bordered by the Atlantic Ocean and the Alboran Sea, Algeria to the east, Western Sahara to the south, and Spain (Ceuta and Melilla) to the north.

Morocco Bordering Countries:
Algeria
,
Spain
,
Western Sahara

Morocco Cities:
Agadir, Azrou, Beni Mellal, Berguent, Bou Izakarn, Casablanca, El Jadid (Mazagan), Essaouira, Fes (Fez), Goulimine, Kasba Tadla, Kenitra (Port Lyautey), Khouribga, Marrakech, Meknes, Nador, Oued Zem, Oujda, Rabat, Safi, Sale, Sidi Bennour, Sidi Ifni, Tanger (Tangier), Tan-Tan, Tazenakht and Tetouan.

Morocco Locations:
Alboran Sea, Anti Atlas, Atlantic Ocean, Atlas Mountains, Haut Atlas, Moyen Atlas, Oued Draa River, Oued el Abid River, Oued Guir River, Oued Moulouya River, Oued Oum Rbia River, Oued Rheris River, Oued Sous River, Oued Tensift River, Oued Ziz River and Strait of Gibraltar.

Morocco Natural Resources:
Metal resources for the country of Morocco include iron ore, manganese, lead and zinc. Other natural resources include fish, phosphates and salt.

Morocco Natural Hazards:
The northern mountains of Morocco are geologically unstable and subject to earthquakes. There are other natural hazards in this country, including periodic droughts.

Morocco Environmental Issues:
Environmental issues for Morocco are related to the land and water. These issues include the land degradation which is due to: overgrazing; destruction of vegetation; farming of marginal areas; soil erosion; desertification. The country's water supplies are contaminated by raw sewage and there is siltation of their reservoirs. The coastal waters have oil pollution.


Copyright information: The images on this page were composed by Angela King and Brad Cole and are copyright by Geology.com © 2008. These images are not available for use beyond our websites. If you would like to share them with others please link to this page. The satellite image was produced using Landsat data from NASA and the map was produced using data licensed from and copyright by Map Resources © 2008.