Home » World Maps » Europe » Spain » Canary Islands
Canary Islands Map and Satellite Image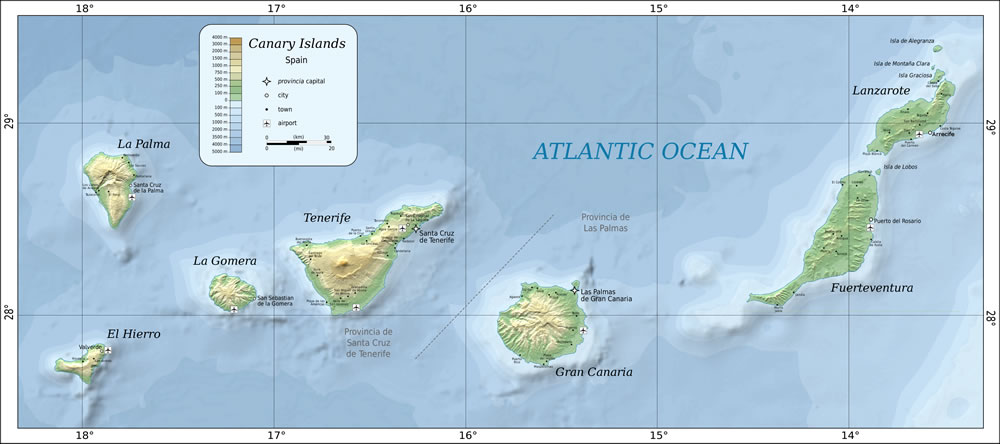 The Canary Islands are an archipelago of seven large and several smaller islands located in the Atlantic Ocean about 60 miles (about 100 kilometers) off the northwest coast of Africa. The islands are an autonomous community of Spain, and the closest countries on the African continent are Morocco and Western Sahara. Map created by Mysid. The seven large islands are, from west to east, El Hierro, La Palma, La Gomera, Tenerife, Gran Canaria, Fuerteventura, and Lanzarote. Click image to enlarge.
Regional Maps:
Morocco
,
Western Sahara
,
Spain
Where are the Canary Islands?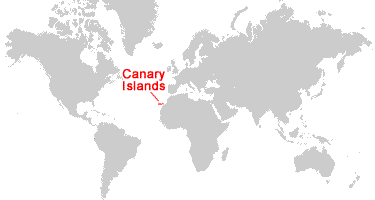 Canary Islands Satellite Image
This satellite image by NASA shows the Canary Islands archipelago and portions of Morocco and Western Sahara, their nearby countries on the African Continent. If you view the enlarged version of this image, you will be able to clearly see calderas and radial drainage patterns that reveal their volcanic origin. Pico del Teide volcano, which is the highest peak in Spain, rises to an altitude of 12,198 feet (3718 meters) above sea level. The islands in the eastern portion of the archipelago are the oldest, and most of their volcanic features have been deeply eroded. The islands in the western portion of the archipelago are the youngest and still retain their rugged topographic features. The light blue swirl in the water to the southeast of El Hierro is suspended material from a small eruption of an underwater volcano. The image was acquired by NASA on December 21, 2011 and compiled by Jeff Schmaltz of NASA Goddard Space Flight Center. Click image to enlarge.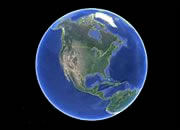 Google Earth is a free program from Google that allows you to explore satellite images showing the cities and landscapes of the Canary Islands, Spain, and all of Europe in fantastic detail. It works on your desktop computer, tablet, or mobile phone. The images in many areas are detailed enough that you can see houses, vehicles and even people on a city street. Google Earth is free and easy-to-use.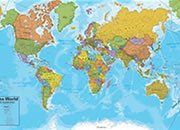 The Canary Islands are included on our Blue Ocean Laminated Map of the World. This map shows a combination of political and physical features. It includes country boundaries, major cities, major mountains in shaded relief, ocean depth in blue color gradient, along with many other features. This is a great map for students, schools, offices, and anywhere that a nice map of the world is needed for education, display or decor.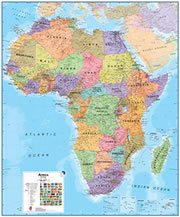 If you are interested in the Canary Islands and the geography of Africa, our large laminated map of Africa might be just what you need. It is a large political map of Africa that also shows many of the continent's physical features in color or shaded relief. Major lakes, rivers, cities, roads, country boundaries, coastlines and surrounding islands are all shown on the map.

Canary Islands Cities:
Agaete, Agua Garcia, Antigua, Arrecife, Arucas, Barlovento, Betancuria, Buenavista del Norte, Caleta de Fuste, Caleta de Sebo, Candelaria, Corralejo, Costa Teguise, El Cotillo, El Paso, Firgas, Frontera, Galdar, Granadilla de Abona, Guia, Guia de Isora, Guimar, Haria, Igueste de Candelaria, Ingenio, Jandia, Lajares, Las Palmas de Gran Canaria, La Oliva, La Orotava, Los Llanos, Los Sauces, Maspalomas, Morro Jable, Pajara, Playa Blanca, Playa de las Americas, Playa del Ingles, Puerto de la Cruz, Puerto del Carmen, Puerto del Rosario, Puerto Rico, Puntallana, Radazul, San Andres, San Bartolome, San Cristobal de La Laguna, San Miguel de Abona, San Sebastian de la Gomera, Santa Cruz de la Palma, Santa Cruz de Tenerife, Santa Ursula, Santiago del Teide, Tacoronte, Tazacorte, Tegueste, Teguise, Telde, Tias, Tinajo, Tuineje, Valle de San Lorenzo, Valverde, Vecindario, Yaiza.

Canary Islands Locations:
The 7 large islands are as follows: El Hierro, Fuerteventura, Gran Canaria, La Gomera, La Palma, Lanzarote, and Tenerife. Smaller islands include Isla de Lobos and the Chinijo Archipelago: Alegranza, La Graciosa, Montana Clara, Roque del Este, and Roque del Oeste.

Canary Islands Natural Resources:
Crops are grown for export, such as bananas and tobacco.

Canary Islands Natural Hazards:
The Canary Islands were originally volcanic islands. Some of the volcanoes are still active today, including Cumbre Vieja on the island of La Palma, which erupted in 2021.

Canary Islands Environmental Issues:
Groundwater and other water resources are being overexploited, partially due to the islands' tourism industry.