Home » Volcanoes » What is a Caldera?
What is a Caldera? How Do Calderas Form?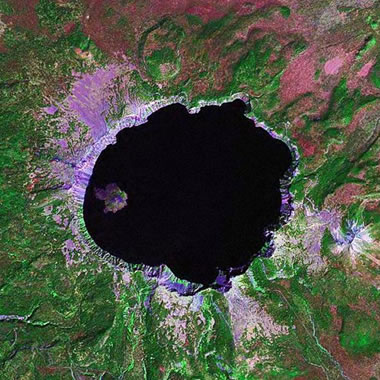 What is a Caldera?
Calderas are some of the most spectacular features on Earth. They are large volcanic craters that form by two different methods: 1) an explosive volcanic eruption; or, 2) collapse of surface rock into an empty magma chamber.
The accompanying image is a satellite view of one of the most famous calderas - Crater Lake in Oregon. Crater Lake was formed about 7700 years ago when an enormous volcanic eruption of Mount Mazama emptied a large magma chamber below the mountain. The fractured rock above the magma chamber collapsed to produce a massive crater over six miles across. Centuries of rain and snow filled the caldera, creating Crater Lake. With a depth of 1949 feet (594 meters), Crater Lake is the deepest lake in the United States and the ninth-deepest lake in the world.
Collapse Calderas
Collapse calderas form when a large magma chamber is emptied by a volcanic eruption or by subsurface magma movement. The unsupported rock that forms the roof of the magma chamber then collapses to form a large crater. Crater Lake and many other calderas are thought to have formed by this process.
The four-step illustration below explains how the Crater Lake caldera is thought to have formed. The video on this page shows a table-top model of caldera formation. This would be an excellent activity for teachers to do with their students, or they can simply show the video using computer projection.
What Causes Explosive Eruptions at Kilauea?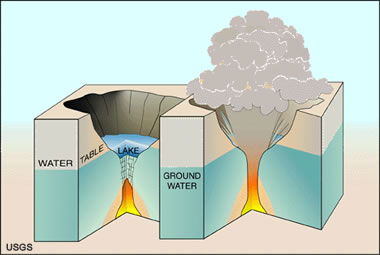 Steps in the formation of Crater Lake Caldera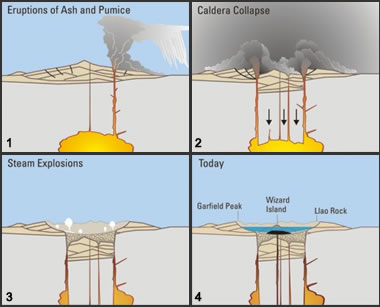 Explosive Calderas
Explosive calderas are formed when very large magma chambers filled with silica-rich melt and abundant gas move upwards from depth. Silica-rich magmas have a very high viscosity that enables them to hold gas bubbles under very high pressures. As they rise to the surface, the reduction of pressure causes the gases to expand. When break-through occurs the result can be an enormous explosion which blasts away large volumes of rock to form the caldera. Some of these blasts eject many cubic kilometers of magma and rock.
Yellowstone Caldera Chain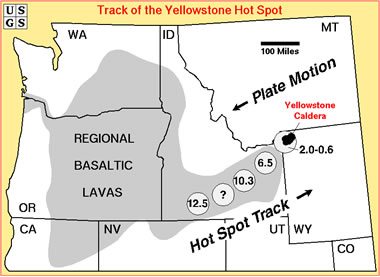 The Yellowstone Supervolcano & Caldera Chain
Yellowstone National Park is world-famous for its geysers and hot springs. Those thermal features are easy-to-observe evidence of an active magma system beneath the Park. This magma system has produced some of the largest volcanic eruptions in Earth's history - eruptions so large that they have been called "supervolcanoes." One of these eruptions produced a caldera about 50 miles across that underlies most of Yellowstone National Park.
The Toba Explosive Eruption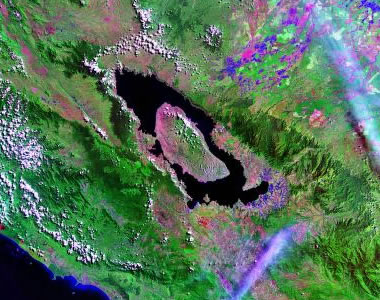 The Toba Supervolcano
About 73,000 years ago, the eruption of Toba on the island of Sumatra, Indonesia produced what is believed to be the largest explosive eruption on Earth in at least the past 25 million years.
The Toba blast is believed to have deforested much of central India - about 3000 miles from the eruption site. The blast is thought to have ejected about 800 cubic kilometers of ash into the atmosphere, producing a crater that is 100 kilometers long and 35 kilometers wide. The crater is now the site of the world's largest volcanic lake.
Calderas on Other Planets
Snow-Covered Calderas on Hawaii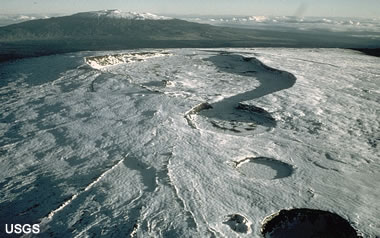 Aniakchak Caldera, Alaska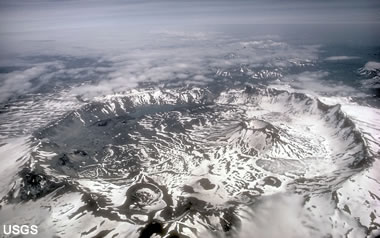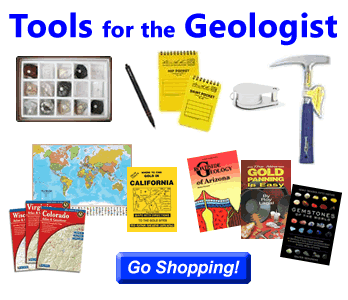 Find Other Topics on Geology.com:
| | |
| --- | --- |
| Rocks: Galleries of igneous, sedimentary and metamorphic rock photos with descriptions. | Minerals: Information about ore minerals, gem materials and rock-forming minerals. |
| Volcanoes: Articles about volcanoes, volcanic hazards and eruptions past and present. | Gemstones: Colorful images and articles about diamonds and colored stones. |
| General Geology: Articles about geysers, maars, deltas, rifts, salt domes, water, and much more! | Geology Store: Hammers, field bags, hand lenses, maps, books, hardness picks, gold pans. |
| | Diamonds: Learn about the properties of diamond, its many uses, and diamond discoveries. |