Home » Volcanoes » Kilauea Volcano
Kilauea Volcano: Photos of the 2018 Eruption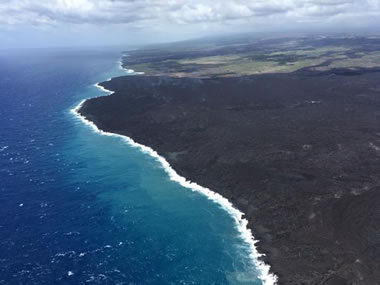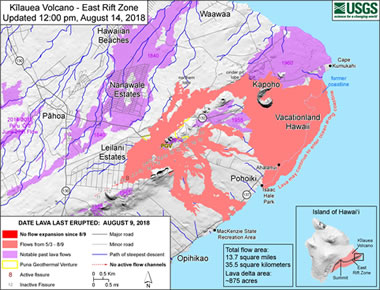 East Rift Zone Eruptions
In late April 2018, small earthquakes began shaking the East Rift Zone of Kilauea Volcano, located along the southeastern side of the Island of Hawaii. Soon, hundreds of earthquakes had been recorded, fissure eruptions were fountaining lava, and basalt flows forced people in the Leilani Estates community to abandon their homes.
In the weeks that followed, numerous fissures were producing lava and poisonous sulfur dioxide gas. The lava flows destroyed dozens of homes, damaged roads, downed power lines and covered thousands of acres with igneous rock.
Daily earthquake activity persisted through the weeks. The largest earthquake was a 6.9 magnitude event. It damaged many buildings on the island of Hawaii, and triggered numerous landslides. It was one of the most powerful earthquakes ever felt in the Hawaiian Islands chain.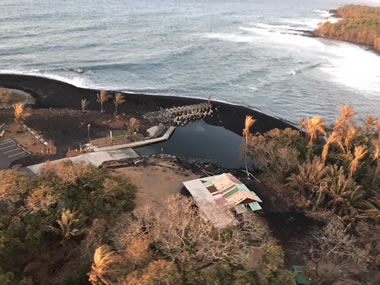 Nothing New for the Hawaiian Island Chain
What we are seeing today is not unusual for the Hawaiian islands. The islands were formed because they are travelling on the Pacific plate over the Hawaiian Hot Spot. In fact, Lö'ihi Seamount, an active submarine volcano growing off the Island of Hawaii's southern coast, will likely be the next island of the Hawaiian island chain.
Monitoring Pavement Fractures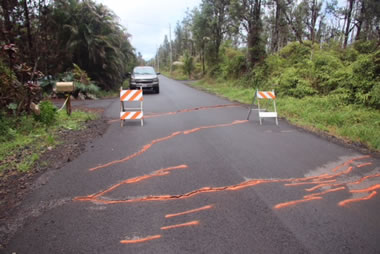 Rumors of a Collapse and Tsunami?
Numerous websites have stories speculating that the south flank of Kilauea volcano might be unstable as a result of recent earthquake and volcanic activity. The stories speculate that the south flank might be detached along a subsurface fault and is ready to slide into the ocean, producing a basin-wide tsunami.
The United States Geological Survey responds that these stories are total speculation.
"There is no geologic evidence for past catastrophic collapses of Kīlauea Volcano that would lead to a major Pacific tsunami, and such an event is extremely unlikely in the future based on monitoring of surface deformation."
Strong earthquakes along the shoreline of Hawaii have produced localized tsunamis in the past. Earthquakes in 1868 (~M8) and in 1975 (M7.7) did produce small tsunamis that caused local deaths and injuries. However, neither of these events were catastrophic or caused a basin-wide impact.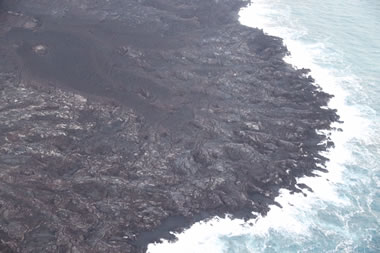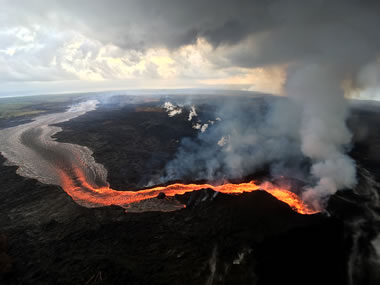 Ocean Entry Through Steam and Rain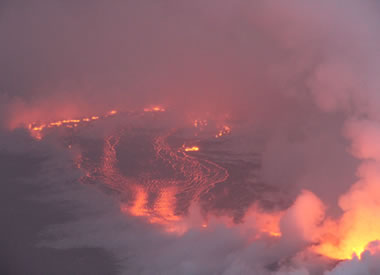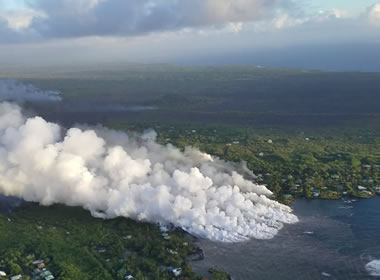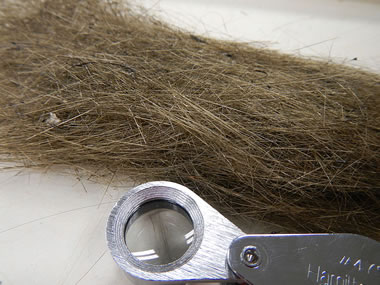 Ash Plume at Kilauea Summit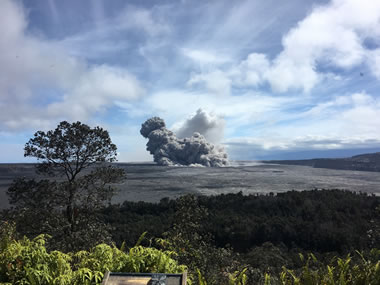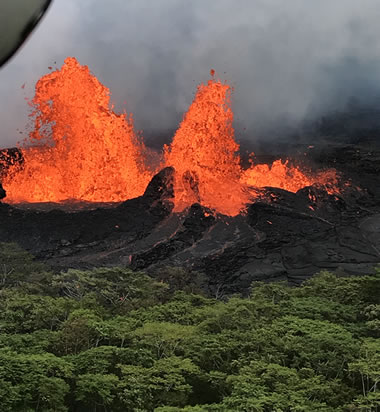 First-Ever Ashfall Advisory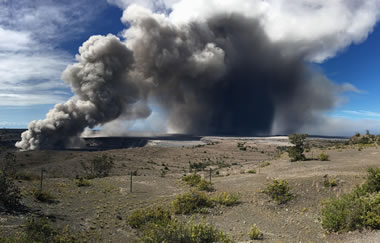 Ash Column at Overlook Crater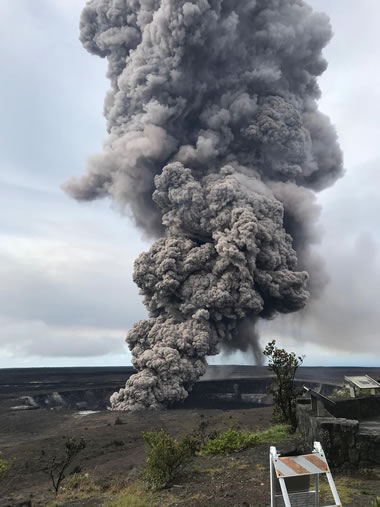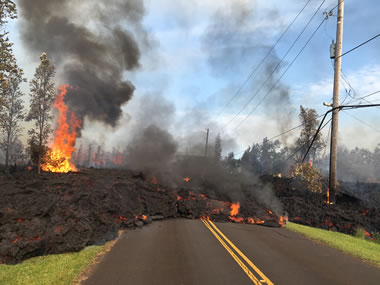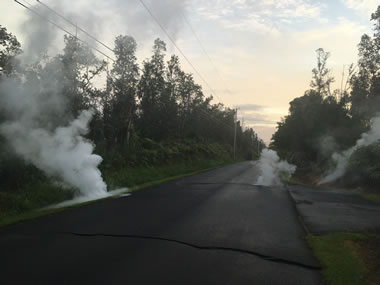 Red Ash Plume at Pu'u'ō'ō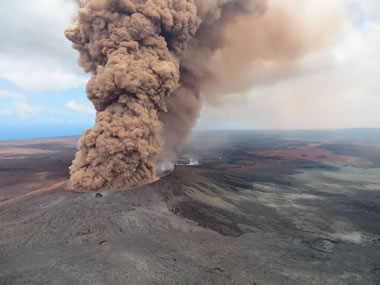 Satellite Image of Kilauea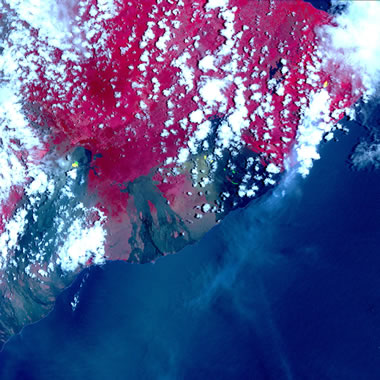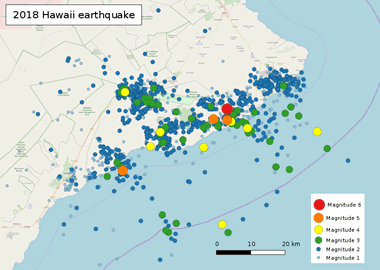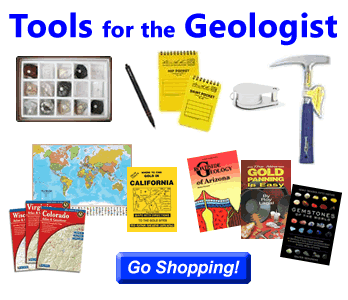 Find Other Topics on Geology.com:
| | |
| --- | --- |
| Rocks: Galleries of igneous, sedimentary and metamorphic rock photos with descriptions. | Minerals: Information about ore minerals, gem materials and rock-forming minerals. |
| Volcanoes: Articles about volcanoes, volcanic hazards and eruptions past and present. | Gemstones: Colorful images and articles about diamonds and colored stones. |
| General Geology: Articles about geysers, maars, deltas, rifts, salt domes, water, and much more! | Geology Store: Hammers, field bags, hand lenses, maps, books, hardness picks, gold pans. |
| | Diamonds: Learn about the properties of diamond, its many uses, and diamond discoveries. |