The Art and Science of Fireworks Displays
Art, Chemistry, Physics and Math Light Up the Fourth of July!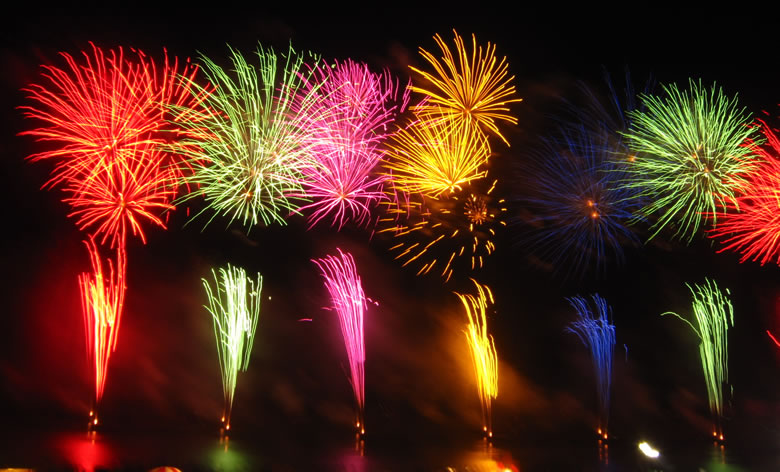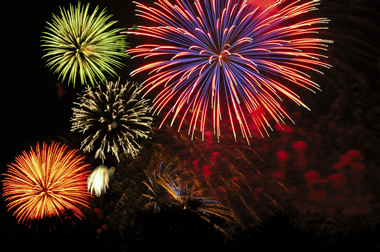 Lights, Colors, Sounds, Shapes and Surprises!
Why do fireworks displays attract so many people? There are many answers to this question, but most people simply enjoy the bright explosions of light, color and sound. Others enjoy being surprised by the shape and color of the fireworks bursts. These shapes and colors do not happen by chance. They are deliberately produced by a careful combination of art, chemistry, physics and math!
How Fireworks Work
An aerial fireworks burst is produced by launching a fireworks shell high into the air, where an explosion occurs. This explosion propels brightly burning particles (known as "stars") in many directions. Each streak of light in the firework photos on this page is a burning "star" flying through the air.
Examine the diagram of a fireworks shell below and read the caption to better understand what happens in the air when this explosion occurs.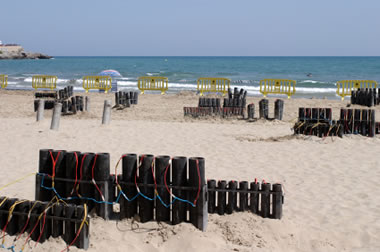 Anatomy of an Aerial Fireworks Shell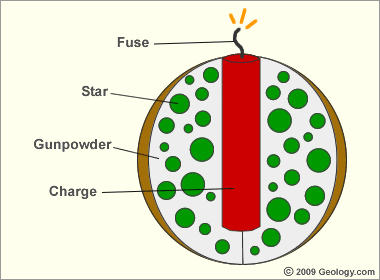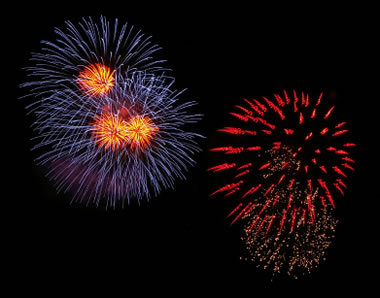 What Causes the Colors?
| | |
| --- | --- |
| Color | Metals |
| Red | strontium, lithium |
| Orange | calcium |
| Yellow | sodium, cadmium |
| White | magnesium, aluminum |
| Green | barium |
| Blue | copper, cobalt |
| Purple | strontium and copper, manganese |
| Silver | titanium, magnesium, aluminum |
Chemistry holds the secrets to the color of a fireworks burst. The colors that you see in the sky are determined by metallic compounds that are deliberately added in very small amounts to the stars when they are manufactured.
As the stars burn, the metal atoms absorb energy, become excited and emit a specific color of light. Some of the metals that produce the colors of fireworks are tabulated here.
Controlling the Appearance of the Burst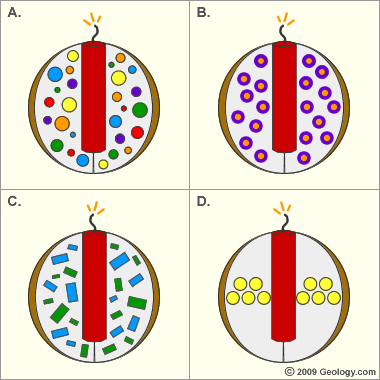 The Mechanics of an Aerial Fireworks Burst
The people who make fireworks are really clever. They combine a knowledge of chemistry and physics with artistic ingenuity to produce an infinite variety of fireworks bursts. How do they do it? They change the size, shape, density, composition and placement of the stars within the fireworks shell. By doing this they change the shape, speed, direction, burn rate and color of the aerial burst.
They can also put shells within shells for multiple explosions and bursts. Or, they can include firecrackers, whistles or other noisemakers. Ingenious people can build fireworks shells for an infinite number of visual effects.
How Did They Do That?
The next time you go to a Fourth of July fireworks display, study the different types of bursts and imagine how they might have been accomplished.
You can probably imagine how many of them are done.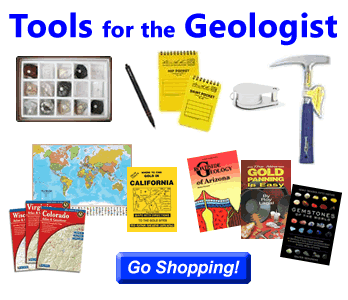 Find Other Topics on Geology.com:
| | |
| --- | --- |
| Rocks: Galleries of igneous, sedimentary and metamorphic rock photos with descriptions. | Minerals: Information about ore minerals, gem materials and rock-forming minerals. |
| Volcanoes: Articles about volcanoes, volcanic hazards and eruptions past and present. | Gemstones: Colorful images and articles about diamonds and colored stones. |
| General Geology: Articles about geysers, maars, deltas, rifts, salt domes, water, and much more! | Geology Store: Hammers, field bags, hand lenses, maps, books, hardness picks, gold pans. |
| | Diamonds: Learn about the properties of diamond, its many uses, and diamond discoveries. |