Grape Agate
Tiny spheres of purple quartz with a botryoidal habit.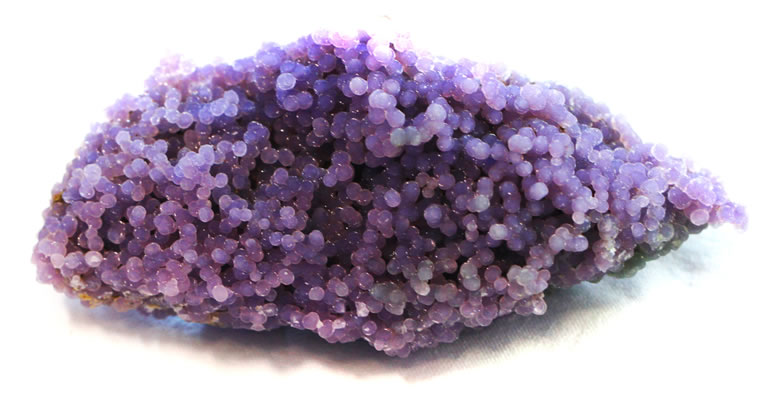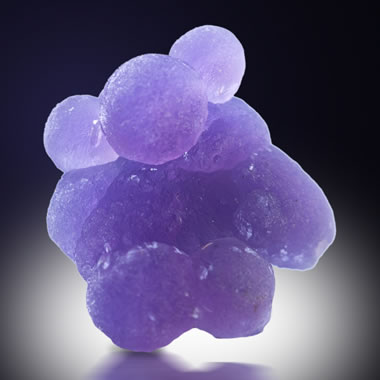 What Is Grape Agate?
Grape agate is a marketing name for purple aggregates of tiny quartz crystals with a spherical (botryoidal) habit. The name reflects their purple color and how they occur in clusters that resemble bunches of grapes. This material is found in the Mamuju area, near the western coast of Sulawesi, an island of Indonesia.
Grape agate entered the mineral market in 2016. Its popularity quickly spread through mineral shows, rock shops, websites, and online marketplaces. Specimens with a fun appearance and an interesting name like grape agate market themselves.
The "grapes" of these specimens are tiny. They range between about two and eight millimeters across. Although purple is the best color to match the "grape" name, some specimens have grapes that are white, gray, green, or blue.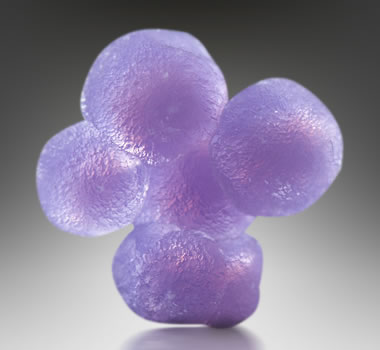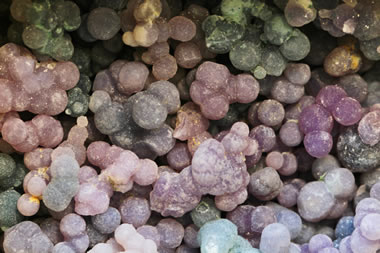 Grape, Yes. Agate, Maybe Not.
The name "grape agate" has stuck as a marketing term. However, the name is a misnomer. Misnomers are names that are scientifically incorrect. There are no arguments with "grape" because of its purple color. But, the use of "agate" as a species/variety name draws objections. Here is an analysis...
Grape Agate: This name is inappropriate because agate should have parallel internal banding. The name agate also implies quartz with a microcrystalline texture; however, most of the grapes have a drusy surface - making them megascopically crystalline.
Grape Chalcedony: Like agate, the name chalcedony implies quartz with a microcrystalline texture.
Grape Quartz: The name quartz fits better than both agate and chalcedony. But, the appropriate name for purple quartz is amethyst.
Botryoidal Amethyst: The name "amethyst" better honors mineralogical and gemological definitions, and the adjective "botryoidal" communicates a rounded shape.
So, this author concludes that the name "botryoidal amethyst" is a name that is scientifically correct, but is not as much fun as "grape agate".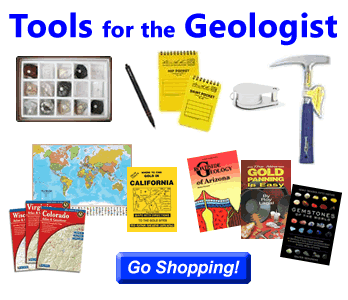 Find Other Topics on Geology.com:
| | |
| --- | --- |
| Rocks: Galleries of igneous, sedimentary and metamorphic rock photos with descriptions. | Minerals: Information about ore minerals, gem materials and rock-forming minerals. |
| Volcanoes: Articles about volcanoes, volcanic hazards and eruptions past and present. | Gemstones: Colorful images and articles about diamonds and colored stones. |
| General Geology: Articles about geysers, maars, deltas, rifts, salt domes, water, and much more! | Geology Store: Hammers, field bags, hand lenses, maps, books, hardness picks, gold pans. |
| | Diamonds: Learn about the properties of diamond, its many uses, and diamond discoveries. |