Home » World Maps » Europe » Portugal » Azores Islands
Azores Map and Satellite Image
The Azores are an archipelago of nine volcanic islands located in the Atlantic Ocean about 870 miles (about 1400 kilometers) off the west coast of Portugal. The islands are an autonomous region of Portugal. The nine large islands are, from west to east, Flores, Corvo, Faial, Pico, Sao Jorge, Graciosa, Terceira, Sao Miguel, and Santa Maria. Ponta Delgada, the capital of the Azores, is shown as a red square. Base map by Daniel Kaesler / Alamy Stock Photo.
Regional Maps:
Portugal
,
Morocco
,
Canary Islands
Where are the Azores?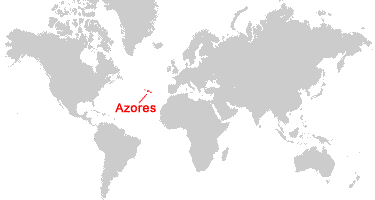 Sao Miguel Island Map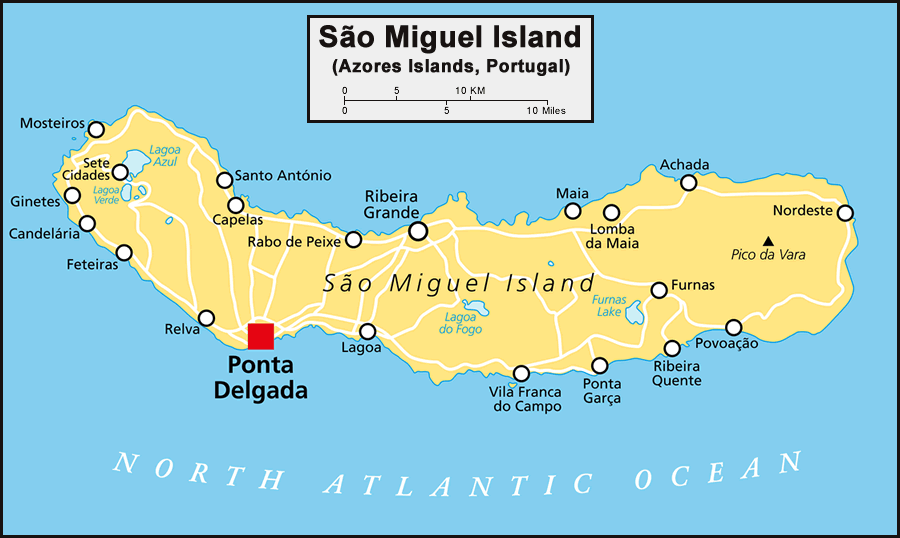 This map shows the island of Sao Miguel in more detail. Sao Miguel is the largest island of the Azores, and with about 140,000 residents, it is also the most populous island. The capital of the Azores, Ponta Delgada, is shown as a red square. A triangle marks the highest point on the island, Pico da Vara. Pico da Vara Nature Reserve is home to many endemic species, including the critically endangered Azores Bullfinch and other rare birds. The lakes shown on the map (Lagoa Azul, Lagoa Verde, Lagoa do Fogo, and Furnas Lake) are all situated in volcanic craters. The Furnas Lake caldera has numerous hot springs, geysers, fumaroles, and mud pools. Base map by Peter Hermes Furian / Alamy Stock Photo. Click the map for a larger view.

Sao Miguel Island Satellite Image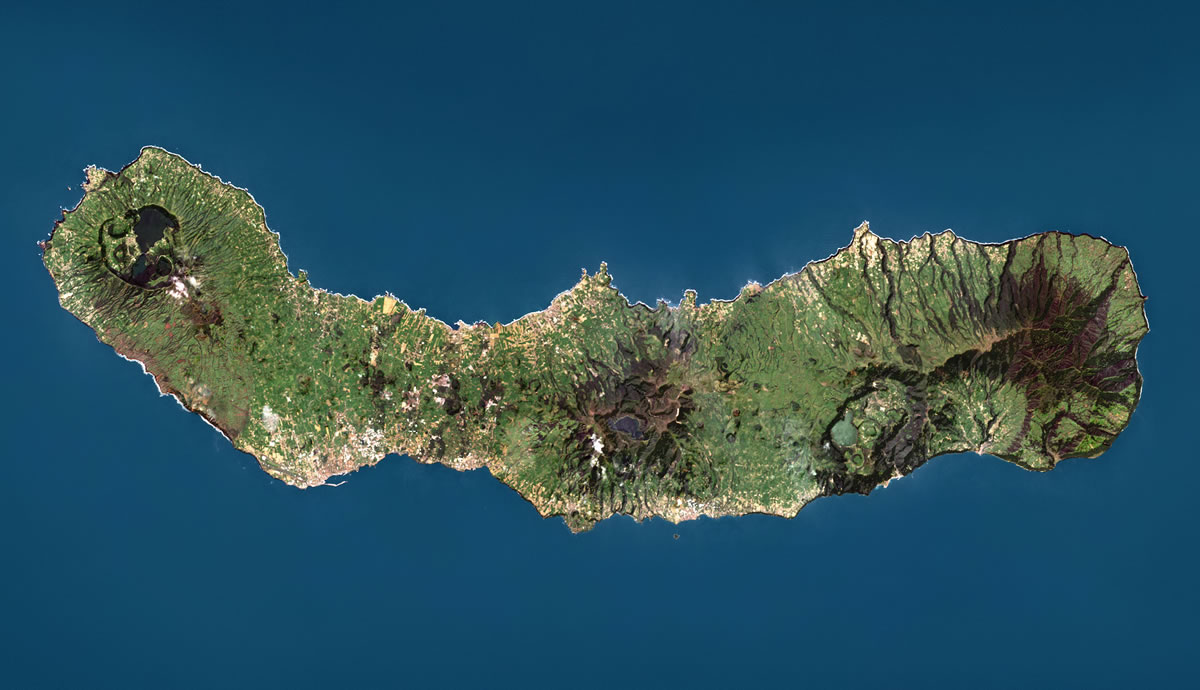 In this Landsat satellite image, we see the island of Sao Miguel in wonderful detail. It is easy to spot the calderas and radial drainage patterns that reveal the island's volcanic origin. Inhabited areas along the coastline are clearly visible as well. Image by Universal Images Group North America LLC / Alamy Stock Photo. Click image to enlarge.

Azores Satellite Image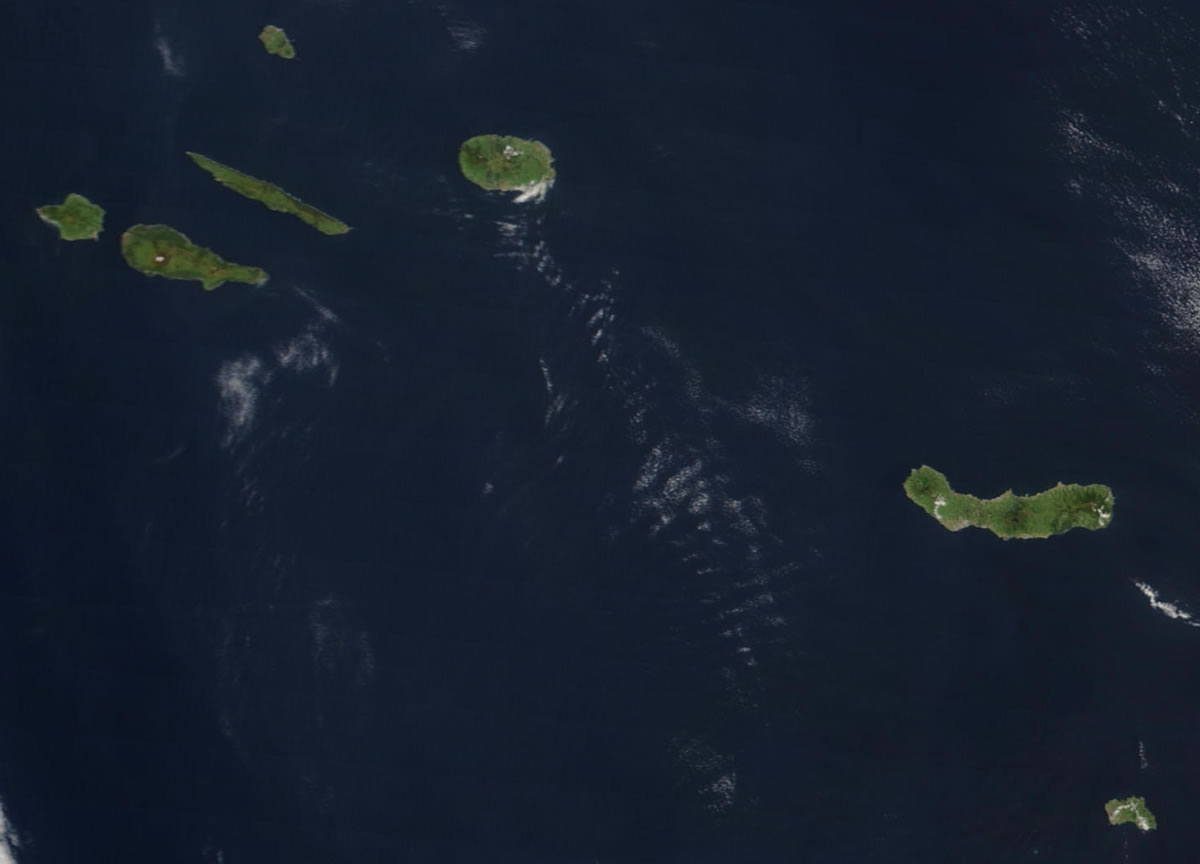 This satellite image by NASA shows the easternmost seven islands of the Azores archipelago (Flores and Corvo are not shown). From left to right, the islands pictured are: Faial, Pico, Sao Jorge, Graciosa, Terceira, Sao Miguel, and Santa Maria. The image was acquired by NASA on May 1, 2003 by the Moderate Resolution Imaging Spectroradiometer (MODIS) instrument aboard the Terra satellite, and it was compiled by Jeff Schmaltz of NASA Goddard Space Flight Center. Click image to enlarge.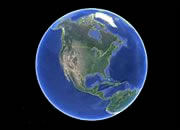 Google Earth is a free program from Google that allows you to explore satellite images showing the cities and landscapes of the Azores, Portugal, and all of Europe in fantastic detail. It works on your desktop computer, tablet, or mobile phone. The images in many areas are detailed enough that you can see houses, vehicles and even people on a city street. Google Earth is free and easy-to-use.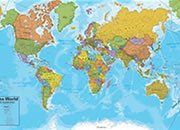 The Azores are included on our Blue Ocean Laminated Map of the World. This map shows a combination of political and physical features. It includes country boundaries, major cities, major mountains in shaded relief, ocean depth in blue color gradient, along with many other features. This is a great map for students, schools, offices, and anywhere that a nice map of the world is needed for education, display or decor.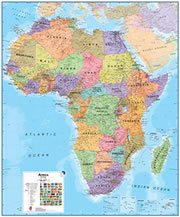 If you are interested in the Azores Islands and the geography of Africa, our large laminated map of Africa might be just what you need. It is a large political map of Africa that also shows many of the continent's physical features in color or shaded relief. Major lakes, rivers, cities, roads, country boundaries, coastlines and surrounding islands are all shown on the map.

Azores Cities:
Furnas, Horta, Lajes, Mosteiros, Ponta Delgada, Santa Cruz Das Flores, Santa Cruz Da Graciosa, Sao Mateus, Sao Sebastiao, Topo, Velas, Vila do Porto.

Azores Locations:
The nine main islands of the Azores are, from largest to smallest: Sao Miguel, Pico, Terceira, Sao Jorge, Faial (also spelled Fayal), Flores, Santa Maria, Graciosa, and Corvo. Smaller islands/islets include: Ilheus das Cabras, Ilheu das Lagoinhas, Ilheus da Madalena (Ilheu Deitado and Ilheu em Pe), Ilheu Maria Vaz, Ilheu do Monchique (a tiny islet that is the westernmost part of Portugal; some people also call it "The Westernmost Point of Europe"), Ilheus dos Mosteiros, Ilheu da Praia, Ilheu de Sao Lourenco, Ilheu do Topo, Ilheu da Vila, and Ilheu de Vila Franca do Campo.

Azores Natural Resources:
The fishing industry is important to the local economy. There are a variety of different types of fish within the Azores' exclusive economic zone, and some, such as tuna, are prepared for export. Other resources include timber and arable land.

Azores Natural Hazards:
The Azores were formed by volcanism, and to this day, it is still a seismically active area. The islands frequently experience minor earthquakes; major earthquakes do occur but are less common. There is occasional volcanic activity in the seamounts and submarine volcanoes that surround the islands. Historically active volcanoes include: Agua de Pau, Furnas, Pico, Picos Volcanic System, Sao Jorge, Sete Cidades, and Terceira. The last major volcanic eruption occurred in 1957-1958 at Capelinhos, which is located at the western tip of Faial Island. This submarine eruption created a new island that soon merged with the rest of Faial. Additionally, tropical storms and hurricanes sometimes have an impact on the islands.

Azores Environmental Issues:
Some of the islands' natural biodiversity has been lost due to human activity, such as clearing natural vegetation to make way for agriculture. However, the Azores are still home to hundreds of endemic species of plants and animals.