The World's Deepest Lake


Lake Baikal in southern Russia is the world's deepest lake. It is 5,314 feet deep (1,637 meters) and it's bottom is at 4,215 feet (1,285 meters) below sea level. Lake Baikal is also the world's largest freshwater lake in terms of volume.

It is difficult to comprehend how a lake in the middle of a continent could have a bottom that is 4,215 feet below sea level. It is impossible for erosion to cut a channel that deep in the middle of a continent. The lake is so deep because it is located in an active continental rift zone. The rift zone is widening at a rate of about 1 inch (2.5 centimeters) per year. As the rift grows wider it also grows deeper through subsidence. So, Lake Baikal could grow wider and deeper in the future.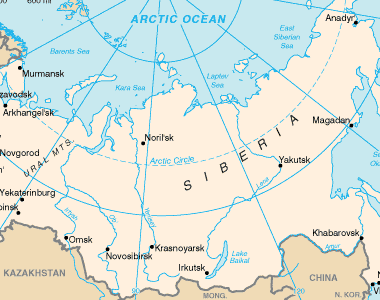 Lake Baikal is located in southern Siberia near the city if Irkutsk. Map from the CIA Factbook.

Related: World's Largest Lake

Deepest Lake in the United States:


The deepest lake in the United States is Crater Lake, a volcanic crater in southern Oregon. It's deepest measured depth is 1,932 feet (589 meters). It is the seventh deepest lake in the world.

It is an amazing lake because no rivers flow into it or out of it. The water level in the lake is a balance between rainfall, ground water flow and evaporation.

The lake was formed as a caldera by an explosive volcanic eruption and magma chamber collapse between 6,000 and 8,000 years ago.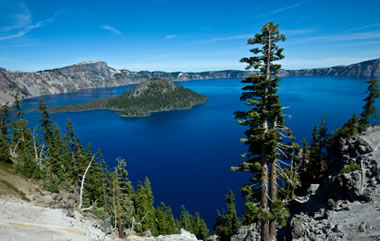 Panorama view of Crater Lake showing the steep crater wall that surrounds the lake and Wizard Island, a small volcano within the crater. Photo © by ziggymaj and iStockphoto.
Find it on Geology.com

More from Geology.com
| | |
| --- | --- |
| 100+ Gems - Photos of over 100 beautiful gems ranging from the popular to the obscure. | Mount Vesuvius: Geology, history, maps, facts and more about Vesuvius Volcano. |
| Volcanoes: Articles about volcanoes, volcanic hazards and eruptions past and present. | Fire Opal is a transparent to translucent opal with a yellow, orange or red background color. |
| | Mount Etna: The most active volcano in Europe, continues an eruption that started in 2001. |
| Gemstones: Fantastic images and articles about colored stones and diamonds. | Photos of Geysers from around the world with information about height, eruption interval, more. |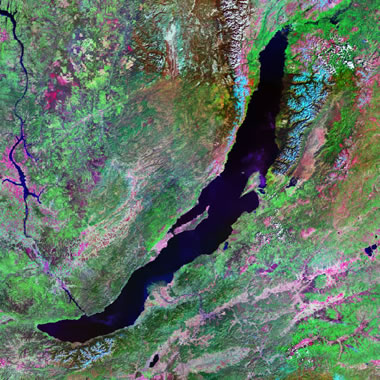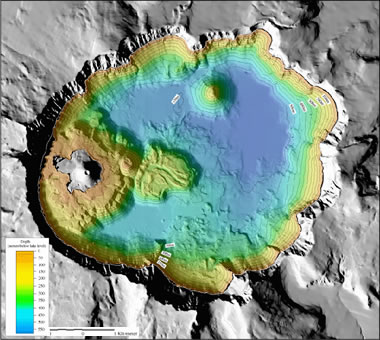 Bathymetry image of Crater Lake by USGS. The deepest areas are in the northeast portion of the lake. Enlarge map.
Deepest Lakes in the World

Baikal
Siberia, Russia

5,369 ft (1,637 m)

Tanganyika
Tanzania, Dem. Rep. of Congo & Zambia

4,823 ft (1,470 m)

Caspian Sea
Iran and Russia

3,363 ft (1025 m)

Vostok
Antarctica

2950 ft (900 m) minimums

O'Higgins-San Martin
Chile, Argentina

2,742 ft (836 m)

Nyasa
Africa (Mozambique, Tanzania & Malawi)

2,316 ft (706 m)

Issyk Kul
Kyrgizstan, Central Asia

2,192 ft (668 m)

Great Slave
Northwest Territories, Canada

2,015 ft (614 m)

Crater Lake
Oregon, U.S.A.

1,949 ft (594 m)

Matano
Indonesia

1,936 ft (590 m)

General Carrera
Chile, Argentina

1,923 ft (586 m)

Hornindalsvatnet
Norway

1,686 ft (514 m)

Quesnel
Canada

1,660 ft (506 m)

Toba
Indonesia

1,657 ft (505 m)

Sarez
Tajikistan

1,657 ft (505 m)

Tahoe
California & Nevada, USA

1,644 ft (501 m)

Argentino
Argentina

1,640 ft (500 m)

Kivu
Democratic Republic of Congo, Rwanda

1,575 ft (480 m)

Mjøsa
Norway.

1,535 ft (468 m)

Lake Chelan
Washington, U.S.A.

1,486 ft (453 m)