Home » Minerals » The Denver Gem and Mineral Show
The Denver Gem and Mineral Show, 2007
A photographic report by Geoffrey Notkin

Every September, rockhounds, paleontologists, jewelers and other enthusiasts convene in Colorado for the Denver Gem and Mineral Show. It is America's second-largest gathering of rock and fossil fans after February's annual Tucson show. Vendors from all over the globe journey to Denver to display the combined natural history wealth of the world.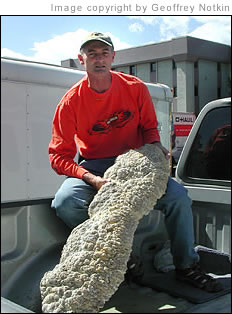 Paleontologist, Dave Freeman proudly displays a massive stromatolite fossil he discovered in Wyoming.
2007 marked the Mile High City's 40th annual international gem and mineral display, and it was one of the largest ever. The three-day public show officially kicked off in Denver's Merchandise Mart on Friday, September 13, but in-the-know private collectors had been on the hunt for new treasures since Wednesday or Thursday. A few hotels in central Denver, turned temporarily into gem and fossil wholesale destinations, opened up for business a day or two before the Merchandise Mart. Ordinary guest rooms were miraculously transformed into displays of pyritized ammonites and mammoth tusks from Russia, fire opals from Mexico, Herkimer diamonds from upstate New York, iron meteorites from South America, emerald-green moldavites from the Czech Republic, and thousands of other natural history wonders.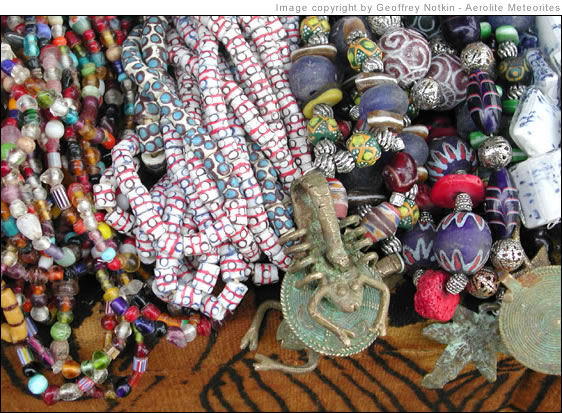 African beads, jewelry and crafts at the Quality Inn.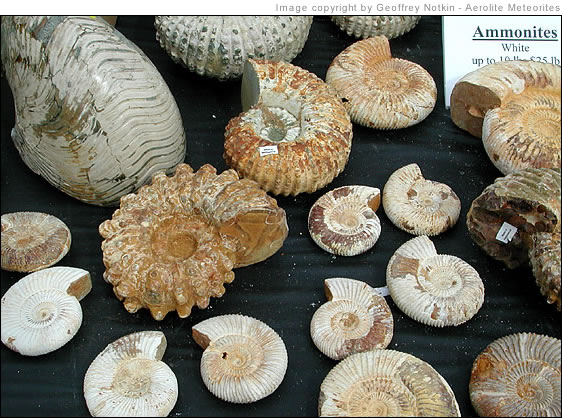 A variety of ammonites from Madagascar.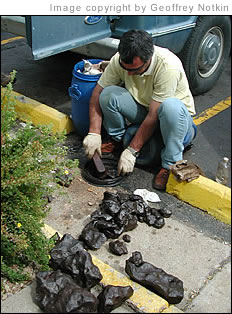 Cleaning a new shipment of Campo del Cielo iron meteorites.
The Holiday Inn Denver Central is a popular destination for collectors of fossils, minerals, and meteorites, while the neighboring Quality Inn — just a short stumble away across the railroad tracks — leans towards crystals, jewelry, beads, and African crafts. Regular attendees can't resist quipping that one of the hotels is always on the "wrong side of the tracks." Both destinations offer a multitude of specialized dealers, together representing almost every facet of natural history collecting. Many vendors dig their own rock, so in addition to acquiring material directly from the source, lucky buyers may be treated to exciting tales of discovery over a glass of wine around sunset. And if the gorgeous Jurassic ammonites from northern England in one room don't tempt you, wander next door and gaze at incandescent Australian opals. Perhaps old Arizona turquoise one room over is more to your taste, or Roman and pre-Columbian artifacts to be found just another door down the long hallway.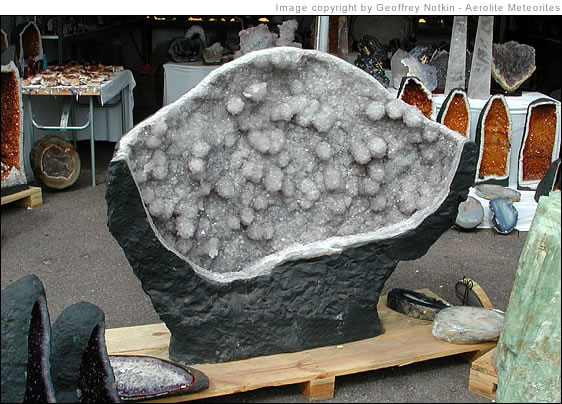 Brazilian crystals and some of the biggest geodes that you have ever seen.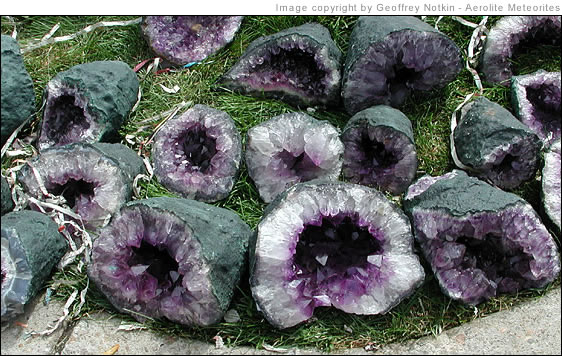 Unpacked amethyst geodes from Brazil.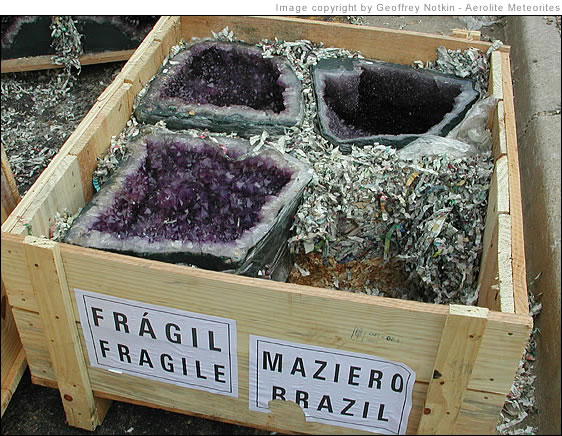 Giant amethyst geodes from Brazil waiting to be unpacked.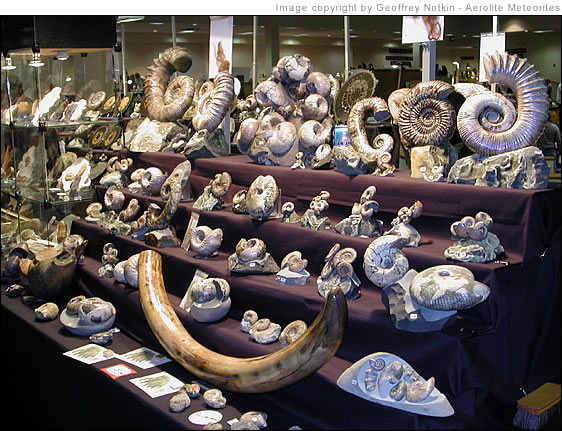 A dazzling display of fossils at the "Main Show."
To savvy visitors, the Merchandise Mart's display is known as "The Main Show," and it is spectacular. This year's event in the convention-center-sized venue had something for everyone: wholesale dealers for those in the trade; presentations on starting a collection and gold panning for the beginning enthusiast; an ethereal display of fluorescent minerals, glowing eerily under ultraviolet lamps; and a stellar display of dinosaurs — sure to inspire any young, would-be paleontologist.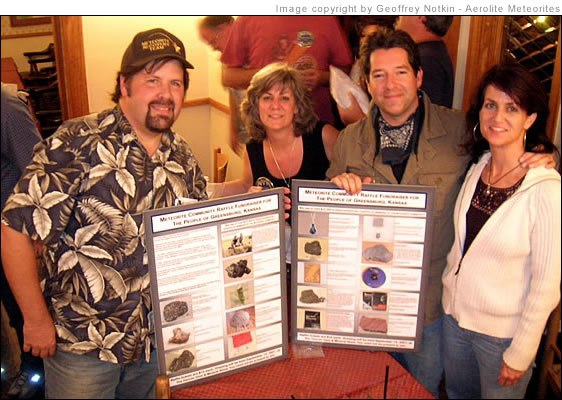 Greensburg, Kansas charity raffle.
Denver 2007 also featured a unique charity event, hosted by the Colorado Meteorite Society. Space rock devotees from around the world banded together to raise money for Greensburg, Kansas — the town ravaged by a deadly tornado in May of this year. The famous Brenham pallasite meteorite was discovered only a few miles from Greensburg and for decades the pretty Midwestern town was a favorite haunt of American meteorite hunters. A charity raffle, consisting of 74 donated meteorites and related collectibles, took place on Saturday, September 14 in a downtown Denver restaurant. The raffle raised more than $12,000, all of which went directly to Kansas residents in need. The Kansas City Star ran a front page story on the fundraiser, entitled "Outer Space Rocks to the Rescue." All of it proof that rockhounds can make a difference in the regular world.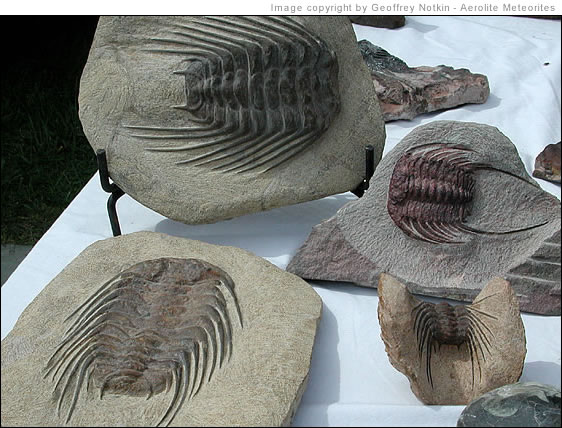 Moroccan trilobites on display at the Holiday Inn.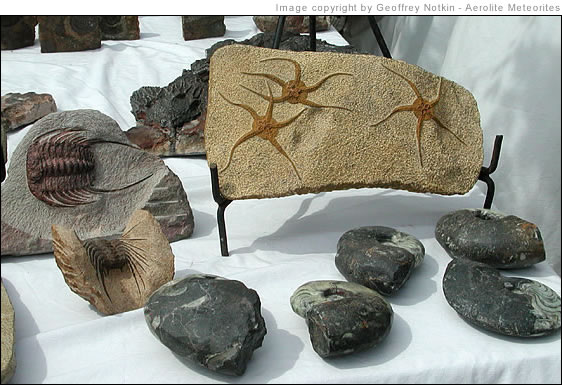 Moroccan fossils on display.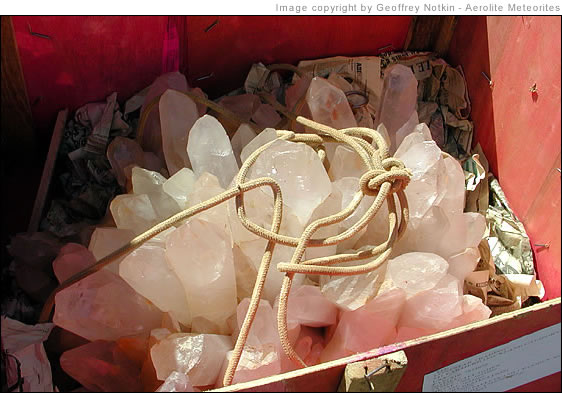 Quartz crystal cluster.
The Denver Show will likely always play second fiddle to its big brother in Tucson, but this annual Colorado event has a charm all its own. There's a hint of fall in the air as buyers wander from one display table to another, and the diverse but manageable list of exhibitors means the mobile and dedicated rockhound can find time to see everything of note.
The Denver Gem and Mineral Show takes place in mid-September each year. More information is available at: www.denvermineralshow.com.

Geoffrey Notkin is a science writer, photographer and meteorite hunter. He was born in New York City, raised in London, England, and now makes his home in the Sonoran Desert, outside of Tucson, AZ. He has appeared in two television documentaries about meteorite hunting for the Travel Channel and PBS. Geoffrey is the owner of Aerolite Meteorites and a founding partner of Meteorite Adventures — an adventure tours company which takes enthusiasts into the field to hunt for their own space rocks. His work has appeared in Rock & Gem, Reader's Digest, Wired, Meteorite, Geotimes, Seed, and many other publications. He is currently at work on a book about his life as a meteorite hunter.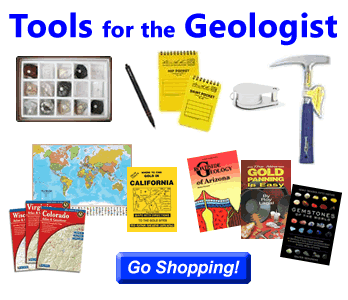 Find Other Topics on Geology.com:
| | |
| --- | --- |
| Rocks: Galleries of igneous, sedimentary and metamorphic rock photos with descriptions. | Minerals: Information about ore minerals, gem materials and rock-forming minerals. |
| Volcanoes: Articles about volcanoes, volcanic hazards and eruptions past and present. | Gemstones: Colorful images and articles about diamonds and colored stones. |
| General Geology: Articles about geysers, maars, deltas, rifts, salt domes, water, and much more! | Geology Store: Hammers, field bags, hand lenses, maps, books, hardness picks, gold pans. |
| | Diamonds: Learn about the properties of diamond, its many uses, and diamond discoveries. |